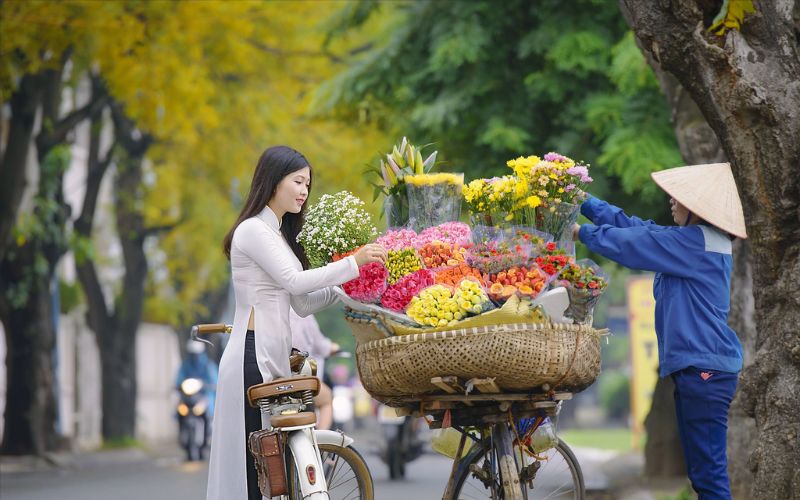 August is a suitable time for people to visit Hanoi. Those who travel far and return, or those who set foot in this dreamy capital city for the first time will have the chance to fully admire the unique features of Hanoi. Discover all the special things of Hanoi in August in this article to enjoy the most of this city!
Hanoi Weather in August
August is the time when Hanoi transitions from summer to autumn. Although the temperature this month is still relatively high, there are occasional gentle breezes that make the air feel cooler and less stuffy.
Temperature: The average daily temperature is around 29 – 30°C, with the average low temperature at 27°C and the average high temperature around 32°C.
Humidity: Vietnam's climate has quite high and stable humidity, with little variation in humidity during this month, typically around 75%.
Sudden rain showers and heavy rainfall also occur frequently in August. Generally, the weather is milder compared to July, although the temperature does not decrease significantly. August in Hanoi is often pleasant with refreshing downpours at night, bringing a new ambiance to the whole city. However, it is still advisable to prepare raincoats, umbrellas, short-sleeved shirts, and shorts if you plan to travel to Hanoi in August.
Best Places to Visit in Hanoi in August
Hanoi Opera House
The Hanoi Opera House, a splendid architectural gem, commenced its construction in 1901 and took a decade to complete. Reflecting classical European influences, this grand establishment boasts meticulous detailing and exudes an air of elegance and artistic sophistication.
As you explore Hanoi in August, you'll find the Hanoi Opera House bustling with special artistic programs and performances. Beyond admiring its magnificent exterior, step inside to immerse yourself in the world of art and culture. Witness breathtaking ballet performances or captivating theatrical productions that will transport you to another realm. The venue's opulence, coupled with the artistry of the performances, creates an unforgettable experience that showcases the city's rich cultural heritage.
West Lake – Truc Bach Lake
West Lake and Truc Bach Lake used to be a single large lake, but over time, they were divided into two separate lakes by the Thanh Nien Road. Due to their close proximity, you can easily explore both lakes in one visit.
Visiting during the golden hour provides a mesmerizing sight of the sunset over West Lake, with its sparkling golden reflections on the water's surface. But that's not all, as the surrounding area is adorned with historical landmarks such as Tran Quoc Pagoda on the West Lake side and Thuy Trung Tien Temple at the corner of Truc Bach Lake. You can take some time to visit these places and experience their spiritual ambiance while enjoying the peaceful atmosphere with beautiful views of the lakes around.
Temple of Literature
August is the perfect time to visit the Temple of Literature – Quoc Tu Giam, one of the most magnificent cultural destinations in Hanoi. The Temple of Literature is not only a place that preserves the historical and cultural values of Vietnam but also exudes a serene, polite, and solemn atmosphere.
At the Temple of Literature, you can admire the grand architecture of ancient buildings and precious cultural symbols, such as stone steles, which are recognized as UNESCO World Documentary Heritage, recording the names of our country's renowned intellectuals from the past. In August, the schools in Hanoi start their new academic year, so the Temple of Literature becomes lively with various exciting activities. You can participate in these events to gain a deeper understanding of Vietnam's history and culture.
Interesting Activities in August in Hanoi
Enjoy Vu Lan Festival
Vu Lan Festival (15th day of the 7th lunar month) is considered a significant event in Vietnam to commemorate the merits of parents and ancestors in general, reminding each person to cherish what they have and fulfill their duty as children by always remembering the nurturing kindness of their parents and doing filial deeds to show love and gratitude.
You can visit major pagodas in Hanoi such as Quan Su Pagoda, Kim Lien Pagoda, or Tran Quoc Pagoda to experience the atmosphere of this grand festival. Every year at Vu Lan Festival, Hanoi residents and tourists from various places gather here to offer incense, express gratitude to their parents, and pray for peace for their families.
Discover Hanoi on a Double-Decker Bus
Traveling around Hanoi on a double-decker bus is a fascinating and unique experience for tourists when visiting the city. With this mode of transportation, you can admire many famous landmarks in the capital from a higher vantage point and have the opportunity to capture beautiful scenery.
The bus tour will pass by all the famous attractions in Hanoi such as the Imperial Citadel of Thang Long, St. Joseph's Cathedral, and Hoa Lo Prison. However, you should note that joining the double-decker bus tour may not provide enough time to thoroughly explore these historical sites. It only allows you to admire the architectural beauty of the landmarks from the outside.
Experience Hanoi Local Cuisine
Hanoi's rich culinary history would impress you with several delicious dishes. If you visit Hanoi in August, don't forget to experience the local cuisine to have the most authentic trip.
West Lake Shrimp Cake
If you are a culinary enthusiast and want to explore the unique delicacies of Hanoi, then West Lake Shrimp Cake is a must-try dish. The flavor of fresh shrimp combined with the crispy outer layer will leave you irresistibly tempted. This shrimp cake is usually enjoyed with a special dipping sauce made from fish sauce, lime, garlic, chili, and sugar.
There are many delicious Shrimp Cake restaurants around the West Lake area. You can visit one of them to savor this delicious dish while enjoying the romantic view of West Lake.
Banh Xeo
You will surely be impressed by the delectable street food in Hanoi known as Banh Xeo. This specialty is made from fresh rice flour, coconut water, and several delicious ingredients like shrimp, pork, onions, mung beans, and green beans. Banh Xeo is pan-fried to a golden crisp with its appealing yellow-brown color from the outside, revealing a crunchy and tantalizing outer layer. You will find a savory and aromatic filling enhanced by the special dipping sauce, creating a unique and harmonious taste that no other dish can bring to you. When visiting Hanoi in August, don't forget to savor this extraordinary dish for an authentic taste of the city's culinary delights!
Trang Tien Ice Cream
Trang Tien Ice Cream is a well-known ice cream brand among Hanoi residents and domestic tourists. With over 60 years of history, this ice cream brand has become a culinary cultural icon of Hanoi. The perfect combination of traditional and modern flavors is the feature that attracts several diners to come and taste the ice cream. Despite the ups and downs of time, Trang Tien Ice Cream still manages to maintain its reputation in Hanoians' minds.
Trang Tien Ice Cream keeps innovating and introducing new products to attract customers. In addition to traditional flavors such as cinnamon ice cream, stick ice cream, and boxed ice cream, they also offer new mochi ice cream, which is loved by many young people due to the combination of soft rice cake and refreshing ice cream.
Traveling to Hanoi in August will bring you many interesting and appealing experiences, from enjoying scenic spots to savoring famous Hanoi cuisine. The recommendations in this article are just some suggestions for your trip. Don't hesitate to reach out to us to plan your trip and explore the best of Hanoi.
Read more: