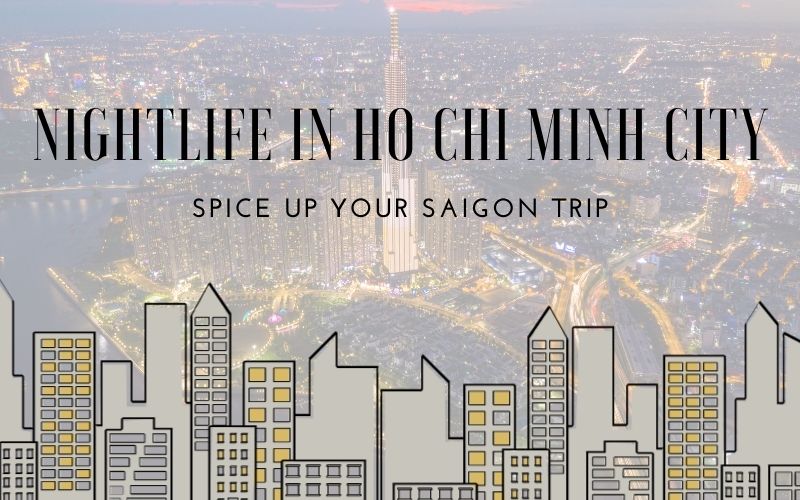 As the sun sets, Ho Chi Minh City awakens with an electrifying and vibrant nightlife. The city pulsates with diverse offerings that cater to all tastes – from elegant rooftop bars to bustling night markets. If you're curious about Ho Chi Minh City nightlife, read on!
This piece delves into the city's nocturnal culture, spotlighting the top destinations that draw in tourists. So, pour yourself a drink, lace up your dancing shoes, and get ready to immerse yourself in the best of Ho Chi Minh City nightlife scene!
Unleash at Night Bars & Lounges
Zion Sky Lounge & Dining
Indulging in artfully crafted cocktails as the sun dips below the horizon from the city's premier rooftop bar, Zion, is an essential experience for both residents and visitors to Ho Chi Minh City. Zion Sky Lounge & Dining holds a unique position in one of the city's most captivating sunset viewpoints, making it a favored post-work wind-down spot for expatriates during happy hours.
For those exploring the city, Zion sits gracefully on Ham Nghi Street, a gem of District 1. Positioned near Saigon's iconic landmarks like the Bitexco Tower and esteemed hotels such as Au Lac Charner Hotel and The Reverie Saigon, Zion boasts not just allure but also utmost convenience, seamlessly fitting into any Ho Chi Minh City itineraries.
With a live music lineup that could rival acclaimed UK concerts, Zion proudly hosts performances by notable acts like Blue, often streaming these events on their Facebook page. Additionally, the stage regularly features prominent Vietnamese artists and celebrities, offering an opportunity to delve into the essence of Vietnamese music culture at its pinnacle.
Address: No.87A, Ham Nghi Street, District 1, Ho Chi Minh City
Opening hours: 05:30 PM – 03:00 AM
Saigon Saigon Rooftop Bar
Perched atop a historic edifice, the Saigon Saigon Rooftop Bar boasts a vibrant narrative dating back to 1959. As one of the city's precious few enduring establishments, it has borne witness to the unfolding tapestry of Saigon's drinking culture – from the earlier era of ceaseless libations to the contemporary embrace of craft beer and the digital age. Amidst renovations, the bar's impeccable service and awe-inspiring vistas from its terrace and balconies endure, harmonizing modernity and history into a unique nexus. If only these walls could recount the tales they've absorbed.
With a perfect cocktail in hand, allow the panoramic views of Saigon's opera house, Notre Dame Cathedral, and the People's Committee to transport you to the bygone era of ancient Saigon. Despite the bustling city that now envelops it, the boundless panorama and ambient illumination of this elevated haven cultivate a captivating ambiance, coaxing you to linger for hours.
Address: Caravelle Hotel, No. 19 – 23 Lam Son Square, District 1, Ho Chi Minh City
Opening hours: 04:00 PM until late night
Lush Saigon
Since its establishment on June 15, 2004, Lush Saigon has cemented its reputation as an iconic nightlife hub in the heart of Saigon. This venue comprises three distinct areas, meticulously tailored to cater to the diverse tastes of its discerning patrons: a trendy hip-hop lounge, an electrifying EDM room, and a vibrant open-bar space.
Pioneering the scene, Lush stands as Saigon's trailblazing nightclub, introducing monthly Ladies Night festivities every Tuesday. The event treats guests to complimentary selected drinks until midnight. Ready for an extraordinary evening? Step into the pulsating party atmosphere at Lush, where you can live your finest moments. Alternatively, unwind at the bar, sampling a variety of libations while mingling with individuals hailing from all corners of the globe.
Address: No. 2, Ly Tu Trong Street, District 1, Ho Chi Minh City
Opening hours: 10:00 PM – 04:00 AM, from Tuesday to Sunday
Unwind on Bui Vien Street
For those seeking vibrant nocturnal nightlife in Ho Chi Minh City, Bui Vien Street stands as the ultimate destination. This dynamic backpacker district pulsates with a mesmerizing array of nightlife options that promise indelible memories. Bui Vien Street encapsulates a comprehensive spectrum, encompassing lively pubs, energetic clubs, and tantalizing street food vendors peddling delectable local delicacies.
Savor a refreshing beverage as you bask in live musical performances, or engage in a spirited game of beer pong alongside fellow travelers. Brimming with vivacity and affable locals, Bui Vien Street provides the perfect setting to unwind and revel in unfettered enjoyment.
Walk through Nguyen Hue Street
A visit to Nguyen Hue Walking Street is an essential highlight of the nightlife in Ho Chi Minh City. Spanning 670 meters as a pedestrian-only boulevard, this space serves as a favored rendezvous point for both local Vietnamese and tourists alike. Along its expanse, magnificent French colonial architecture harmonizes with contemporary skyscrapers, creating an exquisite backdrop that photographers will find irresistible.
Nguyen Hue Street boasts a diverse array of entertainment offerings, including captivating street performances, live music renditions, and enlightening cultural exhibitions. Among the bustling scene, a selection of cafes and restaurants awaits, inviting guests to relish delightful local street fare or a refreshing beverage while immersing themselves in the vibrant ambiance.
Indulge in Ho Chi Minh City's Night Markets
It will be a big mistake if you visit Ho Chi Minh City without visiting its vibrant night markets, where you can not only taste delicious street foods but also indulge in the lively lives of the locals.
Ben Thanh Night Market
Ben Thanh Night Market in Ho Chi Minh City offers an array of street food, souvenirs, apparel, and assorted goods. Patrons have the opportunity to indulge in an assortment of Vietnamese and international cuisines, explore traditional merchandise, and engage in spirited negotiations for favorable bargains. For a truly rewarding experience, it's advisable to come equipped with cash and a willingness to engage in haggling.
Ho Thi Ky Night Market
Ho Thi Ky Night Market, nestled within District 10 of Ho Chi Minh City, may be less recognized but offers an authentic escapade for those seeking a taste of nightlife in Ho Chi Minh City. Esteemed among locals, this market is renowned for its array of fresh provisions, encompassing a wide spectrum of fruits, vegetables, and meats. Moreover, it presents a diverse range of street delicacies such as banh mi, pho, and succulent seafood.
Beyond its culinary offerings, visitors can explore stalls vending clothing, souvenirs, and household essentials. Operating every evening from 6 p.m. to midnight, this market provides an immersive journey into the heart of Ho Chi Minh City's street cuisine and vibrant market culture. If you yearn to experience an unfiltered facet of the city's culinary tapestry, Ho Thi Ky Night Market stands as your quintessential destination.
Ba Chieu Night Market
Situated in Binh Thanh District of Ho Chi Minh City, the Ba Chieu Night Market has gained recognition as a favored nocturnal destination. Renowned for its vibrant street food stalls showcasing authentic Vietnamese delicacies and an array of merchandise spanning clothing to souvenirs, this market offers a captivating experience of local life after dark. Immerse yourself in the bustling ambiance and local customs as you embark on a journey of culinary exploration, savoring novel flavors while embracing the lively milieu.
Enjoy a Cruise Dinner on the Saigon River
Indulge in an exclusive and opulent evening in Ho Chi Minh City with a distinguished Saigon River Dinner Cruise. Experience the city's magnificence under the moonlit sky as you glide along the serene waters of the Saigon River.
Delight in a sumptuous five-course Vietnamese feast while being serenaded by enchanting melodies. Revel in the breathtaking spectacle of the city's lights dancing upon the river, all while relishing your meal in the company of friends, family, or your beloved. Embark on this luxurious escapade for an unforgettable night in Saigon, where refined dining meets the allure of the tranquil river.
In essence, Ho Chi Minh City at night presents a vibrant scene that caters to a diverse array of visitors. The city offers an eclectic array of options, spanning from sophisticated rooftop bars to bustling night markets. Patrons can relish live music, and captivating dance shows, or embrace picturesque cityscapes while savoring exquisite fare and beverages. As night falls, it undergoes a captivating transformation, unveiling an exceptional lens through which to view Vietnam's cultural heritage and storied past.
So, contact us right now if you are ready for a trip to Ho Chi Minh City, to discover its historical and cultural heritages while indulging in thrilling nightlife in Saigon.
Read more: