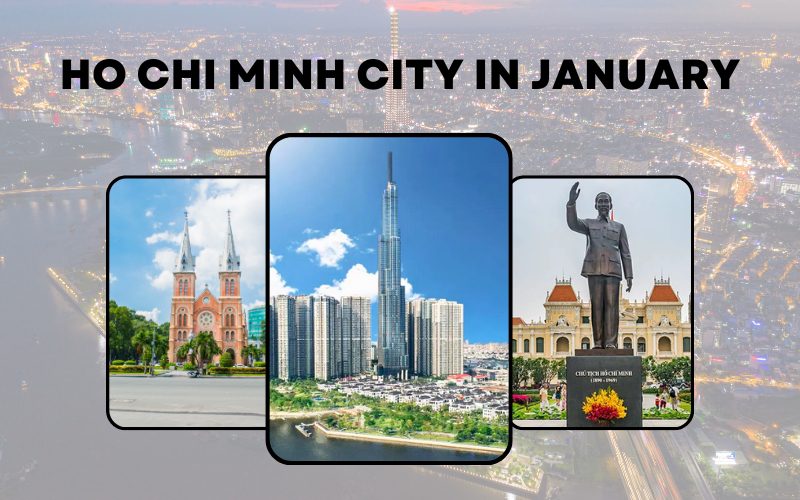 Unlike the cloudiness and chill that characterizes northern Vietnam in January, Ho Chi Minh City, also known as Saigon, offers a vastly different climate. This time of the year stands as an optimal period to explore Saigon as the skies remain a brilliant blue, and any sporadic rainfall is unlikely to disrupt your travel agenda. If you're contemplating a trip to Saigon in the upcoming January, make sure not to overlook the forthcoming article. It encompasses everything you need to know about Ho Chi Minh City in January, its advantages and drawbacks, recommended activities, and a collection of valuable tips.
Ho Chi Minh City Weather in January
The onset of the new year graces Ho Chi Minh City with delightfully gentle weather. Throughout January, temperatures span a comfortable range of 21°C to 32°C, and rain remains scarce. Merely two rainy days are anticipated this month. In contrast to Hanoi's chilly and damp January, Ho Chi Minh City's springtime is a sun-soaked affair. Thus, it emerges as an optimal period to embark on a journey to this venerable 300-year-old metropolis.
Things to Do in Ho Chi Minh City in January
Celebrate New Year's Eve Like a Local
Sometimes, the Vietnamese New Year graces January, allowing you to immerse yourself in the jubilant ambiance and witness the local populace revel in this occasion. The preparations for Tet involve cleansing their living spaces to dispel ill fortune, adorning homes with kumquat trees and an array of vibrant flowers, and buying new clothes for the initial days of the year.
On this occasion, you can explore destinations like Nguyen Hue Flower Street, Dam Sen Park, etc. to gain an insight into the myriad special activities that unfold during this festive time. Visit famous temples in Ho Chi Minh City such as Thien Hau Temple, Giac Lam Pagoda, Vinh Nghiem Pagoda, etc. is also a wonderful idea if you travel to Saigon in January.
Enjoy a Cruise Dinner on the Saigon River
Embarking on a Saigon cruise for dinner can create indelible memories, combining live music, captivating dance performances, and a sumptuous buffet. This unique dining experience not only offers a chance to escape the city's commotion but also immerses you in nature's embrace in the heart of the city.
As you traverse the Saigon River, a medley of Vietnamese traditional delicacies and exquisite offerings from Western and Asian fare await, all wrapped in an air of romance. The enchantment continues with mesmerizing vistas of Saigon's bustling nightlife, a stunning backdrop that enhances this culinary journey.
Pay a Visit to Cu Chi Tunnels
Visiting Cu Chi tunnels in January proves to be an ideal choice due to the prevailing dry season and the absence of rain. Unlike the rainy months between May and November, the tunnels remain untroubled by flooding. January weather in Ho Chi Minh City is milder than the scorching summer, rendering your Cu Chi expedition more pleasant.
As you navigate through the intricate tunnels, encountering hospitals, schools, theaters, and kitchens, a deeper understanding of Vietnam's history and the tenacity displayed by its inhabitants during wartime becomes apparent. This experience encourages a heightened appreciation for the tranquility of everyday life.
>>> Join our Full-Day Ho Chi Minh City and Cu Chi Tunnels Tour for a better understanding of the historical importance of Vietnam.
Participate in A Cooking Class
If you want to learn how to cook authentic Vietnam dishes, there is no place rather than Hanoi and Ho Chi Minh City. Here, you will have a chance to master the art of cooking, given its culinary influences stemming from neighboring provinces and various countries like Cambodia, Singapore, and Thailand.
A visit to Ho Chi Minh in January presents an excellent opportunity to engage in cooking classes, encompassing a range of culinary complexities from basic to intricate. A unique trait of Saigon's cuisine lies in its propensity to incorporate a touch more sugar, lending its dishes a distinct character. If you're enamored with the local fare, be prepared to savor each dish down to the last morsel, as the flavors are undeniably compelling.
Tips to Visit Ho Chi Minh City in January
Visiting Ho Chi Minh City in January, remember to pack light and comfortable clothing, sunhats, sunscreen, and long-sleeved tops for potential coolers evenings.
Tap water in Vietnam is not drinkable, so bring bottled water or a reusable bottle and take water from your hotel.
While the locals are generally friendly, be cautious with your luggage and remain vigilant around unfamiliar individuals on the streets.
If venturing out at night in Saigon, opt for tourist areas and rely on reputable taxi services like Vinataxi, Mai Linh, Group Taxi, etc. You can also download Vietnam travel apps and book a vehicle for better safety.
Opt for accommodations situated near the city center and key attractions for convenient commuting.
Note that during the Vietnamese New Year, there may be a significant increase in hotel and other service prices. Transportation options could also be limited. To avoid disappointment, it's advisable to book all your services well in advance.
You see, a multitude of captivating activities await you in Ho Chi Minh City in January, particularly if your visit coincides with the Lunar New Year. If you are on vacation in January, consider selecting Saigon for a remarkable experience. We offer diverse tours to Saigon, ranging from full-day explorations to comprehensive package tours. Feel free to explore our website and pick the option that suits you best. Don't hesitate to contact us if you need a tailor-made tour of this tourist center of Vietnam.
Read more: