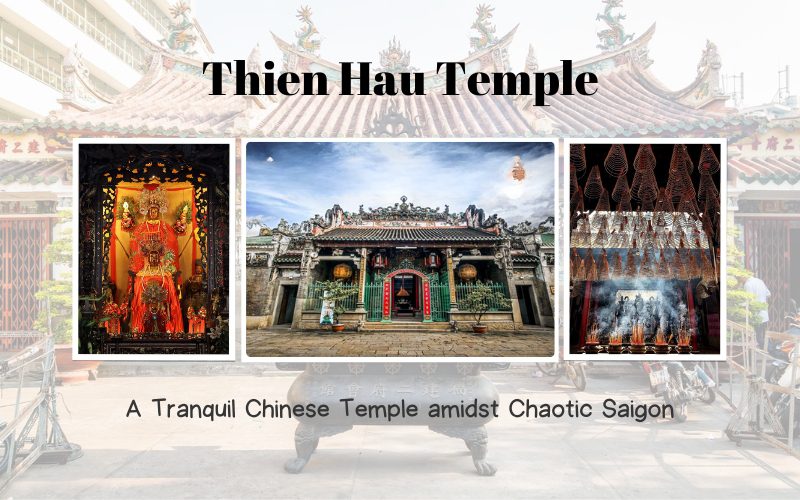 During the period between the 16th century to the 20th century, several Chinese people migrated to Southern Vietnam, becoming the Chinese community there. They lived and built numerous constructions with the distinctive architecture of ancient China. One of these constitutions is the Thien Hau Temple, a famous temple located in the Chinatown area of Ho Chi Minh City. Check out this article to find out why this place is so appealing to both locals and foreign visitors.
Where is Thien Hau Temple?
Thien Hau Temple, also called Thien Hau Pagoda, is located at No. 710, Nguyen Trai Street, District 5, Ho Chi Minh City. Although this place is situated in the center of the Cho Lon area, it has a unique tranquility with a picturesque view from the outside.
You can easily travel to Thien Hau Pagoda as it stands out on Nguyen Trai Street. There are several means of transportation for you to get here. The easiest way is to call a taxi or book a car via a ride-hailing app on your phone. Unfortunately, there is no bus station nearby the temple so you might find it difficult to use public transportation to travel to this place. However, if you seek a comfortable means of transportation, you can rent a car with a private driver. The driver will pick you up and bring you to all the destinations you wish at any time you want.
Nevertheless, please keep in mind that Thien Hau Temple is open from 6:30 AM to 4:30 PM. You had better proactively arrange your schedule to make it suitable for visiting this place. If you have any difficulty scheduling your trip, you can easily create your own journey with us. Just simply fill in where you want to visit and how long you want your holiday to extend, and we will help you with all the rest.
Historical Tale of Thien Hau Temple
Thien Hau Temple is named after the female deity that people worship here. However, not many people know that Lady Thien Hau is a real historical figure.
According to scholar Vuong Hong Sen, Lady Thien Hau's real name was Lam Mac Nuong, born on March 23, 1044, on Mi Zhou Island, Fujian, China. Her mother carried her for 14 months before giving birth, which was considered a highly unusual event on the island. Even more astonishingly, shortly after her birth, during her early years, Lam Mac Nuong displayed her innate talent in astronomy by frequently observing the stars to predict the weather and assisting the local fishermen in the region.
On one occasion, while traveling with her father and two brothers on a boat to sell salt in Jiangxi province (China), their family's boat encountered a disaster at midnight. The strong waves swept away her father and brothers. However, sensing the danger in her sleep, Lam Mac Nuong miraculously awakened to rescue her beloved ones. Regrettably, she could only save the two brothers, as her father was lost in the sea. From that moment, the extraordinary tale of Lam Mac Nuong's supernatural abilities spread far and wide, unintentionally elevating her to the status of a revered goddess among many fishermen. They often pray and pay homage to her in times of peril on their fishing boats.
When Chinese immigrants came to Vietnam, the worship of Lady Thien Hau was also introduced, resulting in several temples being built, such as Thien Hau Temple in Binh Duong or Thien Hau Temple on Vo Van Kiet Street (District 1, HCMC).
Thien Hau Temple on Nguyen Trai Street was constructed in the middle of the 18th century, around 1760, with financial aid and efforts from Tue Thanh ethnic Chinese community. Despite 261 years of existence and undergoing various renovations, this pagoda still managed to maintain its unique architectural features. On January 7, 1993, this place was recognized as a National Architectural Heritage.
Unique Ancient Chinese Architecture
Thien Hau Pagoda is constructed in the shape of the letter "Three" in Chinese, which is written as 三. This pagoda consists of 3 halls built vertically: Front Hall, Middle Hall, and Back Hall. When you step inside, you will walk through these 3 halls respectively.
The Front Hall
As you enter the Front Hall, you will see two altars, one on each side of the entrance. The altar on the left is dedicated to Mon Than (Gate God), while the one on the right is for Phuc Duc Chinh Than (God of Prosperity and Virtue). You should take a moment to admỉe the stone stele in the Front Hall, which tells the fascinating legend of Lady Thien Hau. A captivating large painting also adorns the hall, vividly portraying her ethereal presence on the rolling waves of the sea. This initial encounter sets the tone for your exploration of Thien Hau Temple, filled with intriguing tales and cultural richness.
The Middle Hall
When stepping into the Middle Hall, you will notice a large bronze incense burner placed right in the center. It is the biggest incense burner among all Chinese temples in Vietnam. Along the corridors connecting Front Hall and Middle Hall, you will come across an ancient fire extinguisher. This fire extinguisher dates back to old times, with a copper water pipe and the inscription "Hoi Quan Tue Thanh Tri," the former name of Thien Hau Pagoda. Moreover, you might find several sticks of round incense hanging on the ceiling. These were bought by the Chinese visitors to the temple. They hung those sticks with the hope for the well-being of themselves and their families.
The Main Hall
In the center of the main hall stands the statue of Lady Thien Hau, placed right at the heart of it all. This wooden statue is carved from an ancient block and stands tall at 1 meter. You will see the revered Kim Hoa Nuong Nuong to the right and the respected Long Mau Nuong Nuong to the left. On the two side altars, there are statues of Quan Thanh, Dia Tang, and Than Tai. The dominant colors of the surroundings are warm yellow and red, combined with dark wooden panels and shimmering candlelight, resulting in a mystical atmosphere. Even if you only visit once, you will surely be impressed by the sense of tranquility of this place.
Artifacts Preserved in Thien Hau Temple
Thien Hau Temple currently preserves over 400 antique items, including relief paintings depicting 4 mythical creatures of Vietnam: Dragon (Long), Unicorn (Ly), Tortoise (Quy), and Phoenix (Phung). Apart from the precious paintings, you can also admire the veranda, roof, and walls of the pagoda. They are all adorned with ceramic statues and carvings designed following traditional Chinese folklore.
Furthermore, Thien Hau Pagoda is home to a wide collection of valuable agarwood, incense, and sandalwood. When visiting this place, you will be amazed by 41 raised paintings, 10 horizontal lacquered boards, 7 divine statues, 9 stone steles, 2 small bells, and countless other precious treasures. Remarkably, all these items are crafted meticulously by skilled artisans.
Interesting Experience in Thien Hau Temple
Pick a Fortune-Telling Card
People believe that the fortune-telling cards in Thien Hau Temple are pretty accurate. Therefore, not only the elderly people but the young generation also come here to pick a card and pray for their desires. If you want to seek blessings for your family or yourself, you can learn the temple's prayer rituals or write down your wishes on a piece of paper. Then hung it up along the round incense sticks to ask for Lady Thien Hau's favor.
Join the Traditional Festival of Thien Hau Temple
If you love to immerse in the festive atmosphere, you should visit this pagoda from the 22nd to the 24th of the lunar March. During this time, the traditional festival of Thien Hau Temple is taking place, attracting multiple visitors from all around to come and pay their respects. On these special days, people place the statue of Lady Thien Hau on a sedan and parade it around the pagoda. You can also take part in various exciting cultural activities as well as enjoy performances of unique ethnic arts.
Take Beautiful Photos
Visiting Thien Hau Temple, you will surely fall in love with the nostalgic charm of the architecture. Why don't you bring your camera and capture the stunning scenery of this place? Each corner in the pagoda has its own unique beauty, allowing you to freely choose a background for your photos.
Thien Hau Temple is the oldest Chinese temple in Ho Chi Minh City. It not only impresses visitors with its special architecture and ancient artifacts but also offers a deeper understanding of the spiritual values of the Chinese ethnic community in Vietnam. Make sure to include this spot in your itinerary when you visit Ho Chi Minh City. If you need any assistance, don't hesitate to reach out to us. We are always delighted to offer you our top-notch service.