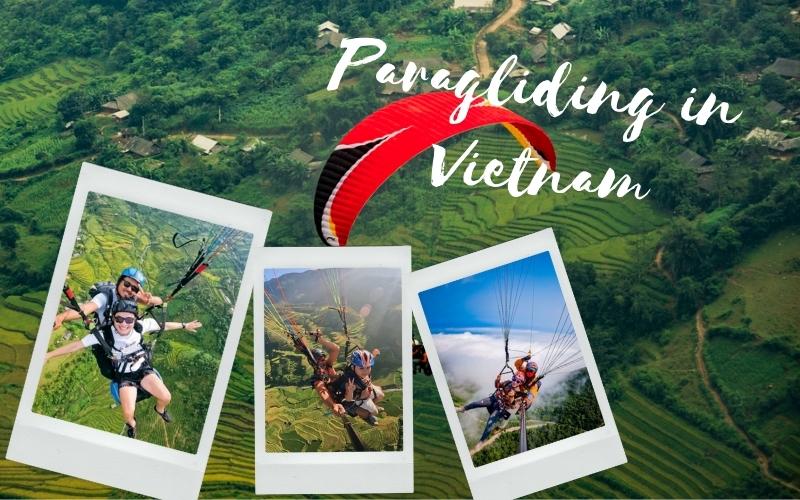 Vietnam is renowned for its vibrant culture and distinct traditional way of life with numerous unspoiled shorelines, expansive river networks, grand Buddhist pagodas, and lively urban centers teeming with both residents and visitors. Amidst this Southeast Asian backdrop, the land is graced by awe-inspiring, soaring mountains that truly come alive through the exhilarating pursuit of paragliding. Among the premier adventure activities, paragliding in Vietnam presents an exceptional opportunity to witness the stunning panoramas from a bird's-eye perspective. This captivating experience allows you to take in breathtaking landscapes in all their splendor.
Best Things about Paragliding in Vietnam
Vietnam beckons adventurers to experience the exhilarating thrill of paragliding for compelling reasons. Boasting a burgeoning paragliding and free flight community, the country has a significant presence of 1000 paragliding pilots, among whom 200 remain actively engaged, and take flight at least once a month. Notably, Doi Bu, located a mere 45 minutes from Hanoi, emerges as a bustling hub within Asia, witnessing near-daily flights.
The country showcases a diverse tapestry of over 50 active sites, each catering to distinct flying styles ranging from sled rides and coastal soaring to SIV towing, thermal, and even Cross Country flights.
With such vibrant variety and an opportunity to soar amidst stunning landscapes, trying paragliding in Vietnam unveils an adventure like no other, offering both novices and seasoned flyers an unforgettable, panoramic perspective of this remarkable land.
Best Time for Paragliding in Vietnam
If considering the whole country, Vietnam is a year-round flying season. In details:
From October to December, the Northern flats, including the Red River delta and Hanoi area, welcome the autumn season characterized by refreshing temperatures and dry air from China. Prominent sites like Doi Bu, located near Hanoi, and Mao Khe offer exceptional experiences.
November through January marks an ideal window to explore the North-West mountain range. During this period, the skies are clear, cloud bases soar, and dry air predominates. Embarking on flights amidst the rice field landscape and energetic thermals mirrors the vibes of Pokhara and Bir. Remarkable sites such as Tam Duong and Khau Pha (Mu Cang Chai) beckon adventure seekers.
From December to April, the Southern region experiences its dry season, echoing flying conditions akin to Thailand's paragliding scene. With cloud bases exceeding 2500 and robust, gently-edged thermals above low valley floors, sites like Khanh Vinh (near Nha Trang), Kontum, and Dateh (near Ho Chi Minh City) emerge as prime destinations.
Between May and August, the North undergoes its hot, arid summer influenced by the Fohn southwest wind. This period boasts high temperatures, clean and dry air, and extended daylight hours. Notably, records for straight-distance cross-country flights are often achieved during this season. Dai Tue (near Vinh) and Nam Vien Nam (near Hanoi) stand as exceptional sites to embrace these soaring summer conditions.
>>> Read more: The Best Time to Visit Vietnam.
Forms of Paragliding in Vietnam
In Vietnam, you can experience two thrilling forms of paragliding, including paragliding tandem and free-flying as a guest pilot.
Tandem Paragliding
Tandem paragliding is an adventurous activity in which a paraglider is accompanied by an experienced pilot. It uses a larger paraglider wing specifically designed for two people. Tandem passengers don't need any special skills or take any lessons before the flight, just listening to a short brief from the paragliding pilot, who will take complete control of the flying session.
Everything you need to do is take several steps during the taking-off process until your feet no longer touch the ground.
You can find tandem paragliding services in almost all big cities in Vietnam, such as Hanoi, Ho Chi Minh City, Nha Trang, Da Nang, etc. Each session will last about 10 – 12 minutes, costing about $60-100.
To fully enjoy your tandem paragliding experience, please remember:
Opt for weekdays over weekends and holidays, as sites tend to be less crowded, allowing pilots to offer more attentive care and extend their flight time. To ensure a smoother experience, you should play in early mornings or late afternoons. Flights around noon, regardless of pilot skill, tend to be more turbulent.
If motion sickness is a concern, avoid gazing directly downward; instead, focus on the horizon. Prepare for potential waiting periods around take-off zones, as transportation might be limited due to remote site locations. Equip yourself with reading material, snacks, and companions.
Shield yourself with ample sunscreen, akin to other outdoor pursuits. Feel free to let out a scream if you wish; however, avoid hasty actions that could endanger you and the pilot.
Resist the urge to capture mundane landscape videos; instead, record moments with your presence in the frame, distinguishing your memories from the multitude of existing videos.
Free Flying as a Guest Pilot
Generally speaking, free-flying as a guest pilot is illegal for foreigners in Vietnam. However, you can practically do it as long as you don't fly straight ahead to the airspaces. For this more adventurous experience, you should contact an experienced local pilot or a local travel agency for hands-on advice.
Best Places for Paragliding in Vietnam
Mount Vien Nam
Location: Yen Binh commune, Thach That District, Hanoi City
Take-off point: 260 meters above the sea level
Most suitable time: October to December
Nestled in the scenic expanse of Hanoi, this mountainous range stands as favored paragliding in Vietnam. It is a mere 50 km from the capital city, allowing individuals to gracefully glide through the awe-inspiring natural landscapes by leaping over the cliff's edge.
Designed for ridge-soaring flights, this mountain range facilitates takeoff from an elevation of 260 meters, ensuring a thrilling experience for all adventurers. Reaching the take-off point involves a picturesque 30-minute trek, adding an element of anticipation to the journey. The combination of breathtaking views, exhilarating flights, and a touch of exploration makes this spot an enticing option for paragliding enthusiasts seeking an unforgettable encounter with Hanoi's mountainscape.
U Bo
Location: Tien Xuan Commune, Thach That District, Hanoi City
Take-off point: Updating
Most suitable time: October to December
Located in Hanoi, just 42 km from the city center, U Bo stands as a prominent destination for Vietnam paraglide holidays. It lies within Tien Xuan Commune, a part of Thach That Ward. The establishment of this site was a culmination of rigorous testing and experimentation by Hanoi Paragliding.
Distinguished by its versatility, this terrain boasts four distinct take-off directions, significantly enhancing convenience for paragliders. The site proves optimal for a range of activities, including ridge soaring, airborne flights, thermal gliding, and SIV (Simulated Incident in Flight) practice.
A notable feature is the generous expanse available for both takeoff and landing, accommodating large groups with ease. The accessibility to the take-off point is convenient, with options to journey by car or motorbike. This comprehensive setup transforms the location into an ideal haven for paragliding enthusiasts, offering diverse experiences and ample space for a fulfilling adventure.
Bu Hill (833 Hill)
Location: Luong Son District, Hoa Binh Province
Take-off point: 620 meters above the sea level
Most suitable time: October to December
Situated just 40 km southwest of Hanoi, Bu Hill (altitude 833m) emerges as a picturesque mountain expanse, boasting slopes that gently span around 1.5 km. This topography provides an excellent opportunity for paragliding enthusiasts to revel in the experience. The path leading to Bu Hill, however, presents a challenging journey characterized by steep inclines and winding twists. Navigating this route successfully is a task reserved for adept local drivers.
While Bu Hill might not be an optimal destination for experienced pilots with advanced techniques, it presents an ideal haven for beginners and tandem paragliding in Vietnam. Its manageable terrain and inviting slopes provide an ideal environment for novices to take flight and for tandem experiences to unfold seamlessly.
Mount Bai Nha
Location: Ngoc Son Commune, Lac Son District, Hoa Binh Province
Take-off point: 480 meters above the sea level
Most suitable time: October to December
Situated in the Lac Son region of Hoa Binh Province, this paragliding location boasts an exceptional blend of optimal weather, wind patterns, and ample space. It has solidified its status as a hub for numerous annual paragliding competitions, drawing participants from all corners. Mount Bai Nha is also a haven for XC (cross-country) flying, owing to its dependable and expansive thermal currents.
Mu Cang Chai
Location: Yen Bai Province
Take-off point: 1262 meters above the sea level
Most suitable time: September – October (ripe rice season) and May – June (pouring water season over terraced rice fields)
Situated at a distance of 280 km from Hanoi, the mountainous expanse of Mu Cang Chai in Yen Bai Province stands out as a premier haven for paragliding in Vietnam. Renowned for its breathtaking panorama, Mu Cang Chai boasts expansive terraced fields that paint a mesmerizing landscape. These rice terraces are a testament to human creativity harmonizing with nature, resulting in a captivating beauty that enchants all wanderers.
Journeying to Mu Cang Chai entails traversing the renowned Khau Pha Pass, a precarious ascent situated approximately 1,270 meters above sea level, which is distinguished as one of Vietnam's four most challenging routes. Evidenced by the verdict of both national and international aviators, Khau Pha Pass ranks among the nation's top paragliding destinations. Its appeal is underscored by optimal weather conditions, alongside a seamless integration of natural and cultural wonders, rendering it a quintessential stop for paragliding enthusiasts.
>>> Try paragliding in Mu Cang Chai and visit other famous tourist destinations of the region with our Northwest Vietnam Tour in 10 Days.
Linh Truong Mountain
Location: Thanh Hoa province
Take-off point: 210 meters above the sea level
Most suitable time: April, May, and November
Nestled within Thanh Hoa Province, Linh Truong Mountain rises to an elevation of 210 meters above sea level. Embarking on a paragliding session here isn't just a thrilling endeavor; the journey to access this site is equally invigorating. The path leading to this paragliding haven winds through a narrow trail, meandering amid a dense pine forest. However, the rewarding panoramic vistas that unfold from the sky are well worth the effort required to reach this destination. As you glide through the air, lush green landscapes, sprawling forests, untouched beaches, and expansive rice fields paint an enchanting canvas below. The journey's trials are effortlessly surpassed by the splendid sights that await, rendering the entire experience an exceptional memory to cherish.
Son Tra Peninsula
Location: Son Tra Peninsula, Da Nang City
Take-off point: 600 meters above the sea level
Most suitable time: Late April and early May
Son Tra, a captivating peninsula in the southern reaches of Da Nang, has become a familiar destination for travelers. Its allure stems from crafting a mesmerizing and picturesque bay. Embarking on a paragliding escapade here offers an opportunity to revel in the magnificence atop towering peaks while being enveloped by billowing clouds. The verdant forested stretches, adorning the winding paths of these elevated mountains, seamlessly extend towards the sea's edge, merging into a sprawling ecosystem.
You will land at either Tho Quang Beach or Pham Van Dong Beach, both perfectly encapsulate the essence of the peninsula's coastal beauty, creating a harmonious conclusion to the exhilarating journey through the skies.
Lang Co
Location: Da Nang City
Take-off point: 200 meters above the sea level
Most suitable time: April – September
Situated at the heart of Vietnam, Lang Co boasts captivating natural vistas centered around its exquisite azure shoreline. To reach this haven, you must venture northward from Danang, embarking on a 30 km journey. Its enchanting combination of stunning coastal scenery and favorable wind conditions establishes it as a prime location for those seeking remarkable paragliding in Vietnam.
The locale is consistently embraced by gentle breezes, creating an optimal climate for paragliding and enhancing the overall encounter. The thrill of soaring amidst the skies is heightened by this constant wind presence. Takeoff is orchestrated from a 200-meter elevation atop the cliff, further elevating the adventure.
Mount Hon Hong (Pink Mountain)
Address: Phan Thiet City
Take-off point: 200 meters above the sea level
Most suitable time: November – March
Situated near the renowned Mui Ne tourist destination, Mount Hon Hong, famously known as Pink Mountain, resides merely 45 kilometers from the heart of Phan Thiet City. Towering at an elevation of 235 meters, this locale beckons numerous pilots seeking both practice and the splendid vistas that characterize Mui Ne's charm.
The takeoff site, situated on a sandy dune near the shoreline, provides a spacious expanse capable of accommodating up to 10 open canopies simultaneously. Hon Hong unveils an environment that's particularly advantageous for fledgling paragliders venturing into the skies over Vietnam. This setting offers an optimum blend of topography and conditions, rendering it an ideal launchpad for those beginning their paragliding journey.
Mount Langbiang
Location: Da Lat City
Take-off point: 2000 meters above the sea level
Most suitable time: November to March
Located 15 km from downtown Da Lat, Mount Langbiang can be easily accessed via bus, motorbike, or car. The journey to this elevated peak takes approximately 20 minutes, unveiling the charm of the mountainous landscape. Participants are beckoned to leap and ascend from a remarkable altitude of 2000 meters, a feat that positions Mount Langbiang as Vietnam's highest paragliding hub.
For those seeking a more efficient ascent, a Jeep tour stands as a viable option, saving both time and energy. This alternative ensures a swift and comfortable journey to the summit, allowing enthusiasts to promptly indulge in the exhilarating paragliding experience.
Budget for Paragliding in Vietnam
Depending on the playing forms you choose, the cost to paraglide in Vietnam will differ. For example, if you choose tandem paragliding, you will have to pay for the playing session only, which is at least $60 in Hanoi, $70 in Da Nang, and $100 in Nha Trang.
However, if you choose to fly freely as a guest pilot, you must join a training course (which takes about $500), buy a paragliding wing (up to $80), and so on. Other necessary equipment including a harness, helmet, flight computer, radio, Anti-G, ballast, reserve, etc. will also cost you an amount of money.
Additional expenses include land transportation, accommodation, food, and costs for other recreational activities. According to statistics, the average price for a packaged day tour in Vietnam is around $160, in which you use mid-level service. As a backpacker, you can cut down on your cost by staying at budget-friendly homestays, which are about $20 per night. However, if you choose luxury accommodation and hire a private car for transportation, the average travel cost may rise to $500 or more.
Tips for Paragliding in Vietnam
If you lack paragliding expertise, tandem paragliding in Vietnam is the route to take. This involves a flight with a seasoned guide. Both of you will be loosely harnessed together, initiating take-off with a jogging start. Once airborne, you'll assume a seated position with your guide situated behind you, essentially sharing the harness. The guide will secure you into place and the adventure begins!
For those aspiring to learn and engage in independent paragliding, here are crucial tips to consider before, during, and after your glide:
Paragliding in Vietnam necessitates the use of a canopy parachute. Utilizing the wind and gravity, you can glide for an extended period. Take-off and landing pose the most challenges and often result in the highest number of accidents.
Training is paramount before embarking on a glide. Utilize available paragliding guides to ensure a safe and proficient experience. Your equipment must be meticulously chosen and equipped, including wings, harness, variometer, radio, and global positioning system. Seek advice from your instructor before purchasing.
Weather is of the greatest importance. Never engage in paragliding during rain or adverse weather conditions. Avoid flying when wind speeds exceed 25-30 mph.
Carefully select your practice site. Avoid slopes steeper than 15 degrees for take-off, as these can impede balance control. Clear any obstructions from the take-off area. Consult your instructor for guidance if slope running is necessary.
Most accidents occur during landing. Ensure your landing area is clear and, in emergencies, watch for trees which, though potentially injurious, can reduce fatality risks.
Carry a sharp tool, like a knife, for emergencies involving entanglement.
Prioritize safety gear for protection. Helmets are essential as head injuries can be life-threatening.
Above, we have provided you with all the necessary information for an ultimate paragliding experience in Vietnam. It is one of the most adventurous activities but worth trying. Hope to can choose where in Vietnam to satisfy your paragliding enthusiasm. Plan your trip with us now if you are ready.