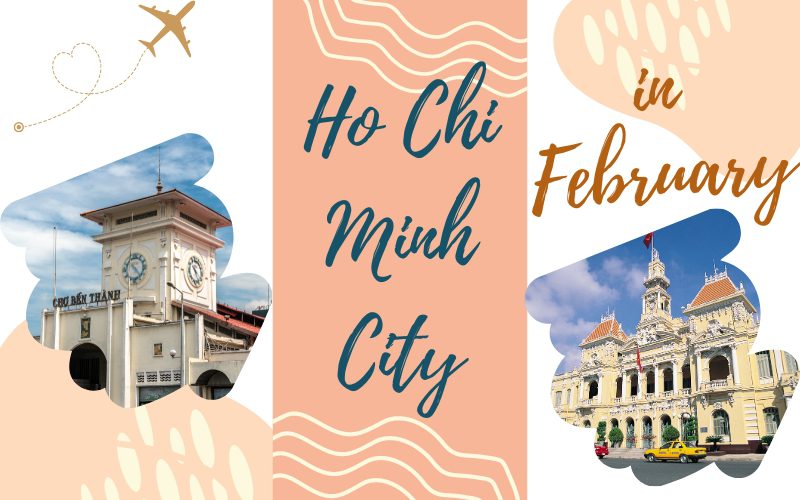 If you're considering Ho Chi Minh City for your upcoming vacation, February is an excellent choice for your getaway. This month boasts the driest weather in Saigon, offering a respite from sudden rains and eliminating the need for umbrellas or raincoats. Exploring Ho Chi Minh City in February allows you to immerse yourself fully in the charm of this historic 300-year-old city. For comprehensive insights, read on our following guide to acquire all the essential information you need for your visit.
Ho Chi Minh Weather in February
In February, the weather in Ho Chi Minh City tends to be warm and relatively dry. The average temperature is between 23°C and 34°C, with about 3 to 8 days of rain. Visitors can expect a humidity level of around 70%, which is at its lowest level during the year.
The initial half of this month may coincide with the Tet holiday, offering an opportune moment for foreign travelers eager to partake in this Vietnam's significant festival. However, it's important to bear in mind that during the Tet holiday (Lunar New Year), numerous shops and establishments might be closed, leading to a departure from the city's usual vibrant atmosphere. It's advisable to plan ahead and check your calendar to ensure a well-informed and enjoyable experience during this period.
Things to Do in Ho Chi Minh City in February
An abundance of things awaits you to explore in Ho Chi Minh City in February, especially fully engaging in the vibrant spirit of Tet, the revered traditional New Year celebration of the Vietnamese people. This period also witnesses the adornment of major thoroughfares with vivid flowers and illuminations, complemented by an array of engaging events. Thus, embarking on a visit during February, it's imperative not to overlook the captivating locales listed below, which promise an immersive and heartwarming experience amid the festivity.
Stroll along Nguyen Hue Walking Street
Throughout February, Nguyen Hue walking street emerges as a foremost hotspot cherished by both residents and visitors alike. As the New Year festivities unfold, this vibrant locale transforms into a hub of excitement, hosting an array of engaging activities to captivate tourists. From mesmerizing performing arts and live musical performances to the captivating allure of lion dances, the street comes alive with cultural splendor. Delightfully showcasing the artistry of floral arrangements and the meticulous craft of fruit and vegetable sculpting, Nguyen Hue walking street offers a sensory feast for all. To complement the experience, don't forget to sample delicious street food here.
Pay a Visit to Notre Dame Cathedral
Situated at the heart of Ho Chi Minh City, the Notre Dame Cathedral stands as an imposing testament to historic French architecture. This majestic edifice has evolved into a quintessential emblem of Saigon, captivating not only local youth but also attracting visitors from around the globe.
The cathedral's architecture elegantly blends elements of both Roman and Gothic styles, creating a harmonious synthesis of two distinct architectural traditions. During February, it enjoys a less crowded ambiance, providing an excellent opportunity for unfettered exploration of its captivating features. As you visit, you'll discover a serene and inviting space to immerse yourself in the rich history and architectural brilliance that the Notre Dame Cathedral embodies.
Go Shopping at Ben Thanh Market
Ben Thanh Market is one of the most bustling shopping havens in Ho Chi Minh City. Within its vibrant confines, a plethora of offerings awaits, spanning from local handicrafts to renowned brands, Vietnamese art, and charming souvenirs, all at reasonable prices. When navigating your purchases, it's advisable to engage in friendly bargaining, as vendors typically present their wares with initial higher price tags. As day transitions into night, the marketplace transforms, revealing an array of delectable dining stalls. Amid the evening ambiance, the aromatic allure of wok-fried noodles, barbecued fish, and savory meats fills the air, ensuring a culinary adventure that must not be overlooked.
Explore Cu Chi Tunnels
Located 70 km northwest of Saigon, the Cu Chi Tunnels form an intricate subterranean network in the Cu Chi district, spanning approximately 250 km. This labyrinthine structure was meticulously crafted by the Viet Minh and the National Front for the Liberation of Vietnam during the Indochina War and the Vietnam War. Within its depths, one can find a diverse array of spaces including a clinic, sleeping quarters, kitchens, storage rooms, and offices. This expansive site provides an invaluable opportunity for you to delve deep into the historical narrative and gain a comprehensive understanding of the region's past.
>>> Explore all the best of Ho Chi Minh City and its surroundings with our 5-day package tour.
Tips to Visit Ho Chi Minh City in February
For a wonderful trip to Ho Chi Minh in February, please remember these tips:
In Ho Chi Minh City, February stands out as the driest month, making it advisable to incorporate moisturizing cream, ample hydration, and a water bottle in your outings.
When journeying to Saigon in February, light and comfortable attire is recommended over heavy clothing. Donning breezy outfits is ideal, complemented by the inclusion of hats, face masks to shield from the sun's heat, and appropriate walking shoes.
The initial half of this month often aligns with the Tet holiday, a prime occasion for foreign travelers seeking to engage in Vietnam's paramount festival and gain cultural insights. It's a splendid opportunity to partake in local festivities and perhaps share in a Tet meal with a native family. Nevertheless, be aware that Tet marks Vietnam's longest vacation, during which many businesses close and locals travel home. If you consider a February visit, especially around the Lunar New Year, thoughtful planning is crucial. Opting for a pre-arranged Ho Chi Minh packaged tour can ensure a hassle-free experience with all arrangements thoughtfully managed on your behalf.
Hope this article will help you to plan a perfect trip to Ho Chi Minh City in February. Still need further information, you can read our comprehensive Ho Chi Minh City travel guide here. Or, contact us for immediate support.
Read more: