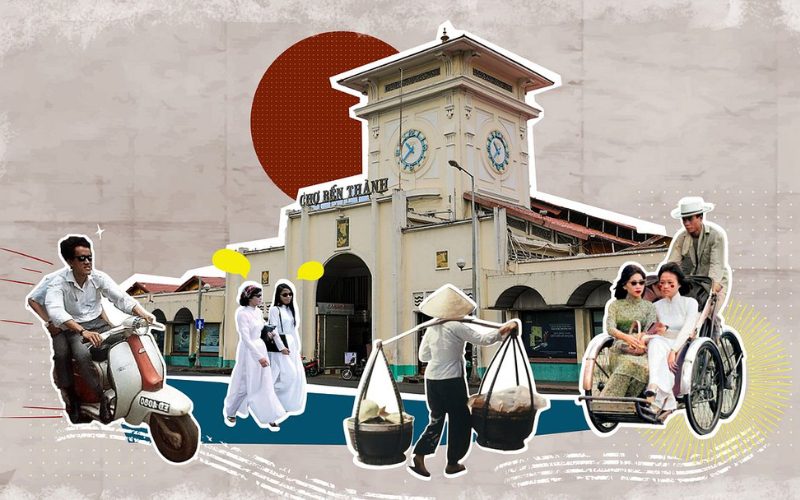 For those who've dedicated years to shopping at various supermarkets and commercial centers, delving into the realm of Asian markets can be an invigorating adventure. A visit to Ben Thanh Market is all it takes to comprehend the reasons behind this excitement. Positioned in the vibrant city of Saigon, this market stands as an essential spectacle, thriving during the daytime as a bustling hub of commerce and transforming into a vibrant social nucleus as evening falls.
About Ben Thanh Market
Ben Thanh Market stands as the largest of its kind in Ho Chi Minh City, boasting not only its size but also its historical significance. Its roots stretch back to the 17th century, with the current architectural gem dating back to 1912.
Ben Thanh Market is located at Ben Thanh Ward, Phu Nhuan District, Ho Chi Minh City, within proximity to District 1 – the economic and tourism center of Ho Chi Minh City. The day market is open from 06:00 AM to 07:00 PM, then it is time for the night market till midnight. Nevertheless, it's worth noting that the liveliest moments occur earlier in the day. For those arriving at Ben Thanh Market with an appetite, it's wise to arrive before 3 pm, as that's when the food stalls conclude their operations.
While the shopping section caters partly to tourists, Ben Thanh Market's offerings are a delightful amalgamation of various elements. Locals frequent the market for their meat and produce needs, and travelers partake in the experience, either by shopping or savoring a meal.
History of Ben Thanh Market
The construction of the Ben Thanh Market took place from 1912 to March 1914, marking two distinct chapters in its history: the old market era and the new market era. The initial incarnation of the market was crafted from brick and wood, serving as a bustling hub within the city even during its early days. However, following Le Van Khoi's uprising in 1833, the market's popularity waned.
In February of 1859, a mere two days after the French seized control of Gia Dinh (the former name of Ho Chi Minh City), Vietnamese soldiers orchestrated a fiery assault on the entire city, resulting in the market's destruction. Nevertheless, by 1860, the French had reconstructed Ben Thanh Market at its original site. Subsequently, in 1870, the market fell victim to yet another fire, compelling the French to rebuild it once more.
By around 1911, Ben Thanh Market was showing signs of age and structural instability, prompting its dismantling and subsequent reconstruction in a different locale. This new site was near the My Tho train station, hence earning the moniker "new market." Positioned at the convergence of four roads, it faced south towards Place Cuniac Street, north towards Rue d'Espagne Street, east towards Rue Viénot Street, and west towards Rue Schroeder Street. Over time, the latter three road names changed to become Le Thanh Ton Street, Phan Boi Chau Street, and Phan Chau Trinh Street, respectively.
Then, on July 1st, 1985, Ben Thanh Market underwent a comprehensive renovation, solidifying its place as one of the most pivotal locales within Ho Chi Minh City today.
The Architecture of Ben Thanh Market
Erected in 1912 by the Brossard et Maupin Construction Company, Ben Thanh Market stands as a renowned testament to distinctive architecture and a symbol of Saigon. Esteemed architectural experts classify it as a historical monument, bearing the hallmarks of a century-old marketplace.
Despite its age, the market remains far from incongruous amidst the lively urban backdrop. Khuong Van Muoi, the President of the city's Architects' Association, remarked, "When discussing the market, the iconic clock tower comes to mind, along with the enveloping awnings that stretch over the market, providing shelter. The market's structure itself was meticulously designed to harness natural air-conditioning."
Ben Thanh Market boasts four primary gates and twelve entrances. The principal front gate, situated on Le Loi Street, faces south; the northern gate graces Le Thanh Ton Street; the eastern entrance is on Phan Boi Chau Street; and the western access opens onto Phan Chau Trinh Street. Particularly renowned is the main entrance, adorned with the towering clock that has become the quintessential emblem of Ben Thanh Market.
Stepping through this gateway reveals a vibrant array of colorful textiles and garments. On the market's eastern flank, six gates beckon with a plethora of Vietnamese packaged delicacies, including coffee beans, tea, fish sauces, and dried goods. The northern segment teems with offerings of fresh produce, an eclectic assortment of fish and meats, accompanied by blooms, processed foods, and fruits. The western gate opens up a souvenir haven, featuring numerous stalls showcasing gifts, ceramics, and artworks.
Things to Buy at Ben Thanh Market
Ben Thanh Market serves as a comprehensive emporium, offering a nearly exhaustive array of merchandise to meet your needs. The stalls near the north gate present a rich variety, from fruits and vegetables to meats, fish, and even flowers. Here, as is common in many traditional Vietnamese markets, you'll encounter an assortment of animal parts that might evoke unease, including intestines, brains, feet, and stomachs. Yet, the presence of the vibrant, beautiful flowers nearby acts as a counterbalance to these images. This wet market segment is operational from the early hours until midday.
Amidst the vibrant hustle and bustle of Ben Thanh Market, a thriving realm with approximately 3,000 stalls unfolds around 8 am. As you explore, you'll be met with a spectacle of color and abundance, a true visual feast. The offerings span a wide spectrum, encompassing electronics, apparel, jewelry, footwear, handcrafted items, and even culinary delights. Each day, the market attracts around 15,000 customers, captivating a substantial number of foreigners.
For those seeking gifts for friends, the market showcases distinctive Vietnamese traditional handicrafts. Particularly noteworthy are the renowned lacquerware and coconut-based dinnerware. Items like bowls, spoons, plates, and chopsticks make splendid presents for loved ones. Notably, Ben Thanh Market also boasts splendid fabric creations adorned with intricate threadwork embroidery and patchwork. Those inclined towards wooden crafts can explore handcrafted wooden boats and figurines. In essence, the market is a treasure trove for both fabric and wood crafts. These meticulously crafted Vietnam souvenirs serve as memorable gifts for your friends and encapsulate the vibrant spirit of Saigon, Vietnam's most dynamic city.
>>> Have a wonderful shopping experience at Ben Thanh Market with our Ho Chi Minh City Full-Day Tour.
What to Eat at Ben Thanh Market
Crab Paste Vermicelli Soup (Bun Rieu Ganh)
Bun Rieu Ganh stands as a cherished delight in Vietnam's culinary landscape. In Saigon, this dish takes on a subtly sweeter profile compared to its counterparts in other regions. The heartwarming soup boasts a medley of components, including crab paste, crispy fried tofu, substantial blood curd, ripe tomatoes, and delicate vermicelli. Complementing this ensemble is an array of fragrant herbs, infusing the dish with an inviting aroma. For an enhanced gustatory experience, you have the option to enhance your bowl with diverse sauces such as shrimp paste, tamarind sauce, and a touch of chili.
Price: About 50,000 VND/bowl
Hue Bloating Fern-shaped Cake (Banh Beo Hue)
Even in Saigon, you can savor the authentic flavors of Central Vietnam with the Bloating Fern-shaped Cake, a traditional rice cake of Hue. This delicacy is meticulously crafted from rice flour before undergoing steaming. Upon placing an order, the vendor embellishes the cake with layers of shrimp powder, crispy fried bread, scallions, pickled vegetables, a drizzle of sweet fish sauce, and a slice of Vietnamese sausage.
Typically, guests also opt for additional varieties of cake, such as rice dumpling cake and sticky rice cake, elegantly assembled on a single plate. Should you crave a spicy kick, a simple request to the vendor can result in the incorporation of chili to infuse your dish with fiery flavors.
Price: About 20,000 – 25,000 VND/dish
Fresh Spring Rolls (Pho Cuon)
The renowned Fresh Spring Rolls have gained such popularity that an abundance of stalls graces this dish at Ben Thanh Market. Each roll presents an amalgamation of ingredients, encompassing shrimp, a delicate pork slice, bean sprouts, vermicelli, chives, and fragrant herbs. Diners engage in the art of rolling and wrapping these components within a rice paper shell.
Remarkably, the crux of this dish resides in the dipping sauce, a pivotal factor in determining its level of deliciousness. This sauce, the heart, and soul of the culinary experience, features hoisin sauce infused with pickled carrot and beet, alongside a scattering of crushed peanuts.
Price: About 10,000 VND/roll
Broken Rice (Com Tam)
Missing out on a serving of broken rice would be a regrettable oversight during your trip to Ho Chi Minh City. This dish holds iconic status within Saigon's culinary repertoire. Typically, a plate boasts an ensemble of components, featuring rice, egg paste, grilled pork chop, and finely shredded pork skin. The experience is elevated by the addition of scallion-infused oil, tangy pickled vegetables, and a drizzle of sweet fish sauce.
To embark on this culinary journey, seek out the eatery called Phung Kieu. Here, the affable proprietors are primed to welcome and serve their patrons with warm hospitality. The culinary offerings extend beyond broken rice, encompassing delights like Nam Vang noodle soup and crab noodle soup, ensuring a flavorful exploration of the menu.
Price: About 50,000 VND/serving
Sweet Soup (Che)
Following the main courses, indulging in sweet soup presents an excellent option as a well-known and comforting dessert in Vietnamese culinary culture. Be Che stands out as one of the earliest establishments, having been in operation since 1968.
This eatery offers an extensive assortment of sweet soups, catering to diverse preferences. The selection spans from warm options such as tofu, rice ball sweet soup, and sweet taro with coconut milk, to chilled varieties including sweet black bean soup and sweet lotus seed soup. Despite its modest dimensions, the store consistently draws a throng of patrons, both dining in and opting for takeout, creating a bustling atmosphere.
Price: About 20,000 – 30,000 VND/serving
Ben Thanh Night Market
Nestled adjacent to the central edifice of the conventional market, the Ben Thanh Night Market invites visitors to immerse themselves in a dynamic open-air market encounter. Within this market's realm, a diverse array of merchandise awaits, encompassing clothing, accessories, keepsakes, and artisanal crafts.
Engaging in the art of negotiation is a customary tradition here, with a prevailing belief that the inaugural transaction of the evening bestows good fortune. Hence, those who embark on their shopping early may find themselves in an advantageous position. Stretching along a solitary street, the market creates a bustling and spirited ambiance, offering a vibrant milieu for exploration and enjoyment.
Ben Thanh Street Food Market
Situated in proximity to Ben Thanh Market, the Ben Thanh Street Food Market emerges as a chic culinary enclave. This modern food hall showcases a diverse spectrum of dining choices through its assembly of 20-25 vendors, each serving up a delectable array of authentic Vietnamese dishes. Amidst this gastronomic haven, a dedicated stall proffers an assortment of beer selections to complement the culinary experience.
Characterized by bench-style tables stationed both at the front and rear, the market ensures a pleasant dining setting, enhanced by the presence of air coolers. Conceived to appeal to tourists who might harbor reservations about indulging in street food within Ho Chi Minh City, this establishment offers a hygienic and enticing atmosphere. While the prices might slightly exceed those of typical street food stalls, they remain within reasonable bounds, catering to the budget of visitors.
Quick Tips & Tricks
Bargain: Even if you encounter "set price" signs, remember that bargaining is always an option. Since this market in Ho Chi Minh City caters to tourists, the initial prices quoted are likely higher than what you'd find elsewhere in the city. Embrace haggling – it's perfectly acceptable. However, note that this practice doesn't apply at the food court.
Protect Your Belongings: While Ben Thanh Market is generally safe, it's wise to safeguard your valuables in any crowded environment. Consider securing your backpack, using a decoy wallet, or wearing a money belt. If you lack these items, don't worry – you can easily acquire them within the market itself.
Navigate Confidently: Your visit to this Saigon market can be delightful yet disorienting due to its maze-like layout. Numerous narrow lanes intersect, potentially leading to confusion. Keep in mind that the food section stands out as distinct. Although sticking together with your group is sensible, don't fear getting a little lost, it can add a touch of adventure to your experience!
Survey Before Purchasing: The scale of shopping within Ben Thanh Market becomes evident only upon exploration. While the allure of immediate purchases may be strong, take a preliminary round to survey the offerings. Inquire about prices to gain insight into their value. Armed with this information, formulate a strategy before embarking on your buying spree!
With these insights at hand, you're guaranteed an incredible shopping experience at Ben Thanh Market – a distinguished entry among the top 10 most worth-exploring markets in the world. Plan your trip with us now to relish the delights of this shopper's paradise!