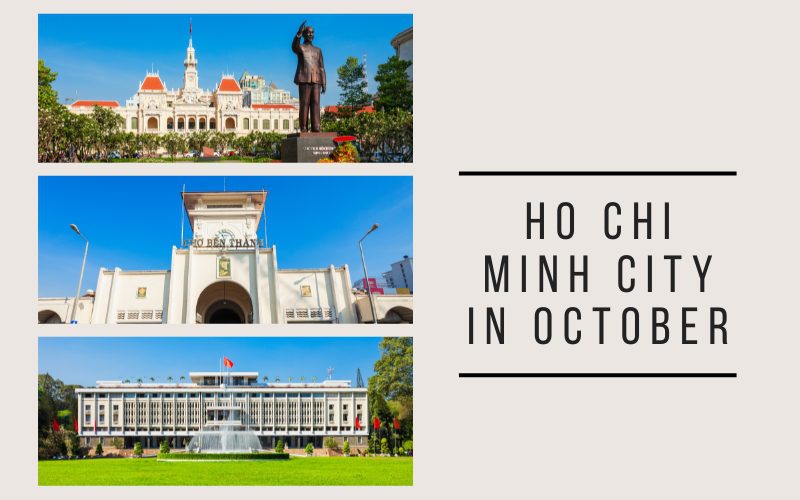 Ho Chi Minh City, formerly known as Saigon, is a vibrant metropolis located in southern Vietnam. With its rich history, vibrant culture, delicious street food, and bustling urban vibe, this city is a fascinating destination for travelers from around the world. Explore Ho Chi Minh City in October with IDC Travel through this article to enjoy good times in this magnificent city!
Ho Chi Minh Weather in October
Before traveling to Ho Chi Minh City in October, you should catch some brief information about the weather here to have a comfortable trip. Being in the south, Saigon has two distinct seasons: the rainy season and the dry season. While the rainy season lasts from May to November, the dry season lasts from December to April next year. Temperatures in Ho Chi Minh City in October generally range between 28°C and 33°C, with possible variations. Humidity is high in October in Saigon, often reaching around 85%. October marks the rainy season in Ho Chi Minh City, so there may still be occasional downpours.
Ho Chi Minh weather in October is relatively irregular, so you should prepare umbrellas or raincoats and light clothing to be more comfortable during your trip.
Must-Visit Destinations in Ho Chi Minh City in October
Ho Chi Minh City's Museums
War Remnants Museum
War Remnants Museum is a must-see attraction in District 3 of Saigon. It offers a detailed overview of the Vietnam War and its aftermath. The museum features captivating exhibits that tell the story of the war through photographs, artifacts, documents, weapons, military equipment, and personal items. You will be able to see fighter planes, tanks, helicopters, and other machines used during the war.
This museum houses a collection of photographs documenting the violence and suffering of the conflict, as well as special exhibitions on topics such as war crimes, Agent Orange, and the impact on the Vietnamese population. A visit to the War Remnants Museum offers a Vietnamese perspective on the war, highlighting the experience of Vietnamese civilians and soldiers during the conflict. It also gives an overview of the Vietnam War's political and historical circumstances.
History Museum of Ho Chi Minh City
The History Museum of Ho Chi Minh City, located in District 1 of Saigon, is a place that traces the rich history of the country, from the earliest civilizations to the contemporary era. The museum exhibits historical artifacts, sculptures, pottery, coins, jewelry, and other objects that bear witness to the evolution of Vietnamese culture through the centuries. The exhibits are organized chronologically, providing a structured overview of Vietnam's history. You can explore the rooms devoted to different periods of Vietnamese history, such as Antiquity, the Imperial era, the French colonial period, the Indochina War, and the Vietnam War. Each room offers detailed information on major historical events,
By visiting the Ho Chi Minh City History Museum, you will have the opportunity to explore the evolution of this country, learn about its heritage, and develop a deeper understanding of its culture and national identity.
Sacred Pagodas in Ho Chi Minh City
Ho Chi Minh City is full of beautiful pagodas where you can indulge in the dedicated atmosphere of Vietnam's Buddhism.
Jade Emperor Pagoda
Located in District 1, the Jade Emperor Pagoda is one of the oldest and most important pagodas in the city. It is dedicated to the Jade Emperor, the supreme deity of the Vietnamese Buddhist pantheon. The interior of the pagoda is adorned with colorful sculptures and statues, creating a spiritual and magical atmosphere.
Vinh Nghiem Pagoda
Located in District 3, Vinh Nghiem Pagoda is one of the largest pagodas in the city and is important to the Vietnamese Buddhist community. It is renowned for its impressive architecture and beautiful garden. The pagoda also houses a Buddhist school and a library.
Saigon Opera House
Saigon Opera House, also known as Saigon Municipal Theater, is one of the most iconic buildings in Ho Chi Minh City. Located in District 1, this stunning house is a perfect combination of classic French architecture with colonial influences.
Built-in 1897, the Saigon Opera House is an architectural masterpiece characterized by its elegant white facades, delicate ornaments, and imposing columns. It was designed in the neo-baroque style, showcasing elaborate details and artistic carvings. The interior of the opera house is equally impressive. Its large performance hall features sumptuous decorations with gold ornaments, elegant chandeliers, and painted ceiling frescoes. The stage is equipped with modern technology to host theatrical performances, ballets, operas, and other artistic performances.
Saigon Opera House holds an important place in the cultural life of the city. In this place, art lovers and culture enthusiasts can enjoy high-quality performances and experience the elegance of opera.
Landmark 81
Landmark 81 is a striking skyscraper located in the Binh Thanh district of Ho Chi Minh City. It is currently the tallest building in Vietnam. With a height of 461.2 meters, Landmark 81 stands majestically in the Saigon skyline. It dethroned the Bitexco Tower to become the tallest building in the country in 2018. Landmark 81 is a multifunctional building that houses a luxury hotel, offices, residences, shops, and restaurants. It has become a symbol of modernity and prosperity in the city.
On the 81st floor of Landmark 81, you will find an observatory open to the public that offers a spectacular panoramic view of Ho Chi Minh City. From up there, you can admire the surrounding skyscrapers, the Saigon River, and the city that stretches as far as the eye can see.
>>> Join our Fantastic Ho Chi Minh City Full-Day Tour to discover all of these thrilling destinations in Saigon.
Must-Try Foods in October in Saigon
Com Tam (Broken Rice)
Com Tam consists of grilled pork (grilled pork chops) or grilled chicken, broken rice, minced pork rind flavored with grilled rice (bì), and meatloaf with egg (chả trứng). Com Tam is generally served with a fish-based sauce (Nước mắm), an important and characteristic element of the dish. This is a simple, yet delicious meal, offering a balance of sweet, salty, and tangy flavors. It is often served at street stalls and small local restaurants in Ho Chi Minh City, where you can taste this Vietnamese specialty most loved by locals and visitors.
Goi Cuon (Fresh Spring Rolls)
Goi Cuon is a popular Vietnamese dish easily found in Ho Chi Minh City. It consists of a variety of fresh and healthy ingredients, such as lettuce, cucumber, shrimp, mint leaves, Thai basil, etc., carefully wrapped in a thin rice paper. If you want, you can replace shrimp by other proteins like chicken, pork, beef, or even tofu.
Goi Cuon is eaten with a typical sauce made from fermented fish, lime juice, sugar, pepper, garlic, and other Vietnamese spices. It is both salty and slightly spicy, highlighting the flavor of Goi Cuon. If you don't like fish sauce, you can enjoy this dish with peanut butter soy sauce.
Banh Canh Cua (Crab Noodle Soup)
If you have the opportunity to visit Ho Chi Minh City, don't miss a crab noodle soup (Bánh Cánh Cua in Vietnamese). The dish features thick, sticky noodles known as "Bánh Canh", which are made from a rice or tapioca paste. The soup is prepared with a flavorful broth made from pork bones, dried shrimp, onions, garlic, and spices. The broth is simmered for hours to enhance all its rich, deep flavors. It is usually seasoned with fermented fish (nước mắm) to give it a distinct salty note.
Bánh Canh Cua is garnished with chunks of succulent crab meat, bringing a delicate flavor and tender texture. The crab meat can be mixed into the broth or served separately, depending on the chef's preference. For a complete experience, it can be accompanied by fresh herbs such as Thai basil, coriander, and mint leaves. Bean sprouts, green onions, and lime slices are also added for extra freshness.
>>> Check out our article on Saigon Food Guide: Must-Try Foods in Ho Chi Minh City for other mouth-watering dishes to savor in this city. 
Tips to Visit Ho Chi Minh City in October
October is in the rainy season in Ho Chi Minh City, irregular weather may influence your trip. You can then read your following suggestions to have good experiences:
Prepare for bad weather: Ho Chi Minh City in October is characterized by hot and humid temperatures, with the possibility of occasional showers. Be sure to dress lightly in breathable clothing and bring a hat, sunscreen, and a foldable umbrella to protect yourself from the sun and showers.
Plan your itinerary carefully: Organize your schedule efficiently by avoiding peak hours to avoid crowds and save time for waiting.
Be vigilant about safety: As in any big city, it is important to remain vigilant when it comes to safety. Keep an eye on your valuables, avoid too secluded areas at night, and take extra precautions when using services such as taxis or motorcycle transporters.
Pay attention to traffic conditions during rush hour: You may find it difficult to call a taxi or get on public transport. For a comfortable journey, it is advisable to hire a private car with a driver, especially when you go with your family.
We hope that the above tips can serve as a helpful guide for your future trip to Saigon. Plan to visit Ho Chi Minh City in October this year, Don't hesitate to contact us for a tailor-made tour program.
Read more: