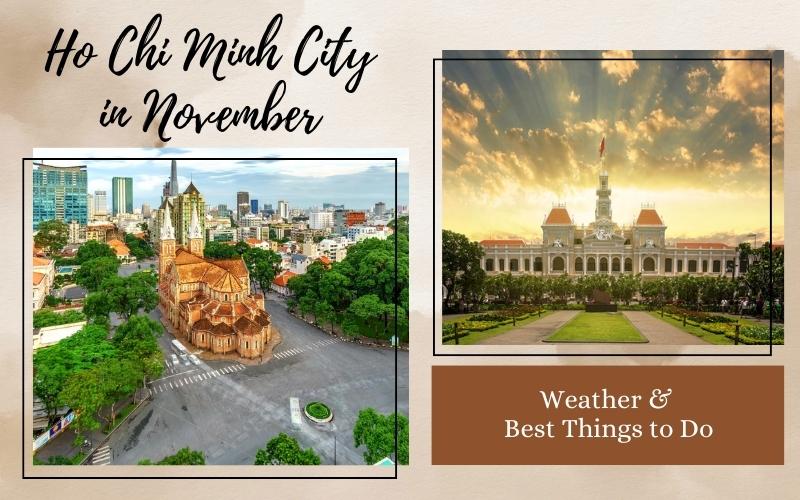 Ho Chi Minh City, formerly known as Saigon, is Vietnam's largest city and a vibrant economic and cultural center. In November, the city offers a pleasant climate with cooler temperatures and less rainfall, making it an ideal time to visit. Let IDC Travel give you some tips to explore Ho Chi Minh City in November!
Ho Chi Minh Weather in November
November is the last month of the rainy season in Ho Chi Minh City, so the weather is more pleasant than in the previous months. The monthly average temperature is 28°C, the average high temperature is about 32°C, while the average low temperature is about 23°C. The rain decreased considerably compared to the previous month, approximately 100 mm with 10 rainy days in the month. At the same time, the humidity in November is relatively low, approximately 70-95%.
The pleasant weather is the perfect condition for visitors to immerse themselves in the dynamic beauty and soak up the vibrant ambiance of this city. However, there are still some occasional showers, so it is necessary to prepare an umbrella or a raincoat to avoid interrupting your trip.
Places to Visit in November in Ho Chi Minh City
Within the City
Cu Chi Tunnels
Cu Chi Tunnels, located approximately 40 km northwest of Ho Chi Minh City, is a network of iconic underground tunnels that played a key role during the Vietnam War. Stretching over 250 km, the system was used by North Vietnamese fighters, known as the Viet Cong, during the Vietnam War to move stealthily, hide, and carry out surprise attacks on American forces.
Today, the Cu Chi tunnels are open to the public and have become a major tourist attraction in Ho Chi Minh City. Here, you will have the opportunity to experience part of the reconstructed tunnel system and learn about the guerrilla tactics used by the Viet Cong. You can also observe the harsh living conditions of Vietnamese fighters during the war, as well as the ingenious traps, storage facilities, and underground living quarters. Some tunnels have been enlarged to allow visitors to squeeze inside, giving a real sense of the claustrophobia and challenges the fighters faced at the time.
Saigon Central Post Office
Saigon Central Post Office is an architectural and historical symbol of Ho Chi Minh City. Built between 1886 and 1891, it was designed by Gustave Eiffel, the famous French engineer behind the Eiffel Tower in Paris. The building has a steel structure with a red brick facade and a green tiled roof. The interior of the Central Post Office is equally impressive, with its high ceilings and beautiful decoration. You will be greeted by the huge portrait of President Ho Chi Minh, an emblematic figure of Vietnamese independence, which sits in the main hall.
In addition to its postal function, the Central Post Office has also become a popular tourist attraction. Visitors can walk through the building and admire its architecture, historic clock, vintage telegraphs, and antique telephone booths. This place also houses exchange offices, souvenir shops, and cafes where you can relax and enjoy the peaceful atmosphere. To those who may not know, Saigon Central Post Office is ranked 2nd in the list of the 11 most beautiful post offices in the world, recognized by the American magazine Architectural Digest.
Ben Thanh Market
Ben Thanh Market is one of the most famous and bustling markets in Ho Chi Minh City. Located in the district of the same name, this central market is a true symbol of the city and a popular tourist attraction. Here you will find a multitude of stalls selling clothes, shoes, accessories, textiles, souvenirs, handicrafts, spices, fresh fruits, and much more.
Ben Thanh Market is a great place to buy souvenirs, and gifts, or to sample Vietnamese street food. You will find many food stalls selling delicious dishes such as banh mi (Vietnamese sandwiches), phở (noodle soup), and traditional Vietnamese desserts. This is also a meeting place for locals and visitors. Its lively atmosphere, with vendors haggling and customers wandering between the stalls, will immerse you in the daily life of the city. It is advisable to negotiate prices when you go shopping at Ben Thanh market, as it is a common practice.
>>> Explore all the major highlights of Ho Chi Minh City with our Full-Day city tour.
Nearby Destinations
Vung Tau
Vung Tau is a popular beach destination located about 125 km southeast of Ho Chi Minh City. Visiting Vung Tau from Ho Chi Minh City in November is an excellent choice, as the weather is generally pleasant with moderate temperatures and less humidity. To get to this beach paradise, you can take a taxi, bus, or hydrofoil boat.
This city is known for its beautiful beaches. The most popular are Bai Truoc Beach (Front Beach) and Bai Sau Beach (Back Beach). You can relax on the sand, swim in the warm waters, and participate in water sports such as windsurfing and jet-skiing. You can also take a boat trip to explore nearby islands, such as Con Dao Island or Hon Ba Island.
Can Gio
Can Gio is a rural district located in Ho Chi Minh City. To arrive here, you can take a taxi or a bus. The trip takes about two hours depending on traffic. It is also possible to rent a motorbike to explore the region more independently.
Can Gio's main attraction is its biosphere reserve. It is a very rich and diverse mangrove ecosystem, home to a wide variety of plants and animals, including rare species. You can take a boat trip to explore the mangroves, observe migratory birds, and discover the fauna and flora of this protected area. Can Gio also has quiet beaches where you can relax and get away from the hustle and bustle of the city, making it an ideal place to enjoy the peace and natural beauty. If you like fishing, don't miss out on the chance to visit the district's traditional fishing villages, where you can learn about their lifestyle and daily activities, walk through small alleys, and observe the fishermen at work.
>>> Visit Can Gio mangrove forests, Crocodiles & Monkey Island with our suggested Ho Chi Minh City 5-Day Tour. 
Must-Try Foods in November in Ho Chi Minh City
Pha Lau (Beef Offal Stew)
Tasting Pha Lau in Saigon is a great idea if you are a fan of Vietnamese cuisine. Pha Lau is a popular Vietnamese dish, mainly consisting of meat (usually pork or beef) and organ meats, such as stomach, intestine, liver, lungs, and ears. The cuts of meat and offal are simmered in a spicy and savory sauce, often made from curry or soy sauce.
Pha Lau is often served with side dishes such as rice noodles or bread sticks. You can also add fresh herbs, lime slices, and chilies to spice up the flavor even more. Some people also like to sprinkle the dish with crushed peanuts to add more texture.
Bun Rieu (Vietnamese Crab Soup with Vermicelli)
If you are in Saigon, you should not miss the opportunity to taste Bun Rieu, a delicious Vietnamese crab soup. Bun Rieu is a kind of soup made with tomato broth, rice vermicelli, crab, and other tasty ingredients. It stands out for its tart and slightly spicy flavor, which is obtained thanks to the tomatoes and spices used in the broth. Besides tomato broth and rice vermicelli, Bun Rieu is enriched with crumbled crab meat, tofu, shrimp, ground pork, and different vegetables like cabbage, aromatic herbs, and bean sprouts. It is usually accompanied by lime, chili peppers, fish sauce, and other condiments to add flavor according to preference.
Bun Rieu is a savory soup with a combination of different textures, ranging from tender rice vermicelli to delicate pieces of crab and crunchy vegetables. Each bite is a blend of tangy and tart flavors that will delight your taste buds.
Bo La Lot (Grilled Beef in Lolot Leaves)
Bo La Lot is a traditional Vietnamese dish consisting of thin slices of marinated beef, wrapped in lolot leaves and grilled. These aromatic leaves add a unique flavor to the meat and make the dish really special. Beef is usually marinated in a combination of garlic, shallots, soy sauce, sugar, and other spices to give it a delicious flavor. The marinated slices of beef are then wrapped in lolot leaves and then grilled until tender and slightly crispy. Bo La Lot is often accompanied by rice noodles, fresh vegetables, rice vermicelli, and different sauces for a complete dining experience.
>>> Discover more mouth-watering dishes of Ho Chi Minh City with our Saigon Food Guide.
Tips to Visit Ho Chi Minh City in November
Before booking plane tickets to Ho Chi Minh City in November, refer to the weather forecast to concretely plan your trip.
November is one of the rainy season months, so you should bring an umbrella or a raincoat to have a comfortable trip.
Carefully protect your identity documents, and your money to avoid losing them or being stolen. Although the people of Saigon are very friendly and hospitable, there are still people with bad intentions and stealing.
Don't bring too many overpriced accessories to avoid attracting the attention of thieves, otherwise, it is really dangerous.
If you are traveling by taxi, remember to follow the map and locate the correct route to avoid the bad case of the driver taking a detour, leading to an extra fare. You should choose reputable taxi services so as not to lose money unfairly. If necessary, you can consult our car rental service to get around easily and practically.
It is also necessary to book plane tickets, train tickets, hotels, etc. early, especially if you are visiting on the weekend because November is the peak tourist season in Ho Chi Minh City, and Vietnam in general.
We hope that all the information given above will help you easily plan your Ho Chi Minh City tours in the future. This is only a brief presentation of our city. There are so many other interesting things to discover in Ho Chi Minh City in November. Do not hesitate to contact us for useful advice and to plan your tailor-made trip!
Read more: