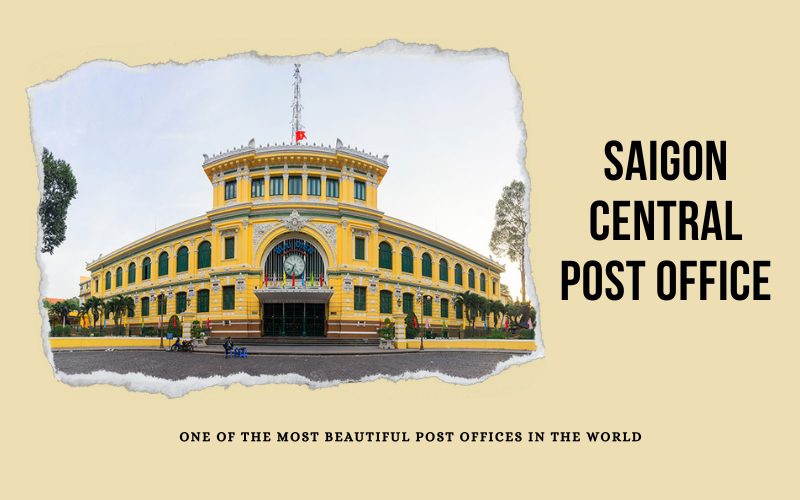 Ho Chi Minh City, or Saigon, is known as a bustling, modern city with a lot of vibrant and lively activities. However, you can also discover an ancient side of Saigon tucked away in its alleys and old, longstanding buildings. One of these landmarks that you should never miss out on is the Saigon Central Post Office.
Essential Information for Tourists
Location of Saigon Central Post Office
Saigon Central Post Office has the detailed address of No, 02, Cong Xa Paris Street, Ben Nghe Ward, District 1, Ho Chi Minh City. Nestled right in the heart of the city, you will find no difficulty in reaching this place and admiring its architecture.
Opting for a taxi or ride-hailing app to secure a ride is the most convenient choice. However, you can have a more comfortable option: renting a private car. This not only mitigates risks but also allows you to have the freedom of personalized transportation at your desired times.
Opening Hours
The Central Post Office warmly welcomes visitors every day, operating hours from 7:00 AM to 9:00 PM. This timeframe allows you to plan your visit flexibly. You can seize your time to come here and admire the intertwining of the classic and modern.
Development History of the Post Office
Saigon Central Post Office was initiated in 1886 and completed in 1891 by the famous French architect, Gustave Eiffel, who built the Eiffel Tower.
When the war was happening, the post office in Ho Chi Minh City (Saigon at that time) played a vital role in facilitating communication between civilians and the military. Moreover, people also came here to transmit information and news across different locations in the southern region. During this period, Saigon Central Post Office was under enhancement to cater to the demands of both the military and residents.
As the war finally ended, the Central Post Office continued to expand and improve its services. It was equipped with cutting-edge amenities, including fax machines, photocopiers, and typewriters.
To this day, this distinctive post office remains a captivating landmark of Ho Chi Minh City. This place not only offers high-quality postal services but also stands as a cultural and tourist destination. Recently, the magazine Architectural Digest has listed Saigon Central Post Office in its Top 11 Most Beautiful Post Offices in the World.
Unique Features of Saigon Central Post Office
Classic Yet Modern Architecture
It can be said that Saigon Central Post Office is one of the few famous constructions in Ho Chi Minh City that successfully combines Western modernity with Eastern classical elements. Admiring the post office from the outside, you can see a beautiful yellow harmonizing with the green of curved windows.
Above each window, there are raised bas-reliefs of laurel wreaths along with plaques honoring pioneers in the fields of telegraphy and electricity. Additionally, a large clock is placed right above the main entrance arch. The clock is adorned with delicate decorative lines, attracting you from the very first moment you see it. Below the clock, you might find the numbers which indicate the year of construction commencement and the building's inauguration.
On both sides of the flower garden, you will see two iconic statues representing the modern development era of the Central Post Office. These statues were built to celebrate the 300th anniversary of Ho Chi Minh City.
Interesting Inside Infrastructure
Stepping into the main hall of the post office, you will be amazed by the interiors here, which make you feel like time is flowing slowly. You can catch a glimpse of old Saigon at every corner, such as vintage mailboxes or old telephone booths.
In addition, the lofty ceiling with its arched vaults is supported by four straight and vibrant green iron pillars in each corner. This creates a sense of stepping into a European architectural space. Besides, you can also see the enlarged image of President Ho Chi Minh right in the center of the wall. On two walls on two sides, two historical maps were meticulously drawn by skilled artisans. One map is "Saigon et ses environs 1892", which means Saigon and its nearby regions in 1892. And the other one is "Lignes télégraphiques du Sud Vietnam et du Cambodge 1936". This map showcases the telegraph lines of South Vietnam and Cambodia in 1936.
Things to Do in Saigon Central Post Office
Experience Temporary Exhibitions
There are several exhibitions related to postal services and relevant themes held in front of Saigon Central Post Office. Usually, these exhibitions are organized on special occasions like World Telecommunication and Information Society Day (May 17) or Independence Day (September 2). Moreover, the exhibitions here are regularly updated and changed to suit holidays or major events in Vietnam. If your trip to Ho Chi Minh City matches any event, do not miss out on Saigon Central Post Office.
Buy Beautiful Souvenirs
When visiting any attractions, you should not miss the chance to buy some souvenirs home. On both sides of the hallway in Saigon Central Post Office, several shops are displaying a wide range of souvenir products, and postcards featuring Saigon Central Post Office or Vietnam. Many foreign visitors find these items interesting and buy them as gifts for their friends and family.
>>> Have no idea of what to bring home as souvenirs for your Vietnam trip, check our list here.
Take Stunning Photos
With its blend of classic and contemporary architecture, Saigon Central Post Office offers a charming setting for capturing memorable photos. Its intertwining of old-world charm and modern elements makes this place an ideal photo spot. Each corner of the post office provides a stunning backdrop, allowing you to create lasting memories of your visit. Therefore, if you travel to this place, don't forget to capture beautiful photos to appreciate your time in Ho Chi Minh City.
Useful Notes When Visiting The Post Office
You should not bring food and drinks inside the post office. It is advisable to keep your food, drinks, and waste outside to avoid pollution, maintain cleanliness, and preserve attractive surroundings.
For safety reasons, you need to adhere to security regulations and refrain from carrying items such as knives, swords, explosives, toxic substances, or any objects that could pose a danger to others.
Please kindly remember that this place is an administrative establishment. You should maintain a respectful demeanor while exploring the vicinity.
Saigon Central Post Office is considered one of the distinctive symbols of glamorous Ho Chi Minh City. It contains historical and cultural value along with a high aesthetic appeal blending contemporary architecture. Plan your trip today and don't forget this site on your list. If you have any difficulty preparing the itinerary, feel free to reach out to us. We are always ready to serve you the best services.