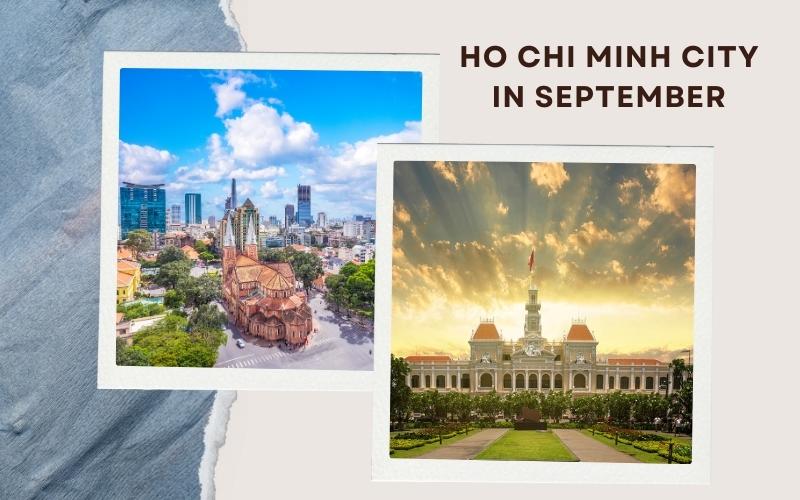 While Hanoi revels in its gentle autumn climate in September, characterized by warm sunshine and gentle breezes, Ho Chi Minh City persists with hot and rainy days. Embarking on a visit to Ho Chi Minh City in September presents a remarkable opportunity for tourists to partake in the vibrant spirit of the National Independence Day and the Mid Autumn Festival, joining in the festivities alongside the locals.
Ho Chi Minh Weather in September
September dawns as Ho Chi Minh City's most humid and rain-drenched month. As the wet season draws to a close, temperatures gradually ease, spanning an average of 76°F (24.4°C) to 88°F (31.1°C). Sunshine, however, becomes scarce, with a meager average of 5.4 hours across the 12.2-hour days.
Humidity soars to 85%, correlating with a marked surge in rainfall compared to August. Throughout September, the city welcomes 343 mm (13.5 in) of rain dispersed across 23.1 rainy days. Though the rains persist almost throughout the month, precipitation subsides by month's end, anticipating the dry season's onset.
Things to Do in Ho Chi Minh City in September
Generally speaking, September is not the best month to visit Ho Chi Minh City. However, you can still experience many wonderful things of the city, and enjoy the spirit of the Mid-Autumn Festival, National Independence Day, etc.
Immerse in the Mid-Autumn Festival
Several Asian countries (including Vietnam) celebrate the Mid-Autumn Festival, better known as the Moon Festival (Tết Trung Thu in Vietnamese) on the evening of the 15th day of the eighth lunar month (usually in September on the Gregorian calendar). This holiday is a special time when the streets come alive with shimmering lanterns and joyful festivities. If you travel to Ho Chi Minh City in September, you will have the opportunity to immerse yourself in the multi-colored beauty and vibrant atmosphere of this festival.
In September, the streets of Ho Chi Minh City light up with vibrant lanterns, creating a magical atmosphere. Markets and areas such as Cho Lon and Phu My Hung are particularly lively, offering an abundance of lanterns decorated with designs such as stars, flowers, and animals. The children, dressed in traditional costumes, walk happily with their lanterns lit, creating an enchanting atmosphere. The Mid-Autumn Festival is also an opportunity to taste delicious and meaningful culinary specialties. The moon cakes, called "bánh trung thu", are the stars of the party. These small round cakes, usually filled with bean paste or nuts, symbolize the union of the family.
There are also many traditional activities to join during this time in Ho Chi Minh City, such as watching water puppet shows, taking part in lantern contests and other traditional games, etc. Parks and public spaces such as Nguyen Hue Walking Street often host special events, where you can fully enjoy the festive atmosphere of the festival.
Visit the Historical and Cultural Monuments of Saigon
Notre Dame Cathedral
This magnificent Notre Dame Cathedral, built in neo-Romanesque style, is a symbol of the city's French colonial heritage. The colorful stained glass windows and imposing architecture make it a must-visit destination for lovers of history and architectural beauty.
Independence Palace
Visiting the Reunification Palace is essential to better understand the history of Vietnam. Formerly the seat of the government of South Vietnam, this iconic building bears witness to the country's heroic history. You will be able to explore the presidential rooms, and the underground tunnels and enjoy superb panoramas from the roof. In September, there will be a lot of meaningful activities organized here to celebrate the National Independence Day of Vietnam (September 2nd).
>>> Plan your Saigon trip easier with our suggested Ho Chi Minh City Half-Day or Full-Day tours.
Experience Nightlife in Ho Chi Minh City
When the sun goes down, Saigon becomes brighter than ever. This Vietnamese metropolis is transformed into a real nightlife paradise, offering an electrifying atmosphere and unique experiences.
Saigon is home to many trendy bars and clubs that are sure to keep you entertained. Head to Bui Vien Street, also known as "backpacker street", where you will find a multitude of bars with lively terraces, live music, and affordable drinks. Also explore the District 1 neighborhood to discover hot spots, offering spectacular views of the city while sipping on your favorite drink.
Moreover, its night markets offer a lively atmosphere and a variety of interesting products. Ben Thanh Market, one of the most famous in the city, is open in the evenings and has a multitude of stalls selling clothes, souvenirs, handicrafts, and of course, delicious street food. You can also explore other night markets such as Hanh Thong Tay Market and Ky Hoa Market for a unique shopping experience.
>>> Look out for other things to spice up your night in Ho Chi Minh City, check out our highly recommended activities here.
Take a Cruise along the Saigon River
Taking a cruise along the Saigon River in Ho Chi Minh City in September, you will have the opportunity to experience the city from a different perspective while enjoying a peaceful atmosphere along the river. There are different types of Saigon river cruises to suit your preferences. Some companies offer classic sightseeing cruises, while others offer romantic dinner cruises with meals and live entertainment on board. You can choose the one that best suits your expectations.
During the cruise, you'll enjoy great views of the cityscapes, including French colonial buildings, modern skyscrapers, and bustling floating markets. Cruises can also include stops to visit popular attractions like Notre Dame Cathedral, Central Post Office, and Binh Tay Market.
On your Saigon River cruise, be sure to take in the scenic views, snap some photos, and soak up the serene ambiance of the river. It's a fun way to experience the beauty of Ho Chi Minh City!
Stroll along Chinatown in Saigon
Chinatown in Saigon, also known as Chợ Lớn, is a vibrant town located in District 5 of Ho Chi Minh City, Vietnam. It is one of the liveliest and most historic areas of the city, marked by Chinese influence and a distinct culture. Chinatown in Saigon dates back to French colonial times when many Chinese immigrants settled in the area. The neighborhood has grown rapidly over the years, and Chinese cultural influences can still be seen today.
This town is renowned for its bustling markets where you can find a variety of produce, Chinese herbal medicines, exotic fruits, kitchenware, textiles, and more. Binh Tay and An Dong markets are two popular places to visit for shopping. One of the highlights of Chinatown is its delicious Vietnamese-Chinese cuisine. You can taste traditional dishes such as steamed rice, fried rice noodles, dumplings, and dim sum. Do not forget to taste local specialties such as banh bao, banh cong, hu tieu, and so on.
Foods to Enjoy in September in Ho Chi Minh City
Ho Chi Minh City is renowned for its delicious food. Whether you're a fan of traditional Vietnamese dishes or looking to discover new flavors, you'll be delighted to explore the cuisine of this bustling metropolis.
Pho
Don't miss the opportunity to taste Phở, a Vietnamese noodle soup famous and loved throughout the country. However, Phở Saigon offers a distinct flavor that will impress every food tripper.
Phở Saigon is characterized by its rich and aromatic broth. Unlike some regional variants, Phở Saigon broth is often prepared using primarily beef, which gives it a particular flavor intensity. It's simmered for hours with beef bones, spices such as cinnamon, star anise, cloves, and other ingredients that add a unique depth of flavor.
Phở Saigon's garnish usually includes perfectly cooked slices of beef, fresh rice noodles, green onions, fresh herbs like cilantro and mint, as well as bean sprouts and Thai basil leaves. You can also add condiments such as lime, chili peppers, and fish sauce to customize the taste to your preference.
Banh Mi
During your culinary exploration in Ho Chi Minh City in September, do not miss the opportunity to taste the famous Banh Mi, a Vietnamese sandwich that has gained worldwide fame as one of the 24 best sandwiches in the world in 2023.
Banh Mi Saigon is renowned for its special and unique flavor which makes it an exceptional taste experience. It consists of a delicious crusty baguette, a legacy of the French colonial era. What makes this sandwich special are the different toppings and condiments that give it an explosion of flavors. You can find different variations of Banh Mi Saigon, but the basic ingredients often include grilled pork slices, marinated pork, or cold cuts: ham or liver pate, as well as fresh vegetables such as coriander, pickled carrot, cucumbers, and onions.
What sets Banh Mi Saigon apart is the use of special condiments such as spicy mayonnaise, chili sauce, Maggi sauce, and soy sauce. These condiments give the sandwich a unique and balanced flavor that is tangy, salty, and slightly sweet.
To taste Banh Mi Saigon, head to the many street stalls, local markets, and small stalls that offer it. The lively atmosphere and tantalizing aroma of these places make the experience all the more memorable.
Banh Xeo (Vietnamese Pancake)
Tasting Banh Xeo in Saigon is an unmissable culinary experience. Banh Xeo is a traditional Vietnamese pancake, famous for its crispy texture and savory filling. The word "Xeo" is inspired by the sizzling sound that occurs when rice batter is poured into the hot pan, creating a sound similar to hissing. Thus, the name "Banh Xeo" refers to the cooking process of the Vietnamese pancake when it spreads in the pan and produces that distinctive sound. Interestingly, the shape and sound produced when cooking Banh Xeo are identical to that of an omelet, hence it is sometimes also called a "Vietnamese pancake". However, the name "Banh Xeo" is the one that is most commonly used to refer to this tasty specialty.
Banh Xeo is prepared from a lightly fermented rice paste mixed with turmeric to give it its characteristic color. The batter is then poured into a hot skillet, usually accompanied by pork, shrimp, bean sprouts, and chives. The pancake is folded in half and served with fresh herbs, lettuce, and a fish or soy-based dipping sauce.
The best way to taste Banh Xeo is to take it by hand, dip a portion in the sauce, and serve it with fresh vegetables. The mix of flavors, textures, and aromas makes this taste experience truly memorable.
>>> Refer to our list of must-try Saigon foods for more mouth-watering dishes to enjoy in Ho Chi Minh City.
Tips to Visit Ho Chi Minh City in September
Consider renting a motorbike: Exploring Saigon on a motorbike can be a great way to get away, but keep chaotic traffic in mind and exercise caution.
Opt for public transport: Saigon's public transport system, like the bus, is both cost-effective and efficient. Try them if you want to save more for your trip.
Use our car rental service: This service helps you get around in the most convenient and easy way.
Prepare for the weather: Ho Chi Minh City in September is characterized by hot and humid temperatures, with the possibility of occasional showers. Be sure to dress in light clothing and bring a hat, sunscreen, and a collapsible umbrella to shield you from the sun and showers.
Be vigilant about security: As in any big city in the world, it is important to remain vigilant when it comes to security. Keep an eye on your valuables, avoid dimly lit places at night, and take extra care when using services like taxis or motorbike transporters.
IDC Travel hopes that the suggestions and travel tips above can serve as a reference for you to organize your trip to Ho Chi Minh City in September. Do not hesitate to contact us if you have any questions or if you need help planning a tailor-made trip.
Read more: