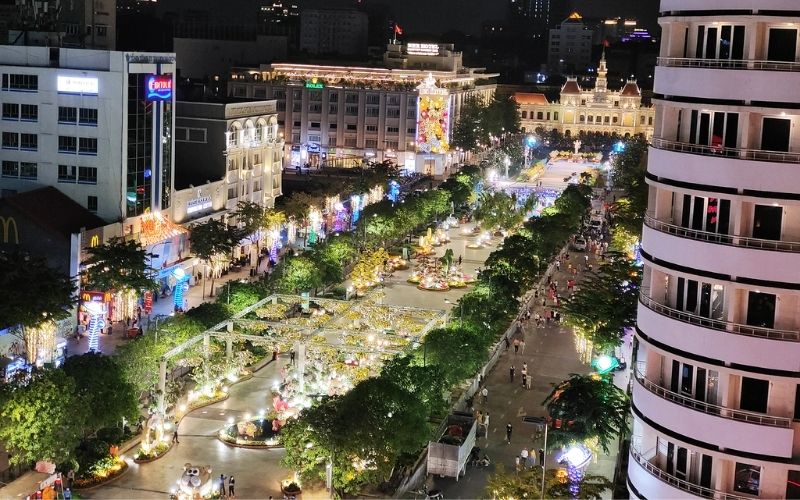 Ho Chi Minh City is considered the sleepless town. In contrast with the ancient charm of Hanoi, the vibrant atmosphere of Ho Chi Minh City will definitely amaze you. If you want to immerse yourself in a young and lively ambiance, Nguyen Hue Walking Street is absolutely the perfect destination for you. And IDC Travel is here to bring you the most useful information about the famous walking street.
A Little about Nguyen Hue Street
Nguyen Hue Walking Street, also known as Nguyen Hue Square or Nguyen Hue Walking Square, is situated in the heart of District 1, the center of Ho Chi Minh City. This street connects Ton Duc Thang Street and Le Thanh Ton Street, with the Bach Dang Wharf and the City People's Committee Headquarters on either end respectively.
Nguyen Hue Street was officially established on April 30, 2015, with 670m length and 64m width. The entire surface of the walking square is paved with clean Granite stones and is covered by two rows of lush green trees. Especially, there are 2 impressive water fountains with a central control system for water, light, and security management. All of these help facilitate the organization of large events on this walking street.
You can easily get to Nguyen Hue Street as it is located at the center of Ho Chi Minh City. A taxi or a car via a ride-hailing app might be the easiest way for you to get to the walking street. However, if you want to avoid taxi scams or something like that, we suggest you rent a car with a private driver. The driver will assist you throughout your whole trip, ensuring the safest experience. You can also try traveling by public transportation in Ho Chi Minh City, which is the bus. There are several bus stops near Nguyen Hue Walking Square. Nevertheless, please keep in mind that the bus routes are extremely complex. Therefore, you should search the route carefully beforehand if you are not used to this means of transportation.
The History of Nguyen Hue Street
Being one of the most famous destinations in Ho Chi Minh City, Nguyen Hue Street has a development history dating back to the late 18th century. In the past, the walking street was the Grand Canal or Fabric Market Canal, with the function of carrying water from the Sai Gon River into the Gia Dinh Citadel.
In 1861, under the command of Admiral Charner, the Grand Canal was renamed Charner Canal, with Rigault de Genouilly Street and Charner Street running along both sides. This area was also where the Chinese people from Guangdong Province conducted bustling trade, leading to heavy pollution due to the large amount of goods stored.
Later then, the Charner Canal was filled in and renamed Charner Boulevard in 1887. It wasn't until 1965 that Charner Boulevard was officially named Nguyen Hue Street, considered the most beautiful avenue in Ho Chi Minh City.
From the 1960s to the end of the 20th century, the flower trading activities on this street happened vibrantly, becoming a cherished memory for several generations of Saigonese. In 2015, Nguyen Hue Walking Street was officially introduced after more than 7 months of construction, attracting thousands of visitors every day.
Best Things to Do on Nguyen Hue Street
Check Out the 42 Nguyen Hue Apartment Building
The 42 Nguyen Hue Apartment Building is a shopping and dining complex in Ho Chi Minh City, attracting several young Saigonese. Built in the early 1960s, the apartment building has a vintage charm combined with modern elements, creating its unique style. The entire apartment consists of 9 floors, with a vibrant view facing the Nguyen Hue Walking Street.
This place is considered the "Coffee Heaven," owning countless coffee shops with stunning views and ultimate beverages. Not only that, the dining options in this apartment area are incredibly diverse, ranging from Vietnamese to Japanese, Korean, or Western cuisines. You can freely choose a restaurant that suits your own taste. In addition, the local brand stores within this apartment complex will never disappoint you.
Enjoy Shopping at Famous Local Malls
Besides several popular local brand stores among the youth in Ho Chi Minh City, there are also multiple famous brands in the fashion fields as well as cosmetic fields. If you seek luxurious brands like Gucci or Dior, they are all near Nguyen Hue Walking Street. However, if you look for a more diverse range of products, you can walk to several shopping malls nearby such as Vincom, Takashimaya, or Sai Gon Garden. These are all well-known malls in Ho Chi Minh City, where shopaholics often visit and treat themselves to the best products. You can check out the list of brands in Vincom here or that of Takashimaya here to know what place is more suitable for you.
Wander along the Book Street
Coming to Nguyen Hue Street, do not miss the chance to visit Book Street and explore the space here. With numerous stalls lined up on both sides of the street, you can easily choose books that match your interests.
On special occasions like "book festivals," some books are sold at incredibly low prices, ranging from 10,000 VND to 30,000 VND. Additionally, certain books will be discounted by 5% to 20%, depending on the type of book. These special offers have attracted many readers to come here and browse through books.
Capture Beautiful Photographs
With its spacious and beautifully landscaped environment, Nguyen Hue Square is absolutely a must-visit spot for photography lovers. Lined with green trees, modern fountains, and sparkling lights from various establishments, all of these elements would serve as a beautiful backdrop for your photos. Whether you visit this street under the radiant sun or when the city lights are aglow, the scenery here will undoubtedly leave you amazed.
Indulge in Street Performances at Night
The walking street is famous for its music performances by singing and dancing groups. These acts are put on by talented young individuals, infusing the street with a vibrant atmosphere and drawing the attention of many visitors. While not as elaborate as major music events, these street performances are sure to make you feel closer and more connected.
Discover the Unique Food Culture
Moreover, if you want to savor a variety of local food in the shortest time, Nguyen Hue Walking Street is perfect for you. You can enjoy a cup of delicious coffee or tea from renowned Vietnamese brands while taking in the lively street scene.
Additionally, do not miss out on the exceptional food options, from street snacks like mixed rice paper to main dishes like grilled pork broken rice. The distinctive flavors of Sai Gon's cuisine will definitely tantalize your taste buds.
>>> What other to edit at Nguyen Hue walking street and Ho Chi Minh City in general, check out the list of best Saigon food here.
Useful Tips for You to Visit Nguyen Hue Street
Nguyen Hue Street is absolutely a worthwhile destination for your trip to Ho Chi Minh City. However, to ensure a safe and enjoyable experience, you should keep in mind the following tips.
Stay alert of robbers: It's important to be cautious of your belongings and avoid distractions while walking, such as playing phone when wandering along the street. Stay aware of your surroundings to ensure your safety.
Less cash – More cards: Instead of carrying large amounts of cash, consider using a Visa card for transactions as several shops in Ho Chi Minh City now accept Visa payments. This reduces the risk of losing money and provides a secure way for you to pay the bill.
Dress comfortably: Nguyen Hue Street offers a pleasant atmosphere for walking, so dress comfortably in lightweight and easy-to-move attire. Wearing neat and smart clothing will enhance your overall experience.
Pay attention to ingredients: If you plan to enjoy some local cuisine along the street, be mindful of the ingredients used in the dishes. This precaution can help you avoid any potential allergic reactions or discomfort during your visit.
Nguyen Hue Walking Street will offer you the most comprehensive view of the dynamic Ho Chi Minh City. Coming to this place, you will be able to indulge in the local bustling atmosphere and try the best culinary delights of the city. If you are planning to travel to Ho Chi Minh City in the near future, feel free to reach out to us if you find any difficulty.