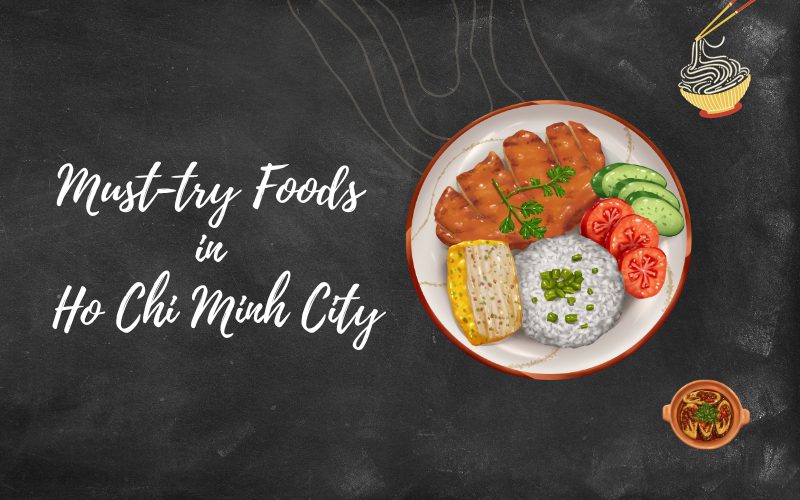 Saigon food is a true reflection of its diverse inhabitants, offering a remarkable array of Vietnamese delicacies that are not only incredibly tasty but also wonderfully varied. In Ho Chi Minh City, dining is akin to enjoying a lavish buffet, rich with flavors and choices that cater to all palates. Prepare yourself for an extraordinary culinary journey as we present a compilation of 15 must-try Saigon dishes. These delectable delights encapsulate the essence of Vietnam as a whole, with a special focus on the vibrant city of Ho Chi Minh.
Com Tam (Broken Rice) – A Must Try Saigon Dish
Who can resist the allure of Com tam? This quintessential Vietnamese dish, featuring fragrant broken rice paired with succulent grilled pork chop, crispy shredded pork skins, and delicate steamed egg meatloaf, holds a special place in the hearts of people in Ho Chi Minh City, who proudly indulge in Com tam on a regular basis, making it an integral part of their culinary repertoire.
Whether it's a hurried breakfast or a leisurely dinner at a local Vietnamese eatery, Com Tam is always a viable option. While the beautifully grilled pork cutlet and the Vietnamese steamed egg meatloaf ("cha trung") certainly contribute to its appeal, the true magic of a satisfying plate of Com tam lies in the piping-hot, flavorful rice. Combined with the distinctive sweetness of fish sauce and generously garnished with fragrant scallion oil, this dish embodies a harmonious symphony of flavors that captures the essence of Vietnamese cuisine.
Recommended places to enjoy:
Com Tam Ba Nghien: No.84, Dang Van Ngu Street, Ward 10, Phu Nhuan District
Com Tam Moc: No.85, Ly Tu Trong Street, Ben Thanh Ward, District 1
Banh Mi
Banh mi, a delectable Vietnamese baguette filled with an assortment of meats and vegetables, reigns as Vietnam's most beloved street food. In the bustling streets of Ho Chi Minh City, Banh mi stalls dot every corner, showcasing the widespread adoration for this culinary delight.
A classic Banh mi composition entails a harmonious blend of ingredients, such as mayo, pâté, Vietnamese ham, jambon, pickles, cucumber, spring onion, cilantro, chili, and soy sauce. Yet, this represents just the tip of the iceberg when it comes to Banh mi variations. Within the vibrant culinary scene of Ho Chi Minh City, you can revel in Banh mi creations featuring succulent grilled pork, fish cakes, sardines in tomato sauce, tender roasted pork, and beyond. The Vietnamese ingenuity for crafting Banh mi knows no bounds, resulting in an array of inventive and delightful flavor combinations.
Recommended places to enjoy:
Banh Mi Huynh Hoa: No.26, Le Thi Rieng Street, Pham Ngu Lao Ward, District 1
Banh Mi Bay Ho: No.19, Huynh Khuong Ninh Street, Da Kao Ward, District 1
Pho – Cannot Miss in Vietnam
Undoubtedly, Pho stands as one of the most widely cherished Vietnamese dishes, not only within Vietnam's borders but also on a global scale. In Ho Chi Minh City, Pho embodies the fusion of tradition and contemporary influences, merging the classic Northern essence with a touch of Southern flair. Diverging from its traditional counterpart, the Pho in Saigon boasts an intensified flavor profile and arrives adorned with an array of aromatic herbs.
Recommended places to enjoy:
Pho Hoa Pasteur: No.260C Pasteur, Ward 8, District 3
Anan Saigon: No.89, Ton That Dam Street, Ben Nghe Ward, District 1
Hu Tieu
Hu Tieu is a kind of Saigon food that draws its origins from Chinese and Cambodian cuisines, subsequently refined to cater to the Vietnamese palate. Within a Hu Tieu bowl, you'll discover tender rice noodles immersed in a flavorful broth crafted from pork bones and radish. Accompanied by a medley of ingredients, such as sliced pork, shrimp, pork ribs, minced pork, quail eggs, and bean sprouts, this dish offers a harmonious symphony of textures and tastes.
Yet another highly favored iteration of this dish emerges as Hu Tieu Kho, also known as "dry" Hu Tieu. In this rendition, the traditional single bowl of rice noodles and soup gives way to two separate bowls, with the rice noodles artfully blended with the chef's enigmatic secret sauce. This version of Hu Tieu is an essential delight to experience!
Recommended places to enjoy:
Hu Tieu Thanh Dat: No.34, Co Bac Street, Cau Ong Lanh Ward, District 1
Hu Tieu Muc Ong Gia Cali: No.30, Nguyen Thi Minh Khai Street, Da Kao Ward, District 1
Banh Xeo (Vietnamese Pancake)
Banh Xeo, also known as Vietnamese pancake, holds a prime spot among the cherished Vietnamese dishes originating from the Mekong Delta region. Its name, "Banh Xeo," derives from the culinary process itself. As the batter is poured into the pan, it sizzles, and the Vietnamese word for "sizzle" is "xèo."
The batter of Banh Xeo is a blend of rice flour, coconut milk, and a touch of turmeric powder. Encased within its thin, crispy exterior are slices of pork belly, shrimp, bean sprouts, and jicama. Despite the frying process involving ample oil, Banh Xeo retains a pleasant lightness due to its thinness and crispiness. It is typically served alongside a generous array of fresh herbs.
Recommended places to enjoy:
Banh Xeo 46A: No.46, Dinh Cong Trang Street, Tan Dinh Ward, District 1
Banh Xeo Em Oi: No.26 Thu Khoa Huan A17-18, District 1
Banh Cuon, Banh Uot Saigon
Banh cuon and Banh uot are among Vietnam's renowned breakfast delights. Crafted from a blend of rice flour and tapioca flour, Banh uot mirrors the texture of wet rice noodles, featuring a slight chewiness and delicate thinness. Meanwhile, Banh cuon, resembling Banh uot, encompasses minced pork and stir-fried wood ear mushrooms, intricately rolled within.
Traditionally, both Banh cuon and Banh uot are accompanied by a delectable sweet and sour fish sauce, crispy fried shallots, and Vietnamese ham. These dishes are freshly prepared upon ordering, ensuring their warmth and irresistible flavor are always intact.
Recommended places to enjoy:
Banh Cuon Thien Huong: No.179A, 3/2 Street, Ward 11, District 10
Banh Cuon Ba Hanh: No.74, Le Thi Rieng Street, Ben Thanh Ward, District 1
Xoi (Vietnamese Sticky Rice)
Sticky rice stands as another beloved Saigon food. It can be categorized into two primary types: savory and sweet. Savory sticky rice is paired with delectable accompaniments like pâté, grilled chicken, char siu, Vietnamese ham, and soy sauce. On the other hand, sweet sticky rice leans towards dessert territory, often incorporating ingredients such as sugar, mashed mung beans, coconut milk, and shredded coconut. The hues of sticky rice can vary according to the ingredients used. If the opportunity arises, it's worth exploring and savoring the diverse range of options available!
Recommended places to enjoy:
Xoi Xeo Ba 3 Beo: No.101, Tran Trong Cung Street, Tan Thuan Dong Ward, District 7
Xoi Ga Number One: No.15, Nguyen Trung Truc, Ben Thanh Ward, District 1
Bun Rieu (Crab Soup with Vermicelli)
Bun rieu stands apart from other Vietnamese cuisine with its unique twist. Its broth derives its flavor from rice field crabs, and when combined with tomatoes, not only does it achieve a delectable taste, but also a visually pleasing hue. A serving of Bun rieu in Saigon food comprises crab and minced pork meatballs, tomatoes, fried tofu, and sliced pork. As a favored Saigon food, Bun rieu is enjoyed at any mealtime throughout the day.
Recommended places to enjoy:
Bun Rieu Ganh Ben Thanh: No.4, Phan Boi Chau Street, Ben Thanh Ward, District 1
Bun Rieu Cua Oc: No.66, Nguyen Thai Binh Street, District 1
Bun Mam (Fermented Fish Paste Soup with Vermicelli)
"Mam," or Vietnamese fermented fish paste, is a collective term encompassing various varieties of this pungent condiment. Numerous well-loved Vietnamese dishes hinge on "mam" as their foundational element. One such dish is Bun mam. This imparts an incredibly robust essence to the broth. Typically accompanied by roasted pork, seafood, and freshwater fish, and complemented with fresh vegetables and edible blooms sourced from the Mekong Delta region.
Recommended places to enjoy:
Mam Concept: No.189, Nguyen Dinh Chieu Street, Ward 5, District 3
Bun Mam Mien Tay: No.124, Tran Khac Chan Street, Tan Dinh Ward, District 1
Bun Thit Nuong (Rice Vermicelli with Grilled Pork)
Not every Vietnamese dish featuring vermicelli includes a broth. Bun thit nuong, also known as rice vermicelli with grilled pork, stands as a combination dish that distinguishes itself from other vermicelli-based dishes served with broth. Nevertheless, it offers its own delectable appeal.
A serving of Bun thit nuong comprises fresh vermicelli, grilled pork, char-grilled meatballs, and spring rolls, accompanied by sautéed scallions in oil, peanuts, an abundance of fresh herbs, and a delectable sweet-sour fish sauce. After all the components are cooked, the pork, vegetables, and noodles are combined in a bowl, and then adorned with aromatic fresh herbs. The delectable richness of the pork harmonizes with the crispness of the vegetables and the gentle texture of vermicelli noodles, culminating in a genuinely delightful meal.
Recommended places to enjoy:
Hoang Tam Restaurant: TK22/1 Nguyen Canh Chan Street, Cau Kho Ward, District 1
Bun Thit Nuong Anh Ba: No.126, Le Van Sy Street, Ward 10, Phu Nhuan District
Goi Cuon – Best Saigon Dish in the Summer
Goi cuon, also referred to as fresh spring rolls, stands as another essential delicacy of Saigon cuisine. This Saigon food features soft rice paper enfolding a medley of components like pork, shrimp, vermicelli noodles, herbs, and vegetables. The harmonious blend of these elements creates an explosion of flavors and textures on the palate, rendering it one of the most unforgettable culinary experiences of your journey.
The origins of goi cuon trace back to the early 20th century when Chinese immigrants settled in Vietnam, bringing along their own customs and culinary traditions. Over the years, Vietnamese locals incorporated indigenous ingredients such as fresh mint leaves, herbs, and dipping sauce into the mix, giving rise to the goi cuon we relish today.
Recommended places to enjoy:
Wrap & Roll Restaurant: Saigon Center, No.65, Le Loi Street, Ben Nghe Ward, District 1
Quan Bui Original: No.19, Ngo Van Nam Street, Ben Nghe Ward, District 1
Pha Lau (Beef Offal Stew)
Beef offal stew, known as pha lau, stands as one of the most special foods in Ho Chi Minh City with a history stretching back centuries. This hearty stew features a mix of beef offal, pork belly, and vegetables, slow-cooked over low heat to blend the flavors into an incredibly distinctive and flavorful symphony. The outcome is a velvety and indulgent soup-like dish that often graces the table with Vietnamese rice paper rolls and fresh herb toppings.
This Saigon food has its origins in the 18th century when local eateries creatively utilized farmers' offal leftovers after livestock sales. Since then, it has evolved into a cherished dish savored during special occasions year-round. Street markets also embrace its popularity, offering pha lau alongside banh mi and noodle soups for a delectable culinary experience of Saigon food.
Recommended places to enjoy:
Pha Lau Bo Co Thao: No. 243/29G, Ton Dan Street, Ward 15, District 4
Pha Lau Di Phuong – Ba Hat: No.195, Ba Hat Street, Ward 9, District 10
Ca Kho To (Vietnamese Braised Fish)
Found across various eateries in Ho Chi Minh City, ca kho to signifies a delightful creation of catfish simmered in a clay pot. This culinary delight involves the transformation of a complete catfish into fillets, which are then gently simmered in a luscious sauce crafted from a medley of soy sauce, fish sauce, sugar, shallots, garlic, and an assortment of spices and seasonings. Sporting a harmonious blend of sweetness and saltiness ca kho to effortlessly pairs with a side of steamed white rice, enhancing the overall taste experience.
Recommended places to enjoy:
Cuc Gach Quan: No.10, Dang Tat Street, Tan Dinh Ward, District 1
Ca Kho To Restaurant: No.399/43, Nguyen Dinh Chieu Street, Ward 5, District 3
Oc (Snail) – An After-Dinner Delight in Saigon
In Ho Chi Minh City, you'll frequently hear Vietnamese locals inviting you to "an oc," which translates to "eat snails." However, this phrase encompasses a broader concept of indulging in seafood delicacies. These offerings encompass a range of delectable mollusks and aquatic delights.
Dining at "Oc" eateries presents a myriad of culinary techniques, including grilling, stir-frying, steaming, boiling, and more. The seafood available in HCMC is sourced daily from nearby seas, ensuring a consistent supply of freshness. To savor these seafood feasts to the fullest, it's beneficial to join forces with a Vietnamese companion who can guide you through the various seafood selections and recommend the optimal cooking methods.
Recommended places to enjoy:
Ut Ca Mau Restaurant: No.215, Dien Bien Phu Street, Ward 6, District 3
Oc Dao: No.C79, Nguyen Trai Street, Nguyen Cu Trinh Ward, District 1
Saigon Iced Coffee
Ho Chi Minh City boasts a distinctive coffee culture that's worth delving into. The city is teeming with thousands of cafes waiting to be explored. Embark on a coffee journey to discover the diverse array of coffee options available in Saigon. For coffee enthusiasts, a visit to Ho Chi Minh City isn't complete without immersing yourself in the realm of traditional Vietnamese coffee at a dedicated coffee establishment.
You can simply choose a coffee shop and relish the flavors it offers. The surprising quality and taste of the coffee never failed to impress. If you're a coffee aficionado, make it a mission to explore as many coffee shops as you can. Be sure to explore some of the finest destinations in the city to savor the authentic Vietnamese coffee experience.
Recommended places to enjoy:
The Workshop Coffee: No.27, Ngo Duc Ke Street, Ben Nghe Ward, District 1
Saigon Oi Cafe: No.42, Nguyen Hue Street, Ben Nghe Ward, Ho Chi Minh City
In summary, Ho Chi Minh City undoubtedly stands as a culinary haven. The abundance of delectable dishes is overwhelming, and despite our best efforts, we couldn't possibly taste them all. This Saigon food guide presents a selection of the finest Saigon delicacies that we enthusiastically endorse.
It's important to note that there are still numerous Vietnamese dishes awaiting your exploration, given the vast array of authentic options within the city. Many of the most exceptional dishes are discovered on the streets, enjoyed from small plastic tables and chairs. For an authentic culinary adventure during your Saigon journey, strive to dine like a local and immerse yourself in the genuine food culture of the city. Feel free to contact us if you need help to plan your itinerary.
Read more: