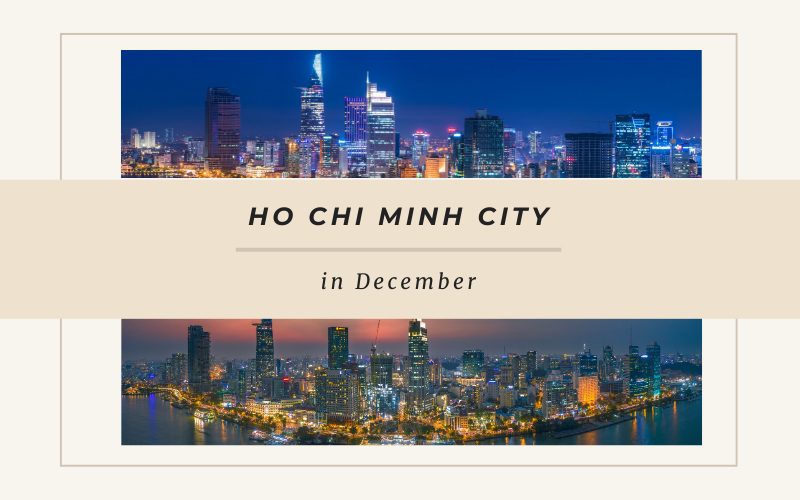 December is the best time to visit Ho Chi Minh City when the weather is pleasant and the city is decorated with festive lights of Christmas and New Year's Eve. If you are planning to visit Ho Chi Minh City in December, read through the following article for essential information on the weather conditions, the best places to visit, and wonderful things to do.
Ho Chi Minh Weather in December
Ho Chi Minh City exhibits a tropical climate, characterized by its consistently hot and humid conditions all year round. During December, the city encounters relatively milder temperatures, with an average high of approximately 31°C and an average low of around 22°C. Ho Chi Minh City in December offers a pleasant experience, featuring reduced humidity levels and cooler nights, which adds to its popularity as an ideal period for visiting the city.
Even though December is recognized as one of the less rainy months in Ho Chi Minh City, there remains a possibility of occasional rainfall. Thus, it's advisable to pack a lightweight rain jacket or bring along an umbrella.
It is also thanks to the great weather that Ho Chi Minh City sees its peak tourist season at this time, leading to an increase in air tickets, service prices, and overcrowded destinations. During Christmas and New Year's Eve, the price of domestic air tickets can be up to 3-4 ($125-165) million per person per way.
Places to Visit in Ho Chi Minh City in November
Ben Thanh Market
Ben Thanh Market is the biggest and most bustling market in Ho Chi Minh City, serving as the center of trade, business, retail, and delectable cuisine, catering not only to tourists but also drawing a substantial local crowd. Positioned at a central crossroads, reaching it is exceptionally convenient. Boasting a staggering 1,500 stalls under the management of 6,000 merchants, this market is a one-stop destination where you can procure an extensive array of goods ranging from apparel, textiles, and dried edibles to fresh produce, meats, and even blossoms.
Tan Dinh Church
The charm of Tan Dinh Church isn't limited to its stunning pink-hued architecture that graces every building. It's also a historic witness to the evolution of both the city's history and its Catholic heritage. Each day, the church plays host to over 200 complimentary meals, reaching out to the elderly and those in solitude. Furthermore, a charitable clinic stands within its walls, serving the less fortunate. A visit to this church is bound to leave a lasting impression, particularly in December when the atmosphere transforms into a magnificent Christmas spectacle.
Mekong Delta
The Mekong Delta sprawls across a vast expanse, located approximately 3 hours away from the city center. As a traveler, you have the option of dedicating a single day or extending your stay to two or even three days to fully immerse yourself in the region's offerings. To delve into this area, you can board sampans, navigating the Mekong River to witness the surrounding landscapes. For those with ample time, spending a night in the region proves to be an excellent choice, granting the opportunity to witness the vibrant floating market in the early hours of the morning.
The floating market is a truly unique spectacle of the Mekong Delta, with boats laden with an assortment of fruits ranging from bananas, oranges, and pineapples to coconuts, watermelons, vegetables, and more. If you're intrigued by this experience, consider enrolling in Mekong Delta Tours to seize the chance to explore this captivating region.
Things to Do in Ho Chi Minh City in December
Indulge in Vibrant Saigon Nightlife
Ho Chi Minh City accommodates liveliness and activity both day and night. Make sure you seize the opportunity to venture into the city's nighttime offerings while you're here. The nights in this city come alive with a plethora of captivating bars, clubs, and theater performances. You can choose to embark on your own nocturnal exploration or opt for a guided night tour.
Areas like Bui Vien, Pham Ngu Lao, Ngo Van Nam, Dong Khoi, and Le Thanh Ton promise exceptional encounters that will linger in your memory. Amidst these districts, you'll discover a haven of clubs resonating with music, tempting libations, chances to mingle with fellow revelers and a multitude of other exhilarating activities. It's an invitation to unwind, relish the beats, connect with others, and partake in a realm of enthralling endeavors.
>>> Refer to our article on Saigon Nightlife for all the wonderful things you can do to spice up your night in Ho Chi Minh City.
Sample Delicious Foods
The allure of Vietnamese cuisine, especially the culinary offerings of Saigon, is undeniably enticing. The city boasts an array of irresistible dishes that are sure to captivate your taste buds. Among the numerous delectable options, you simply must not miss dishes like Cơm tấm (broken rice), Bánh Mì (Vietnamese baguette), "Bún mắm" (Vietnamese gumbo), and "Bún thịt nướng" (vermicelli with grilled pork).
Embarking on a culinary adventure in Saigon is effortless, as you can savor these delicacies across a spectrum of venues – from humble local stalls to upscale restaurants. The flavors here are nothing short of exquisite, promising a gastronomic experience that will leave a lasting impression.
>>> Check out the list of 15 must-try foods in Ho Chi Minh City here.
Enjoy Christmas Decorations in Saigon
In Ho Chi Minh City, celebrating Christmas may not be a native tradition, yet the month of December bestows upon the city a splendid transformation. Despite the absence of a historical connection to the holiday, the local atmosphere is adorned with a festive flair that can't be ignored. Wander through the bustling streets and you'll find the urban landscape bedecked with a colorful array of decorations, infusing the city with a sense of holiday cheer.
Shopping centers, known for their grandeur, spare no expense in decking their halls with captivating displays that radiate the warmth of the season. Restaurants and eateries embrace the festive spirit as well, embellishing their establishments with twinkling lights and ornaments that create an inviting ambiance. Even the hotels, with their ornate lobbies and welcoming entrances, contribute to the cheerful atmosphere by showcasing creative arrangements that capture the essence of the holiday.
Immerse in the Tet Atmosphere
Tet Nguyen Dan, or Vietnamese Lunar New Year, stands as one of the most important festivals in Vietnam. The preparation of this grand event initiates as early as December, as the nation readies itself for the impending jubilations. If you happen to visit Ho Chi Minh City in December, you will have a chance to immerse in the excitement and anticipation of the New Year's festivities.
Embarking on a journey through local markets during this time, you will feel the air charged with excitement as vendors and shoppers engage in the preparations. The visual spectacle of vibrant decorations adds to the allure, igniting a sense of wonder and enthusiasm that is truly infectious.
These pre-festive moments bring visitors a unique opportunity to witness firsthand the intricate preparations that go into Tet Nguyen Dan. It's also a chance to engage with the cultural heartbeat of Ho Chi Minh City in December, as the city collectively ushers in a new chapter with unity and enthusiasm.
Take a Cruise along the Saigon River
December in Saigon is an ideal time for taking a cruise along the Saigon River, thanks to the mild temperatures and delightful climate. You can relish the breathtaking vistas of the city's skyline, all while partaking in a leisurely journey that offers a unique perspective of this vibrant destination.
Beyond the visual delights, cruising along the Saigon River also provides a gateway to nearby islands that dot the river's path. Here, an authentic and immersive experience awaits, as travelers engage with the essence of river life. From vibrant floating markets that bustle with activity to the diligent endeavors of local fishermen, each moment offers a glimpse into the rhythm of life along these waterways.
Tips to Visit Ho Chi Minh City in December
If you are planning to visit Ho Chi Minh City in December, here are some valuable travel tips:
Dress in light and breathable clothes: Although December in Ho Chi Minh City tends to be cooler, the climate remains warm and humid. It's advisable to pack lightweight clothing that can be easily adjusted to suit changing conditions. Additionally, having a light rain jacket or umbrella on hand is recommended due to the possibility of occasional rain showers.
Anticipate Tet Holiday: Tet Holiday, the Vietnamese Lunar New Year, often approaches in late January or early February, and preparations commence in December. This transition may lead to some businesses and attractions closing early or operating under restricted hours. To avoid any inconvenience, plan ahead by verifying opening hours and adapting your itinerary accordingly.
Secure lodging ahead of time: Given that December is a sought-after period for visiting Ho Chi Minh City, it's essential to arrange accommodation well in advance. This proactive approach ensures that you secure both availability and reasonable rates, enhancing your travel experience with peace of mind.
In summary, December is the best time to visit Ho Chi Minh City. You will never be disappointed with the weather and things awaiting you to explore here. Please contact us if there is still anything you need to know about Saigon in December, or if you want to tailor-made a trip to Ho Chi Minh City.
Read more: