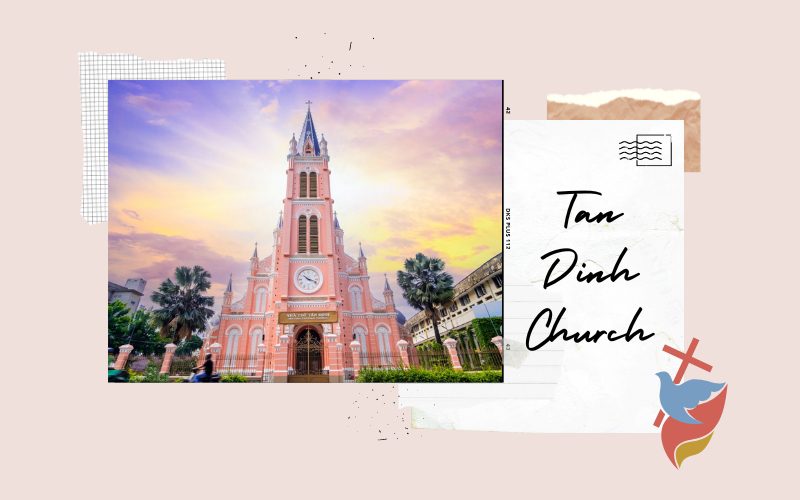 While exploring Saigon, it'd be a big mistake to miss out on a visit to the Tan Dinh Church, an essential example of monumental Gothic architecture in the city. This Catholic church, adorned in pink, holds the distinction of being the second-largest after the Notre Dame Cathedral in Ho Chi Minh City. Exhibiting a Roman architectural style, the pink facade both inside and out sets it apart. In this article, let's discover some special features of this building to understand why it is a must-visit destination in Saigon.
Essential Information for Tourists
Location: No.289, Hai Ba Trung Street, District 3, Ho Chi Minh City
Opening hours: 5:00 am to 5:30 pm every day
Ticket fee: Free
Mass schedule:

Monday – Saturday: 5:00 am – 6:15 am – 5:30 pm – 7:00 pm
Sunday: 5:00 am – 6:15 am – 7:30 am – 9:00 am – 4:00 pm – 5:30 pm – 7:00 pm

Dress code: Visitors are advised to dress politely with clothes covering shoulders and knees
Holidays in Tan Dinh Church: Christmas and Vietnamese New Year.
History of Tan Dinh Church
Established in 1861 by the Tan Dinh Parish, Tan Dinh Church's roots run deep. During that era, the Tan Dinh ward thrived as a bustling trade hub, leading to a relatively prosperous community. With its ample resources, the parish undertook the construction of a substantial church and ancillary structures within expansive grounds. As the congregation swelled in size, the limitations of the original wooden chapel became apparent. Consequently, the parish sought the city government's assistance to secure additional land for property expansion and housing for its followers.
The year 1874 marked the commencement of construction for the present-day Tan Dinh Church under the guidance of Priest Eveilard. Officially inaugurated in the same year, this church stood among the earliest in Saigon's history.
In 1887, adjacent to the church, an orphanage and boarding school named Sainte Enfance Tan Dinh were established. Within three years, this institution became a refuge for around 300 underprivileged children. A portion of the original school premises still serves the Congregation of the Sisters of Saint-Paul de Chartres, while the majority has transformed into the Hai Ba Trung Junior High School.
At present, beyond its role as a place of religious worship, Tan Dinh Church functions as a hub for charitable endeavors and communal gatherings.
The Unique Architecture of Tan Dinh Church
Amidst the modern urban landscape, Tan Dinh Church emerges resplendent in its vivid pink tint, capturing the gaze of both locals and tourists. Amidst Saigon's radiant sunlight, this distinct architectural marvel adorned in its rosy cloak presents a breathtaking spectacle.
Comprising three distinct sections – the central tower and two flanking spires – the church's connection is formed through a web of arched passageways. Its interior boasts grandeur, highlighted by twin rows of columns that guide the eye toward the main altar.
Adjacent to the church, a petite garden hosts a commanding Jesus sculpture, arms outstretched in a welcoming embrace to all who approach. Within this serene enclave, additional monuments recount pivotal biblical moments. Embarking on a stroll to the garden's far end reveals the entrance to the church clinic.
The Outside Structure
The Main Tower of Tan Dinh Church
From a distance, the church's tower, standing at an impressive height of 52.6 meters, boasts an octagonal pinnacle crowned by a noticeable three-meter-long copper cross—a familiar emblem across many churches.
If you come here to observe the church's exterior, your attention will be drawn to a trio of towers. The bell tower, spanning four stories, stands prominently among them. Notably, the second level of this tower showcases a sizable white spherical clock encased in a pink frame, its Roman numerals rendered in gleaming gold.
The Two Auxiliary Towers
Flanking the central tower are two auxiliary buildings, adorned with multiple lights and numerous windows. The curved roofs create an intriguing pathway in front of them.
The Interior Structure
Upon visiting the church, you will find yourself immersed in an enchanting and timeless space, a destination cherished by all. The chapel showcases pink accents both within its walls and outside. Within the towers, five bells weighing approximately 5.5 tons bestow an additional layer of architectural significance upon Tan Dinh Church. The journey to the main altar unfolds as one strolls down the aisles.
Once within the splendid interior, adorned with stained glass windows, graceful arches, majestic pillars, intricate sculptures, gentle illumination, and flickering candles, visitors are transported to the ambiance of a vintage European cathedral.
Adjacent to the entrance of Tan Dinh Church stand two chapels, gifted to Vietnam from Italy during a restoration effort in 1929.
Tips to Visit Tan Dinh Church
For visitors, the church's facade offers an idyllic vantage point for taking photos. As the sun sets, its gentle rays enhance the church's splendor, casting an even more enchanting aura. Arriving at this juncture, you can promptly capture a sequence of photos that exude a European-like radiance.
Due to the considerable influx of visitors, be prepared for a potential wait on Sundays or during masses to secure a satisfying snapshot.
With its captivating aesthetic, Tan Dinh Church is a captivating highlight during your trip to Saigon. Positioned centrally, it offers seamless access to numerous city attractions, making your sightseeing endeavors both effortless and enjoyable. Crafting an itinerary that weaves these attractions together ensures an invigorating and seamless tour. Contact us right now if you are ready to explore the alluring Ho Chi Minh City.