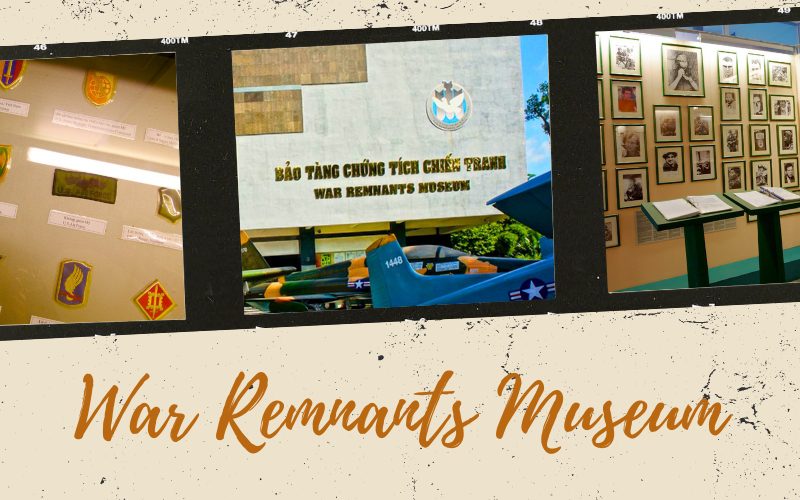 Ho Chi Minh City is considered the most dynamic city in Vietnam, with several interesting destinations bringing joyful experiences to its tourists. However, there is one place in the city that leaves a silence in the heart of every visitor – War Remnants Museum. This destination serves as a living collection of solid evidence condemning the crimes committed by invading colonial forces. Explore the museum with IDC Travel to learn more about the fighting spirit and triumphs in Vietnam's struggle for independence.
Essential Information for Tourists
Location of War Remnants Museum
War Remnants Museum is located at No. 28, Vo Van Tan Street, Vo Thi Sau Ward, District 3, Ho Chi Minh City. Situated in the center of this city, the museum is extremely easy for you to find the way here.
There are multiple means of transportation for you to get to the War Remnants Museum. You can easily call a taxi or book a car via a ride-hailing application. Moreover, you can also experience public buses in Ho Chi Minh City for an economical ride. There are several buses stopping in front of this museum. However, if you seek a convenient option to travel to this destination or even around the city, renting a car with a private driver is highly suggested.
Opening Hours & Entrance Fee
Opening Hours: War Remnants Museum is opening from 7:30 AM to 5:30 PM. The museum welcomes tourists every day, including all holidays in Vietnam. Therefore, you can come to visit this place every time you want.
Entrance Fee: Visitors to the museum must pay 40,000 VND per person for the entrance ticket. A free ticket is applied for children under 6 years old. Meanwhile, a 50% discount is applied for children from 6 to 16 years old and students studying at Vietnamese University.
History of Formation and Development
After years of prolonged fighting against the invaders, the people of Vietnam achieved a complete victory on April 30, 1975. This victory has led to the restoration of peace, independence, sovereignty, and territorial integrity of the country. To preserve the heroic evidence of the Vietnamese people's fight against invading forces and to expose the crimes and the harsh consequences of the aggressive war, the War Remnants Museum was established and has been active since September 4, 1975.
The War Remnants Museum is a part of the Vietnam museum system as well as peace museums worldwide. Besides, this place is also a member of the International Council of Museums (ICOM). It focuses on research, collection, preservation, and exhibition of materials, images, and artifacts related to the invading wars that imposed consequences on Vietnam.
This museum preserves more than 20,000 materials, artifacts, and documentaries. You will find over 1,500 remnants showcased regularly in 8 thematic exhibitions. Over the past 35 years of operation, War Remnants Museum has welcomed more than 15 million visitors consisting of both locals and foreigners. With more than 500,000 visitors each year, this museum stands as one of the most appealing destinations among tourists to Ho Chi Minh City.
Highlights of War Remnants Museum
When you enter the War Remnants Museum, the first things that catch your eye are definitely the huge tanks and combat aircraft displayed in the front yard. These artifacts will give you a glimpse of the giant weapons used during wars in the past.
Coming to see the in-house exhibitions, you will surely be impressed by the cruel and horrific photographs displayed. The images showcased reflect the harsh realities of war. Not only know more about how severe wars have impacted Vietnam's infrastructure, but you will also have a chance to have a deeper insight into the post-war life of Vietnamese people and the hardship they had to suffer then.
Exhibitions in War Remnants Museum
8 Themes Displayed in Permanent Exhibitions
Historical Truths
This thematic exhibition consists of 66 images, 20 documentaries, and 153 artifacts. All these items reflect the horrific past of Vietnam when being invaded by the Frech colonists and American invaders respectively.
After nearly 100 years of valiant resistance, the Vietnamese people finally managed to break free from the colonial yoke of the French. On September 2, 1945, President Ho Chi Minh proclaimed the Declaration of Independence, asserting Vietnam's right to independence and freedom to the whole world. However, when the French failed to invade Vietnam once again, the U.S. military intervened and waged their war of invasion in both North and South Vietnam.
This exhibition will help you gain a comprehensive understanding of the wars in Vietnam, how it was carried out, and how the Vietnamese military achieved victory.
Requiem
This special space includes 275 photos taken by 134 journalists of 11 different nationalities. They all lost their lives while on duty in Indochina's battlefields. The exhibition is a photo collection held by 2 British photojournalists, Tim Page and Horst Faas, with the assistance of the Vietnam News Agency. Every photo in the collection is invaluable as journalists had to risk their lives to obtain such works.
Vietnam – War and Peace
The photojournalism collection titled "Vietnam – War and Peace" consists of 123 photographs taken by Japanese photographer Ishikawa Bunyo. He lived and worked in Vietnam from 1965 until the war ended.
In 1998, Mr. Bunyo organized a photo exhibition in Tokyo, showcasing 260 images documenting Vietnam. The exhibition then took place in several large cities in Japan. In the same year, Mr. Bunyo generously donated a significant portion of his photographic work to the War Remnants Museum. You can admire his works in this thematic exhibition.
Agent Orange during the Vietnam War
The photo collection consists of 42 photographs taken by Japanese photographer Goro Nakamura. Being a photojournalist since 1961, Goro Nakamura devoted much of his effort to capturing images of the Vietnam War, especially the catastrophic effects of the Agent Orange chemical disaster. The official military purpose of Agent Orange was to defoliate the dense forest cover, depriving the Vietnamese forces of hiding places. However, the consequences of this toxic chemical were far-reaching and devastating, affecting not only the environment but also the well-being of countless Vietnamese civilians and soldiers.
War Crimes
This special exhibition comprises 125 photos, 22 documents, and 243 artifacts, introducing evidence of war crimes and the consequences of the invasion of Vietnam and its people. This is the reason why many people call it the Museum of War Crimes.
During the invasion years, the U.S. military trampled upon fundamental human rights. They engaged in acts of abduction, torture, rape, and killing of civilians and prisoners of war, including committing numerous massacres. You will find all cruel crimes showcased in this space.
Agent Orange Consequences
100 photographs, 10 documentaries, and 20 artifacts displayed reflect the devastating consequences of the chemical poisoning caused by the U.S. as well as the resilience of Vietnamese victims of Agent Orange.
During the Vietnam War, the American invaders used the most modern and brutal means of warfare, including chemical weapons. In particular, during the period from 1961 to 1971, the U.S. military sprayed over 100 million liters of chemical agents, including 65% of Agent Orange. This space of the War Remnants Museum shows how severely the contamination damaged the health of Vietnamese people and their future generations.
World Supports Vietnam in Its Resistance to U.S. Aggression 1964 – 1975
There are 100 images and 145 materials about the worldwide people movement, including the American people, in support of Vietnam's resistance against the invasion of the war.
You will see several images of rallies, protests, and conferences held by people from various countries across continents denouncing the U.S. government's invasion of Vietnam. Many propaganda posters, banners, flags, petitions, and various items from organizations and individuals worldwide demonstrate their solidarity and friendship with the Vietnamese.
Imprisonment System during the Vietnam War
The exhibition includes 40 photographs, 14 explanatory panels, maps, and 21 artifacts, introducing a system of over 200 prisons built by the United States to suppress patriotic Vietnamese. Particularly, this space also presents some notorious prisons, which are called "Hell on Earth," illustrating the cruel methods and brutal instruments used to torture and oppress political prisoners and captives.
Temporary Exhibitions
In addition to permanent exhibition space, the Museum of War Remnants also has temporary exhibitions occurring during a certain period of time. Most temporary exhibitions here serve to promote the peace movement and denounce the war. Moreover, they also remind people about the atrocities of past wars.
Mobile Exhibitions
Most mobile exhibitions are organized in schools throughout Ho Chi Minh City and nearby provinces, aiming to teach youngsters about the nation's heroic history. Students will have a chance to learn more about how the previous generations bravely stood up and fought to protect the country's independence and sovereignty.
Visiting Regulations
When visiting the War Remnants Museum, there are a few regulations that you should follow to ensure the best experience.
Dress in proper attire and behave appropriately
Park vehicles in designated areas, maintain orderliness and keep the premises clean
Queue up while purchasing tickets
Leave bulky belongings (if any) at designated storage areas
Follow the guidance of the staff and signs displayed
Do not bring weapons, toxic substances, prohibited items, or flammable materials
No smoking within the exhibition area
Any recording, filming, or organizing thematic activities require prior permission from the Museum
The War Remnants Museum acts as a collection of clear evidence of crimes that foreign forces committed against Vietnam in the past. Don't forget to add this place to your list of destinations during your trip to Ho Chi Minh City. If you need any help, feel free to contact us. It is always our pleasure to provide you with our best service.