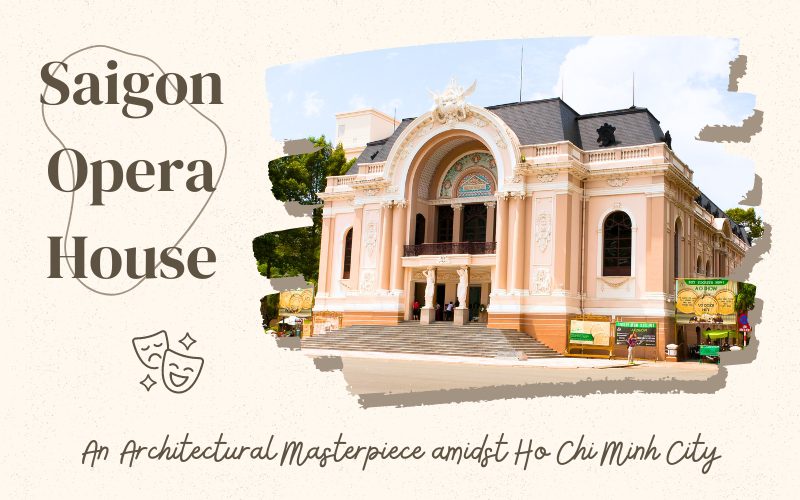 Coming to Ho Chi Minh City, you will be amazed by several iconic constructions with impressive architecture. Among them all, you might notice the Saigon Opera House when you wander around the city center. This building is not only a place to hold multiple art performances but also an architectural masterpiece and a tourist attraction.
Essential Information For Tourists
Location
Saigon Opera House (also called Ho Chi Minh City Opera House or Municipal Theatre), is located at No. 7, Cong Truong Lam Son Street, Ben Nghe Ward, District 1. Since it is situated right in the center of District 1, you will have no difficulty traveling to the Opera House.
There are several options for you to get to this place. You can easily call a taxi or book a car using ride-hailing apps like Grab or Be. Moreover, there are also buses stopping in front of the Opera House. Therefore, if you want to experience public transportation in Ho Chi Minh City, don't hesitate.
However, in case you seek a means of transportation which is safer and more convenient than the others, why not rent a car with a private driver? You will be able to sightsee the whole city and stop by any destination you want without worrying about anything.
Opening Hours
Saigon Opera House is open every day for tourists to visit. However, please keep in mind that the operating hours from Monday to Friday are between 9:00 AM and 4:30 PM. Meanwhile, this place is only open from 9:00 AM to 12:00 PM. However, if you attend a performance here, you can come by the time on your ticket.
Ticket Price
There are different ticket prices for different seat classes and different shows. Nevertheless, you can consult the price below:
For special shows on certain events, ticket prices may vary from 150,000 VND to 900,000 VND per person.
For periodic shows, you can buy a ticket at a price range from 80,000 VND to 650,000 VND per person.
History of Saigon Opera House
Since 1863, numerous French performing troupes had arrived to entertain the French military. Initially, they performed at a wooden house owned by the Bishop located at Horlorge Square (Place de L'Horloge). However, due to the increasing demand for entertainment from the French community, the construction of the Saigon Opera House began in 1898. Finally, this place was officially established in 1900.
On November 1863, Vietnamese people organized the very first performance at the Opera House. Nevertheless, after 1954, the function of Saigon Opera House changed into a National Assembly building. The facade of this place was also modified to match its new political role. It wasn't until 1975 that the Opera House was returned to its original purpose of hosting artistic performances. In 1998, the restoration of the Opera House was completed. Additionally, political meetings are no longer held here, and the venue is exclusively used for artistic performances.
Extraordinary Architecture of the Opera House
The Saigon Opera House was designed by a group of French architects including Félix Olivier, Eugène Ferret, and Ernest Guichard. This building showcases distinctive architecture that cleverly combines architectural design with sculpture. Especially, the sculptural decorations are highly valued in the building's overall aesthetics, evident from its exterior to its interior, featuring abundant reliefs and raised sculptures.
The facade of the Opera House carries a clear artistic influence from the Petit Palais Museum, constructed in the same year in Paris, France. Notably, all decorative patterns, reliefs, and interiors of the Saigon Opera House were designed by a renowned French artist, mirroring the patterns of French theaters during the late 19th century.
The interior of the opera house is designed with modern amenities, equipped with a comprehensive sound and lighting system. In addition to the ground floor, there are also two upper floors, making the opera house capable of seating up to 1,800 audience members. This ensures a comfortable space for you to enjoy performances.
Ultimate Shows in Saigon Opera House
A O Show – An Annual Show of the Opera House
A O Show, which is produced and presented by Lune Production, is an annual performance at the Saigon Opera House. The show receives warm love from audiences all over the world due to its unique and exceptional artistic form: bamboo circus – a one-of-a-kind art form in Vietnam.
When you come to experience A O Show, you will catch glimpses of life in the tranquil Southern countryside, brimming with poetic charm, as well as lively urban scenes. You'll encounter the familiar image of creatively stylized bamboo, forming bridges, riverbanks, daily life scenarios, and the labor of riverside village inhabitants, transitioning seamlessly into bustling urban settings full of hustle and bustle, creating a vibrant space filled with laughter.
The performance utilizes traditional instruments characteristic of the Southern region and the sounds of everyday life to create distinct soundscapes and background music. All props and stage settings are meticulously crafted throughout the rehearsal and production process. The black backdrop and stage floor, along with predominantly black costumes, maximize the potential for unexpected effects through changes in space, stage design, and character appearances. Moreover, the program also incorporates "Don Ca Tai Tu" – the traditional musical genre of Vietnam, recognized by UNESCO as an Intangible Cultural Heritage.
Teh Dar Show
Along with A O Show, Teh Dar Show is also one of the much-loved bamboo circus performances. If A O Show depicts the serene Southern countryside of Vietnam, the Teh Dar Show portrays the daily life of the Central Highlands region – home to numerous ethnic minorities. If A O Show depicts the serene Southern countryside of Vietnam, the Teh Dar Show portrays the daily life of the Central Highlands region, home to numerous ethnic minorities.
Teh Dar means circle in the K'ho language. This symbol is closely associated with most Central Highlands ethnic groups, as it represents various communal activities. By naming the show "Teh Dar," the creators aim to convey the cultural values of this region. Attending the Teh Dar Show, you'll immerse yourself in the grand sounds of the mountains and forests, accompanied by over 20 original musical instruments from the Central Highlands.
As you experience the Teh Dar Show, you'll notice the performance is enveloped in a reddish light, symbolizing the Central Highlands' fiery spirit, representing the robustness and strength of its people. The agile performers adeptly execute daring feats on bamboo poles, leaving the audience in suspense, breathless. The Teh Dar Show is sure to provide you with novel experiences that cannot be found anywhere else.
What to Do When Visiting Saigon Opera House
Admire Outstanding Art Performances
When traveling to Ho Chi Minh City, don't miss out on the amazing shows at the Saigon Opera House. The meticulously crafted programs will surely not disappoint you. Moreover, the classical ambiance of the theater and the exceptional sound quality will enhance your experience here. All visitors who have enjoyed performances here have left with unforgettable impressions, often wishing to return for more.
Take Beautiful Photos
If you can't attend the remarkable performances inside the theater, don't pass up the opportunity to admire this place from the outside! The unique architecture with intricate details of the Saigon Opera House makes for a fantastic background for your photos in Ho Chi Minh City. You can easily encounter beautiful and unique scenes to capture memorable moments here. Feel the combination of history, culture, and the city's vibrancy through every picture you take at the Saigon Opera House.
Experience nearby Street Food
Located in the heart of Ho Chi Minh City, the variety of street food stalls around the Saigon Opera House offer unforgettable and distinct flavors. Even though these are only simple roadside eateries, they attract many young Saigonese. After your visit to the theater, you can indulge in delicious dishes here and experience the richness of Saigon's street food. You could try "Old Daddy" milk tea, situated behind the theater. Around 6 PM, it becomes extremely crowded. Despite being a mobile cart, people enjoy it for its delicious taste. You'll have the chance to savor your favorite Saigon drinks and witness the city's vibrant nightlife.
Useful Tips When Visiting the Opera House
You should check the schedule of performances at the Saigon Opera House in advance to purchase tickets and arrive on time.
Since the theater visit is closely associated with each performance, you should arrive about 15 – 30 minutes before the showtime to find your seat, take check-in photos, or explore the surroundings before it begins.
When the performance ends, the artists will interact with the audience. Therefore, you can prepare your camera or phone to capture photos.
Avoid bringing food or strongly scented beverages into the theater to maintain a pleasant atmosphere for everyone.
Whether you're a fan of art performances or not, the Saigon Opera House or Ho Chi Minh City Opera House is a remarkable destination you shouldn't miss during your vacation. Plan your trip today to make the most of Ho Chi Minh City. If you find any difficulty, feel free to contact us to receive the best assistance!