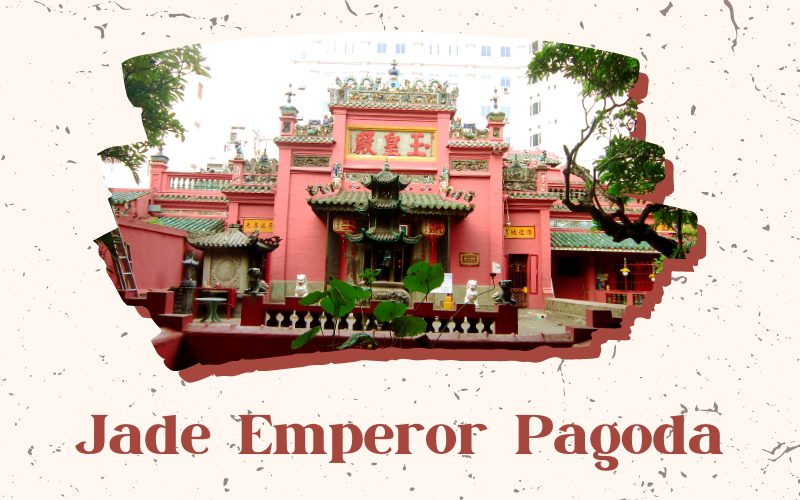 Amidst the dynamic Ho Chi Minh City, Jade Emperor Pagoda stands as a famous spiritual spot for people to visit and wish for good things. Moreover, this place is also an ancient architectural masterpiece that attracts several visitors to come and admire its beauty. Let's discover the Jade Emperor Pagoda with IDC Travel to see what are the appeals of this place.
Where is Jade Emperor Pagoda Located?
The Jade Emperor Pagoda, also called Phuoc Hai Pagoda, is situated at No. 73, Mai Thi Luu Street, District 1, Ho Chi Minh City. Although this place is not close to other famous attractions of Ho Chi Minh City, you can still easily travel to the pagoda as its address is easy to find.
You can get there by taxi or a car booked via a ride-hailing app. You can also travel to Jade Emperor Pagoda by bus, a popular means of public transportation in Ho Chi Minh City. However, the bus routes are extremely complex. Therefore, if you are not used to traveling by bus in Ho Chi Minh City, we suggest renting a car with a private driver. He will be your assistant throughout the whole trip, bringing you and picking you up at all wished destinations on your list.
History of Jade Emperor Pagoda
Jade Emperor Pagoda was originally the temple of the Jade Emperor. The place was constructed by a Chinese individual named Liu Ming during the early 20th century. Therefore, it bears a strong influence on Chinese architecture. In 1984, the pagoda's name was changed to Phuoc Hai Pagoda, but the local people still commonly refer to it as Jade Emperor.
This pagoda attracts a large number of visitors, not only during festivals, the 1st and 15th days of each month. This is because many people have passed down stories that this temple is very sacred. Therefore, travelers from various regions often come here to seek luck, peace, relationships, and blessings for their children. Moreover, the former President of the U.S., Barack Obama, visited the Jade Emperor Pagoda on May 24, 2016. This helped increase its reputation.
Impressive Chinese Architecture
Beautiful Tiled Roofs
Jade Emperor Pagoda stands out with its distinctive Yin-Yang tiled roof. Each corner of the roof is adorned with multicolored ceramic statues and intricately carved mythical creatures. The entire pagoda is made from red bricks, mixed with a touch of ancient colors. Despite undergoing multiple renovations, Jade Emperor Pagoda still retains its ancient charm and the unique design style of an ancient temple.
Especially, when visiting this place, you'll have the opportunity to admire valuable artworks created from ancient materials like ceramics, lacquer, and wood. Additionally, you should never miss out on the paper-mache statues that are carefully arranged in a congregational setting, resembling deities gathering at Jade Emperor Pagoda.
The Perspective of Altar Area
Looking from the outside, you might think that this pagoda does not have any particularly prominent features. However, as soon as you step through the gate, you will be amazed by its grandeur on the inside. You will find that two coiling dragons are mounted at the triple gate, exuding a dignified and majestic aura. Going further inside, there is a larger courtyard with a small temple, which is dedicated to the Guardian God, and ponds with fish and turtles.
The overall structure of the Jade Emperor consists of three main sections. In the main hall, the Front Palace is where the Earth Deity and the Gate Guardian are worshipped. The middle hall is used to venerate the General of Azure Dragon, the Buddha of Medicine, and the General of White Tiger. Meanwhile, the statue of the Jade Emperor is solemnly placed in the Main Palace, with the statue of the Northern Deity of Heaven on the left and the statue of Buddha Chuan De on the right.
In the left hall, there are also three altars. One is dedicated to the Twin Guardians Song An, Thanh Hoang Lo Ban, General Ma Tuong Quan, and Thai Tue. Another altar is for the Ten Palaces God Diem Vuong, and the third altar is for Matchmaker God and Goddess, along with 12 Female Deities and 13 Venerable Scholars. Particularly, on the second altar, there are 10 wooden carvings corresponding to the 10 gates of hell, which attract the attention of visitors. The final hall on the right is dedicated to the Goddess of Mercy and serves as a resting place for tourists.
Sino-Vietnamese Heritages
Jade Emperor Pagoda is a place that preserves many couplets, horizontal lacquered boards, inscriptions, stone tablets, and Sino-Vietnamese writings. Among these, couplets are the most abundant form of Sino-Vietnamese heritage found in this pagoda. Moreover, the elaborately carved horizontal boards and couplets here are made from precious wood materials, showcasing a high artistic value. Through these artifacts, you will gain further insight into the religious beliefs and practices of the Ming faith.
The Space behind Jade Emperor Pagoda
There is a shrine dedicated to Stone God behind Jade Emperor Pagoda. According to local tales, there used to be an ancient shrine of the Khmer people at this site. After the pagoda was constructed, this ancient shrine was renovated into the present-day one dedicated to Stone God. Inside the shrine, there is a rectangular standing stone taken from Thai Son Mountain in Shandong Province, China. In front of the stone shrine, there are incense burners, with a stone statue of the Azure Dragon on the right and a White Tiger stone statue on the left. Moreover, inside the pagoda, there are around 300 finely carved statues of Buddha and Bodhisattvas.
Legend and Traditions of Jade Emperor Pagoda
Praying for Child
As mentioned above, inside Jade Emperor Pagoda, there is a shrine dedicated to Kim Hoa Holy Mother along with 12 Female Deities and 13 Venerable Scholars. According to folk beliefs, Kim Hoa Holy Mother is the deity responsible for childbirth. On one hand, each of the 12 Female Deities takes care of a specific aspect to create a complete person. On the other hand, the 13 Venerable Scholars guide the youth in their professions as they grow up and provide moral education.
Jade Emperor Pagoda is widely regarded as a sacred place for wish fulfillment. Couples struggling with infertility often earnestly pray for children at the shrine of Kim Hoa Holy Mother and the 12 Female Deities. They come to make wishes and often release a pair of turtles into the turtle pond, inscribed with their names. Many people believe that if a pair of pregnant turtles are released, the wish may be granted more effectively.
Praying for Love
The belief of the sacredness regarding seeking romantic relationships here is no less significant than the wish for children. Jade Emperor Pagoda has a dedicated area with statues of the Matchmaker God and Goddess, where people often come to pray for love and relationships. Before Valentine's Day, there are usually many young people visiting here to seek romantic connections.
People believe that all you need to do is light incense, say your name, then the name of the person you dream of, and touch the statue of the Matchmaker God and Goddess with sincerity, then you will swiftly attract romantic luck.
Praying for Health and Peace
Apart from wishing for a child and love, many people come to Jade Emperor Pagoda to pray for their health and peace. You can visit the statue of Hoa Da, the immortal teacher, to sincerely pray for these blessings.
Every year, on the 9th day of the first lunar month, the pagoda holds the Jade Emperor Spirit Festival. This is a grand festival day, believed to bring great blessings. On this occasion, there is a high number of visitors to the pagoda. You can both offer prayers and explore while enjoying the festive atmosphere here.
Things to Keep in Mind when Visiting the Pagoda
It would be easy for you to plan to visit Jade Emperor Pagoda if you travel to Ho Chi Minh City. This place is open every day, from 7:00 AM to 6:00 PM. Especially, on the 1st day and 15th day of every month, the pagoda is open from 5:00 AM to 7:00 PM to welcome visitors coming to pray.
However, please kindly note that this is a traditional spiritual place, so you will need to dress appropriately and neatly. Do not wear shorts or sleeveless shirts.
With the sacred beauty of a century-old ancient pagoda, Jade Emperor Pagoda has become a peaceful and tranquil destination that attracts several tourists from all over the world. You will be able to indulge in a one-of-a-kind experience when visiting this place. Don't hesitate to reach out to us if you find any hardship when planning for your trip. It is our honor to serve you the best service.