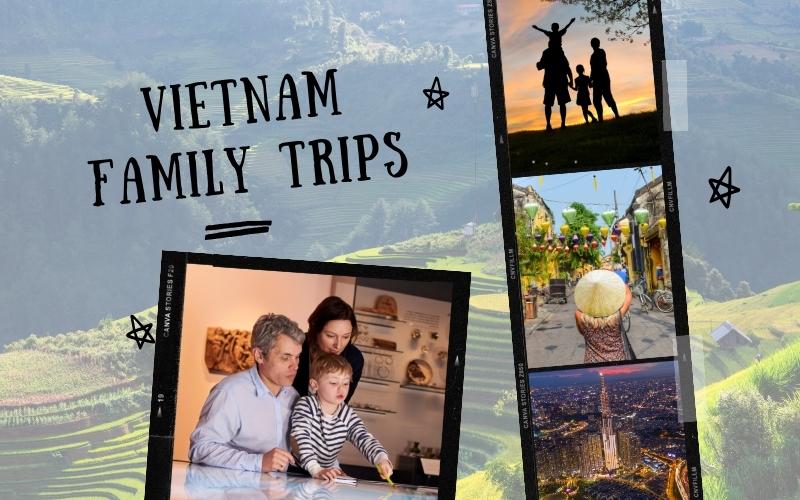 Vietnam stands out as a sought-after destination, offering fantastic opportunities for family travel. Whether you're planning a family holiday, embarking on gap year adventures with your children, or joining the community of long-term travelers, Vietnam has much to offer. But what about Vietnam's family-friendliness? What exciting activities can you enjoy in Vietnam with your kids, and where should you explore? Perhaps you're in search of the ideal kid-friendly hotel for your vacation, or you're curious about the practical aspects of traveling to and within Vietnam with children. This Vietnam family travel blog is your go-to source for all the essential information you need to make your journey to this vibrant country a memorable and enjoyable experience.
Why Visit Vietnam with Children?
Vietnam is gaining popularity as a top choice for family travel, thanks to its exceptional value for money. The country boasts a wide range of budget-friendly activities, tours, and attractions, making it feasible for longer family vacations without straining your finances. You can enjoy a comfortable and memorable family trip in Vietnam without breaking the bank.
One of Vietnam's greatest assets is its incredible diversity of landscapes, encompassing vibrant cities, pristine beaches, and remote mountain regions. Whatever kind of activities your family seeks, Vietnam offers a perfect match. From exhilarating kayaking adventures through Halong Bay's limestone caves to captivating water puppet shows in Hanoi, there are plenty of ways to keep children entertained and engaged.
Furthermore, Vietnam's reputation for safety and hospitality makes it an ideal destination for families of all ages. With a low crime rate and friendly locals, you can rest assured that your family will experience a secure and welcoming environment throughout your holiday.
When to Go On Vietnam Family Tours?
The best time to visit Vietnam with children largely depends on the specific experiences you want to enjoy and the weather you prefer. Vietnam has three distinct regions with varying climates, so the optimal time for your family trip can differ based on where you plan to visit:
Northern Vietnam (Hanoi, Halong Bay, Sapa): The best time to visit the northern region is during the dry season, which typically spans from October to April. December to February is particularly pleasant, with cooler temperatures and less rainfall. This is an excellent time for city exploration and outdoor activities.
Central Vietnam (Hue, Hoi An, Da Nang): Central Vietnam experiences its dry season from February to August, with the most favorable weather conditions occurring between February and April. During this period, you can explore historical sites, enjoy the beaches, and partake in various cultural events.
Southern Vietnam (Ho Chi Minh City, Mekong Delta, Phu Quoc): Southern Vietnam has a tropical climate with two distinct seasons: dry (from November to April) and wet (from May to October). The dry season, particularly November to February, is the ideal time for family travel, offering pleasant weather for city tours, outdoor activities, and beach vacations.
Keep in mind that Vietnam's peak tourist season coincides with these favorable weather conditions, so accommodations and popular attractions may be busier and more expensive during these times. If you prefer to avoid crowds and take advantage of lower prices, consider visiting during the shoulder seasons, such as May or September, when the weather is still decent, and tourist numbers are lower.
Best Destinations for Vietnam Family Holidays
Hanoi
While many families tend to gravitate towards Vietnam's beach destinations for their family vacation, it's worth considering the capital city of Hanoi, nestled in the northern part of the country, as a compelling option for at least part of your stay. Hanoi is a dynamic and culturally rich metropolis, teeming with diverse culinary experiences, vibrant craft shops, and distinctive attractions.
Hanoi boasts an array of family-friendly activities, including enchanting water puppet shows, engaging cooking classes, and leisurely visits to picturesque lakeside parks. Additionally, the city offers a glimpse into history with visits to significant sites like the Temple of Literature.
For a change of scenery, you can embark on day trips to nearby rural villages such as Duong Lam and Bat Trang, immersing your family in the local culture and traditions. Alternatively, consider an overnight train journey to explore the lush rice fields and bustling markets of Sapa, adding a unique dimension to your trip to Vietnam with children.
Ha Long Bay
Ha Long Bay is a destination that brings unforgettable memories for your trip to Vietnam with children. This UNESCO World Heritage Site stands as a remarkable natural wonder and an essential stop on any family journey through Vietnam. In Ha Long Bay, families are spoiled for choice with a myriad of activities, from serene kayak adventures through hidden lagoons to captivating sightseeing tours amidst the limestone islands. For those who enjoy underwater exploration, swimming amid the kaleidoscope of colorful fish is a delightful experience.
The nearby town of Bai Chay also offers an array of attractions for children, including explorations of souvenir shops and lively street markets, thrilling rides on the Ferris wheel, and visits to a charming mini amusement park.
Hoi An
Hoi An, having served as a bustling trading hub for centuries, proudly wears the marks of various international influences that have converged to create a unique cultural tapestry. It beckons with its traditional architectural charm, quaint winding streets, and some of the country's most exceptional beach resorts.
Families will discover a wealth of kid-friendly activities in Hoi An, from engaging pottery classes and culinary courses to captivating sightseeing tours and leisurely boat rides along its scenic waterways.
Food enthusiasts will be in gastronomic heaven with a plethora of dining options, including seafood restaurants, vibrant street food markets, and distinctive eateries. Be sure to savor the Banh Mi, among the finest in all of Vietnam, and rest assured, it's a delightful choice for kids too!
Da Lat
Often overlooked as a family holiday destination in Vietnam is the charming mountain town of Da Lat. This picturesque mountain city, surrounded by fragrant pine forests, pristine lakes, and cascading waterfalls, is a haven for those in search of tranquillity and natural beauty.
Families visiting Da Lat have a wealth of nearby attractions to explore, including the Adventure Park in Cau Dat, the thrilling Datanla Alpine Coaster, the scenic Tuyen Lam Lake, and the historic Bao Dai Summer Palace. Take a nostalgic journey at the Dalat Railway Station and treat the kids to an unforgettable train ride to Trai Mat.
Da Lat is also renowned for its lush green golf courses, making it an ideal destination for avid golfing families. With its cooler climate and invigorating mountain air, this town offers a refreshing escape from the sweltering city heat, ensuring a rejuvenating and memorable family vacation.
Phu Quoc Island
Phu Quoc is famous for its unspoiled beaches, rugged natural landscapes, and a plethora of engaging activities to captivate young travelers. Families will find an abundance of kid-friendly pursuits on Phu Quoc island, including exhilarating cable car rides, fascinating visits to aquariums and wildlife sanctuaries, an epic waterpark for endless fun, or simply basking in the splendor of the island's pristine beaches.
If you are seeking comfortable accommodations in Vietnam with children, Phu Quoc boasts a selection of superb resorts, each equipped with an array of amenities designed to keep your family content. Should you crave more adventurous experiences, the island offers an array of water sports opportunities and boat excursions to explore the southernmost reaches of Vietnam's captivating islands.
Vietnam Family-Friendly Itinerary Ideas
Itinerary 1: Vietnam Family Beach Vacation in 8 Days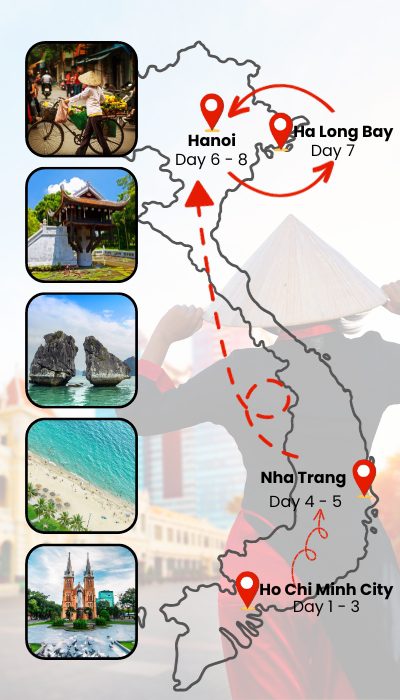 Day 1: Arrive in Ho Chi Minh City. Check in at the hotel and freely discover the city on your own.
Day 2: Visit Cao Dai Temple and Cu Chi Tunnels. Cao Dai Temple is a cathedral of the Caodaism religion in Tay Ninh province. It worships the fusion of faiths Confucius, Taoism, Jesus Christ, and Buddha. After lunch at a local restaurant, you will continue your journey to Cu Chi Tunnels – a complex of 200 km of underground tunnels used by the Vietnam Military force during the American War.
Day 3: Ho Chi Minh City tour over Notre Dame Cathedral, Reunification Palace, War Remnants Museum, Saigon Post Office, Giac Lam Pagoda, Chinatown, and Binh Tay Market. Fly to Nha Trang in the late afternoon.
Day 4 – 5: Enjoy your time in Nha Trang beach city. You can stay at the resort for a high-end relaxation experience or discover the city on your own. Don't forget to sample delicious fresh seafood here.
Day 6: Fly to Hanoi. After checking in at the hotel in the city center, you are free to discover the tranquil Hanoi Old Quarter and enjoy delicious Hanoi food.
Day 7: Visit Ha Long Bay from Hanoi. Start in Hanoi in the early morning, you will arrive in Ha Long Bay after a 2 – 3 hour drive. Embark on a 4-hour cruise to discover the magnificence of Ha Long Bay with major highlights such as Sung Sot Cave, Ti-top Island, etc. You can also try swimming and kayaking on the bay if you want.
Day 8: Free time to explore Hanoi till the departure time. If time permits, you can have a sightseeing tour around famous Hanoi attractions like Ho Chi Minh Mausoleum, the Temple of Literature, West Lake, etc.
>>> Please check the comprehensive tour itinerary at this link. Or, you can refer to our Vietnam beach holidays for similar beach & leisure getaways in Vietnam with children.
Itinerary 2: Family Vacation to Highlight Attractions of Vietnam in 15 Days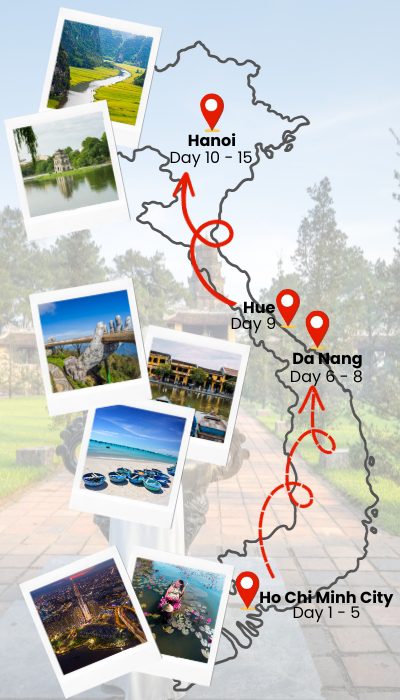 Day 1 – 5: Arrive in Ho Chi Minh City, and visit the city's highlights and surrounding areas. You will have a chance to explore Cu Chi Tunnels – an underground network of tunnels built and used by the Vietnam Military during the War. Then, spend 2 days 1 night in the Mekong Delta, one of the best destinations for ecotourism in Vietnam.
Day 6 – 8: Enjoy your days in Da Nang – Hoi An. You are free to relax on the beach, indulge in the tranquil beauty of Hoi An Ancient Town, and sample delicious cuisine. Fly to Hue at the end of the 8th day.
Day 9: Join a Hue city tour before flying to Hanoi.  On this day, you will have a chance to visit Hue Imperial Citadel and Emperor Khai Dinh's Mausoleum. In the afternoon, take a leisurely boat ride down the Perfume River to see the Thien Mu pagoda and Emperor Minh Mang's Mausoleum.
Day 10: Have a tour around Hanoi, ending with an amazing water puppet show. You will visit Hanoi Old Quater, Ho Chi Minh Mausoleum, One Pillar Pagoda, and the Vietnam Museum of Ethnology.
Day 11 – 13. Visit Ninh Binh & Ha Long Bay from Hanoi. On the 11th day, you will enjoy a day tour to Ha Long Bay, and stay here overnight before transferring to Ninh Binh on the 12th day.
Day 14: Freely explore Hanoi on your own. You can also opt for a half-day tour to Duong Lam Ancient Village or a full-day Mai Chau sightseeing tour from Hanoi.
Day 15: Depart Hanoi. Our driver will pick your family up at the hotel and transfer to Noi Bai International Airport for a flight back home or to the next destination.
>>> For the detailed tour program of this family trip to Vietnam, you can check it here. For similar Vietnam family holidays, you can refer to our well-planned tour itineraries at this link.
Itinerary 3: Family Trip in Vietnam and Cambodia in 14 Days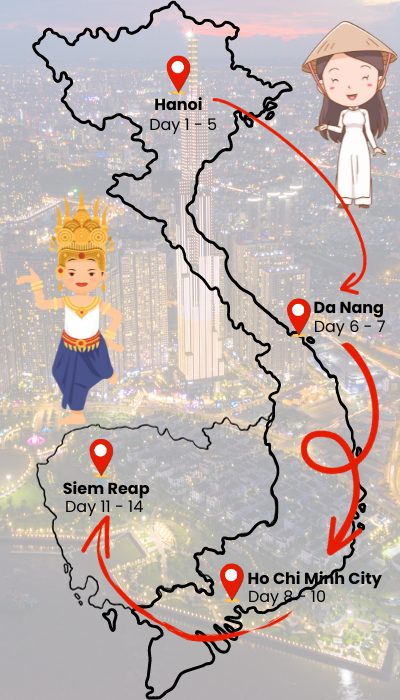 From Vietnam, your family can travel onwards to Laos, Thailand, or Cambodia if time permits. These are all neighboring countries with short and cheap flights between each other. Below is a suggested itinerary for a trip to Vietnam and Cambodia.
Day 1 – 5: Arrive in Hanoi, and explore the city center's main attractions, such as Ho Chi Minh Mausoleum, the Temple of Literature, etc. Spend 2 days visiting Ha Long Bay from Hanoi. Fly to Hue on the 5th day's afternoon.
Day 6 – 7: Transfer to Da Nang – Hoi An. Free to discover this ancient town. You will land at the airport in Da Nang and drive to Hoi An. On the way, don't miss out on the chance to witness the gorgeous Lang Co Beach and Marble Mountain. Stop for a while at the Cham Museum if you want.
Day 8 – 10: Time in Ho Chi Minh City. You will visit the city's highlights, such as Ben Thanh Market, Chinatown, War Remnants Museum, Xa Loi Pagoda, etc., and the nearby Mekong Delta.
Day 11: Fly to Siem Reap and take a tour of the Small Circuit, where we will see a picture of the eight-armed Vishnu. Then, continue to Banteay Kdei and Ta Prohm.
Day 12: Explore Angkor Wat and Angkor Thom, which is recognized as the World's Seventh Wonder and one of Southeast Asia's most important archaeological monuments.
Day 13: Have a day tour of the Great Lake of Tonle Sap, which is known as the freshwater fish basin of Cambodia.
Day 14: Depart Siem Reap.
>>> Check out the full itinerary here. Or, find similar tours to Vietnam with children in our list of best Vietnam & Cambodia tours.
Eating in Vietnam with Kids
A great thing about eating in Vietnam with children is that food is usually made of separate components. It is perfect for kids who want to have options. You can easily add or remove an ingredient that your kids don't want. Here are a few Vietnamese food loved by foreign families.
Pho
Originating from northern Vietnam, Pho is an iconic Vietnamese delicacy cherished by both locals and visitors alike. This delectable dish is a harmonious blend of Vietnam's delicate rice noodles, a flavorful broth, and tenderly sliced meats. What sets Pho apart from other Vietnamese noodle dishes is its crystal-clear bone broth, which forms the heart and soul of this culinary masterpiece.
Pho is traditionally served piping hot, accompanied by a selection of customary side dishes that include an assortment of fresh vegetables, aromatic herbs, and crispy Vietnamese fried breadsticks. During your Vietnam family holidays, you'll find Pho restaurants readily available in nearly every corner of the country, making it a convenient and delightful dining choice.
Nevertheless, for the most authentic Pho experience, venturing to Hanoi is highly recommended. It's in the capital city that you can savor Pho in its purest form, immersing your taste buds in the rich flavors and cultural essence of this beloved Vietnamese classic.
Banh Mi
Banh Mi, a beloved Vietnamese street food, holds a special place in the hearts of every generation. Packed with an abundance of ingredients and offered at an exceptionally reasonable price, Banh Mi is the go-to solution for satisfying hungry appetites any time of day. This remarkable creation resembles a sandwich but boasts distinctive and authentic Vietnamese flavors that have won the hearts of locals and visitors alike.
At the heart of Banh Mi is a crusty baguette brimming with a delectable medley of ingredients, including meat, pate, margarine, an array of sauces, and a variety of vegetables like crisp cucumber and fresh cilantro, complemented by zesty pickled veggies. The beauty of Banh Mi lies in its versatility, with different vendors offering a diverse array of recipes to suit various tastes.
Each bite of Banh Mi delivers a symphony of sensations – the satisfying crunch of the crust, the savory delight of the meats, the invigorating freshness of the vegetables, and the tantalizing interplay of sauces. This seemingly simple creation combines basic ingredients into a harmonious masterpiece, earning Vietnam's Banh Mi a well-deserved reputation as one of the world's finest sandwiches.
Spring Rolls
Spring Rolls, a quintessential Vietnamese wrap-and-roll dish, are readily available for your family's enjoyment at any Vietnamese restaurant throughout the country. These delectable rolls come in two common varieties: deep-fried spring rolls and fresh spring rolls, each offering a unique culinary experience.
Deep-fried spring rolls are crafted from a mixture of raw ingredients, requiring a plunge into hot oil to achieve their crispy, golden rice paper exterior. In contrast, fresh spring rolls are assembled with cooked components, paired with fresh vegetables, and enveloped in soft, edible rice paper, making them a delightful and refreshing choice.
Regardless of the region in Vietnam, the fundamental components of spring rolls remain consistent, typically featuring a combination of meat and vegetables. These rolls are accompanied by a local dipping sauce, comprising fish sauce, zesty lime juice, chili, garlic, sugar, and accents of carrot, kohlrabi, or papaya.
Bun Cha
In addition to Pho, Bun Cha stands as a source of immense pride for Hanoians and serves as a shining example of Hanoi's culinary prowess. Bun Cha represents the exquisite art of Vietnamese cuisine, harmoniously combining elements such as rice products, succulent meat, vibrant veggies, aromatic spices, and a distinctive local dipping sauce.
This delectable dish features aromatic grilled pork, served alongside a generous plate of vermicelli, fresh vegetables, and herbs, as well as the signature local dipping sauce. For those seeking an extra treat, deep-fried spring rolls can also accompany this culinary delight. In Hanoi, Bun Cha has gained iconic status as a popular lunchtime delicacy, permeating the streets with its enticing aroma of grilled pork, enough to entice even the most ravenous appetites.
Com Tam
Com Tam is a beloved dish in Southern Vietnam and a must-try dish during your family trip to Vietnam with children. It is crafted from broken rice grains and holds a special place in the hearts of Southerners for any meal. This hearty dish features a satisfying ensemble of grilled pork, steamed pork, and a delectable egg patty known as "cha trung." Accompanying these main components are fried eggs, slices of cucumber, carrot, tomatoes, or pickled vegetables, all thoughtfully arranged on the plate. Diners can customize their Com Tam with additional sides to suit their preferences.
Com Tam boasts a diverse range of ingredients, packed with high nutritional value, making it an ideal choice for satiating empty stomachs and keeping hunger at bay for an extended period. Consequently, it is the go-to option for many in the South, especially laborers seeking a wholesome and fulfilling meal.
My Quang
Mi Quang (Quang Style Noodles) stands as a cherished culinary gem hailing from Danang City and Quang Nam Province, situated in the heart of Central Vietnam. This traditional delight is readily available in numerous eateries and street vendors throughout the region, offering an authentic taste of local flavors.
Mi Quang features wide and flat rice noodles paired with a choice of meats, which can include pork, chicken, or even frog meat, all bathed in a tantalizing turmeric broth. The broth is applied judiciously, just enough to lightly coat the noodles and toppings upon serving. To elevate the dish, Mi Quang is garnished with an array of delightful side toppings, such as boiled eggs, succulent shrimp, roasted peanuts, and crisp sesame crackers. Additionally, a medley of fresh vegetables and herbs not only enhances the dish's balance but also infuses it with vibrant colors, enticing aromas, and captivating flavors.
>>> For more delicious foods to savor in Vietnam, please check out our Top 30 Popular Vietnamese Dishes.
Essential Tips to Plan Your Family Trip in Vietnam
Vietnam Safety
Vietnam is a secure and family-friendly travel destination, ideal for exploring with kids. However, it's essential to remain vigilant and aware of your surroundings, particularly in bustling cities where pickpockets may target tourists. Always keep your valuables, including passports and electronics, with you at all times, refraining from leaving them unattended. Lastly, should your children become separated from you in a public area, it's vital to have a plan in place. Ensure your children are well-informed about how to locate a police officer or security guard for assistance, prioritizing their safety and well-being.
>>> Read this Vietnam Safety Guide for more warnings and pieces of advice for a safe trip in Vietnam with children.
Accommodation in Vietnam
Vietnam boasts a plethora of family-friendly accommodations, with numerous hotels offering an array of amenities such as swimming pools, playgrounds, and even convenient babysitting services. When selecting accommodations, prioritize hotels that provide connecting rooms or family suites, ensuring a more comfortable stay for the entire family. Since baby cots may not always be readily available, it's advisable to plan ahead and make necessary arrangements.
Transportation Notes
Due to varying traffic conditions and the somewhat unconventional rules of the road in Vietnam, it is advised against renting a self-drive car unless you have prior experience navigating these streets. Fortunately, there are numerous transportation options available to suit your needs in Vietnam.
For shorter distances, opting for a Grab (Vietnam's equivalent of Uber) or taking a taxi is typically the most convenient choice. When traveling longer distances, consider train or bus rides as reliable alternatives. If you require extra space and flexibility during your Vietnam family holiday packages, we recommend hiring a private car and driver, ensuring a more comfortable and hassle-free journey.
Regardless of your chosen mode of transportation, prioritize your child's safety by ensuring they have their own seat and remain seated throughout the ride, whether in a vehicle or public transport. Additionally, be prepared by packing snacks and water for longer journeys.
It's also worth noting that many streets and sidewalks in Vietnam can be crowded and uneven. To navigate these conditions with ease, consider leaving the stroller at home and using a baby or toddler body carrier. If you do decide to bring a stroller along, opt for a lightweight and foldable model to facilitate transportation.
Medical Care
Travelers' diarrhea is a potential concern no matter where you venture globally, and Vietnam is no exception. To mitigate the risk of falling ill, always opt for bottled water (consider reusable bottles for eco-friendliness, as most hotels offer refills) and exercise caution when dining at street vendors or food stalls that may not appear hygienic.
When visiting Vietnam with children, encourage your kids to practice good hand hygiene, especially before meals. Additionally, it's wise to carry rehydration salts as a precautionary measure should your children experience any digestive discomfort during your trip.
It's prudent to be aware of the top international hospitals of the destination you will visit during your Vietnam family tours. These medical facilities are staffed with English-speaking professionals who are well-trained and equipped to provide care to foreign visitors. Most international hospitals are located in Ho Chi Minh City, Hanoi, Da Nang, Hoi An, Ha Long City, and Phu Quoc.
Above, we have provided you with all the necessary information to visit Vietnam with children. Read and learn by heart the above tips and refer to our tour programs for suggestions. If you still don't know where to start, just contact us right here. Our travel experts at IDC Travel are ready to help you plan a perfect Vietnam vacation.