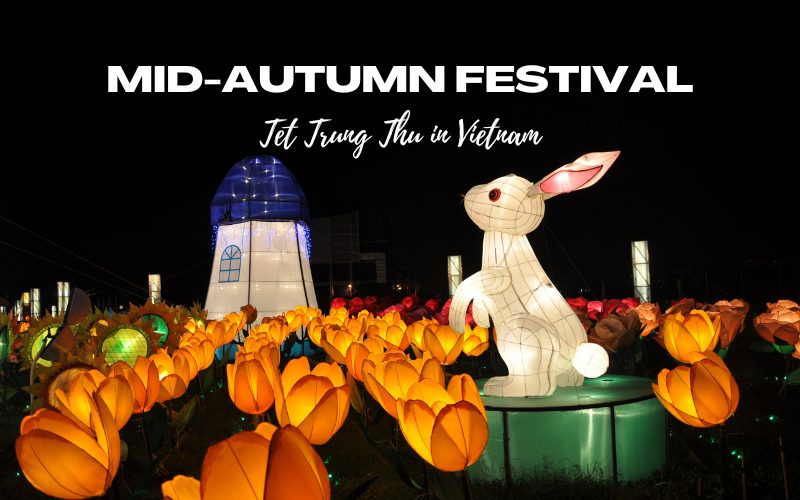 In Vietnam, the Mid-Autumn Festival is referred to as "Tết Trung Thu." Similar to China, the Mid-Autumn Festival in Vietnam also symbolizes reunion and wishes for abundant joy and happiness. However, in Vietnam, this festival is primarily centered around children and is affectionately known as the "Children's Festival." In the following article, let's get a glimpse of this special occasion in Vietnam and how it is celebrated throughout the country.
When is the Mid-Autumn Festival in Vietnam?
Tết Trung Thu is not a national holiday of Vietnam, but one of the biggest festivals in this country. It is annually held on the 15th day of the 8th Lunar month. In 2023, this occasion falls on September 29th. However, many places in Vietnam celebrate it even a week before.
Vietnamese Mid-Autumn Festival History
The Legend of Mid-Autumn Festival in Vietnam
Countries in East Asia such as China, Korea, Japan, and Vietnam all hold the Mid-Autumn Festival as one of their most significant cultural celebrations. However, the unique story behind the festival varies in each country. While you might associate the Full Moon Festival with family gatherings, in Vietnam, this occasion is primarily dedicated to children.
The Mid-Autumn Festival in Vietnam originated from agricultural work. The beginning of the 8th lunar month marks the rice harvest season in Vietnam. During this time, parents are often occupied in the fields, leaving them with little time for their children. Therefore, the full moon this month becomes an opportunity for parents to compensate for their absence and spend quality time with their kids. Additionally, this Mid Autumn Festival is a moment for making offerings to the deities in gratitude for a bountiful harvest.
Another tale about Tết Trung Thu in Vietnam is about Cuội, a young man who hung on to a big banyan tree when it floated up to the moon. Vietnamese people believe that if you look at the full moon closely, you can see the shadow of Cuội sitting under the tree. On this day, children are encouraged to parade lanterns to help light the way for him to come back from the moon.
Highlighted Celebrations during Mid Autumn Festival in Vietnam
The Vietnamese Mid-Autumn Festival is a captivating event featuring a range of intriguing cultural activities. Families come together to prepare a tray of offerings, which includes mooncakes, fruits, food, and joss paper, as they enjoy a heartfelt reunion.
As the moon ascends into the night sky, the streets come alive with the warm glow of colorful paper lanterns. Children take to the streets, donning masks depicting various mythical characters and carrying lanterns in their hands. Their laughter and songs, along with the spirited Lion Dance and the rhythmic beat of drums, combine to create an immensely gratifying evening that beckons everyone to join in the festivities.
Say "Happy Mid-Autumn Festival" in Vietnamese
Vietnamese people often say "Trung Thu vui vẻ" or "Trung Thu an lành" to wish each other a joyful festival. "Vui vẻ" or "An lành" means "Happy" in English.
How to Celebrate Mid-Autumn Festival in Vietnam
Before the Festival
In the weeks leading up to Tết Trung Thu, the streets come alive with the sights and sounds of lion dancers rehearsing their routines. Mooncake stalls begin to pop up at every corner, showcasing intricately adorned boxes filled with an assortment of mysterious cakes and fillings.
Throughout the city districts, there's a collaborative effort to prepare toys, lanterns, and vibrant masks in eager anticipation of the festival. The most favored Trung Thu lantern is the star-shaped one crafted from red cellophane, and you'll find these lanterns available for sale on streets all across Vietnam in the days leading up to the celebration.
Enjoy Delicious Mooncake
Throughout Vietnam, families usher in Tết Trung Thu by adorning their ancestral altar with a tray of five different fruits and cakes. These offerings are presented to honor and worship our ancestors before indulging in mooncakes, typically enjoyed outdoors under the moon's gentle glow. Mooncakes come in both round and square shapes, intricately molded with floral patterns, carp designs, and geometric motifs.
The two most prevalent types of mooncakes are "bánh dẻo," featuring a soft and sticky mochi-like texture, and "bánh nướng," which are baked with a thick wheat crust. Vietnamese mooncakes offer a seemingly endless array of flavors, encompassing both sweet and savory varieties. You're welcome to purchase a box of mooncakes to savor on your own or to share with your Vietnamese friends and hosts during this festive occasion.
Commemorate Ancestors
The Mid-Autumn Festival in Vietnam is more than just a joyous event for children. It is a time when local communities come together to pay homage to the God of Earth and make offerings to their ancestors. These offerings typically comprise mooncakes, fruits, various foods, and joss paper. During this festival, family members gather, and once the incense has been burnt as an act of reverence, they enjoy these offerings while basking in the radiant glow of the full moon.
Make Mid-Autumn Festival Lanterns
Although the main festival takes place on the 15th night of the 8th lunar month, the festive spirit permeates the weeks leading up to this special night. Lanterns play a prominent role in the preparations, and the process of crafting them extends the joyous anticipation. While colorful pre-made lanterns are available for purchase on the streets, children find greater delight in fashioning their lanterns themselves.
In the traditional sense, these lanterns sport a star-shaped design and are typically crafted from bamboo sticks adorned with colored paper. A candle is traditionally placed within the lantern to illuminate it. Recently, LED lights have supplanted candles, providing a brighter glow.
In today's context, lantern-making has become an opportunity for individuals to showcase their creativity. People fashion lanterns from various unconventional materials, such as soft drink bottles, milk cartons, and other unique items. Everyone endeavors to craft their unique and captivating lanterns in anticipation of the forthcoming mid-autumn light parade.
Carry Mid-Autumn Festival Lanterns Under the Moonlight
One of the most captivating Mid-Autumn Festival traditions in Vietnam that should not be overlooked by tourists is the luminous parade held on the 14th and 15th nights of the lunar month. As the moon ascends into the night sky, the people of Vietnam illuminate their lanterns and take to the streets in a procession, accompanied by the enchanting melodies of traditional Mid-Autumn Festival songs. This festive event brims with joy, particularly in prominent cities such as Hanoi, Hoi An, and Ho Chi Minh City.
Watch Lion Dance
The Lion Dance, known as "múa lân" in Vietnamese, is an integral element of the Vietnamese Mid-Autumn Festival. Dancers form a troupe, donning an expansive lion costume, and engage in a captivating lion dance accompanied by spirited drum beats.
While certain groups may participate for recreational purposes, many dance ensembles undergo professional training in the months leading up to the festival to deliver exceptional performances. In addition to the traditional lion dance, some performers demonstrate intricate techniques such as fire blowing and acrobatics, adding to the spectacle of the celebration.
Where to Enjoy the Most Merrily Mid-Autumn Festival in Vietnam?
While the Mid-Autumn Festival may not be an official public holiday in Vietnam, it holds significant cultural importance and is regarded as one of the grandest celebrations of the year. The festive spirit resonates across the nation, from rural villages to bustling metropolises, creating an atmosphere of anticipation that builds in the weeks leading up to the main event.
If you're in search of the ideal locations to immerse yourself in the authentic ambiance of the Mid-Autumn Festival in Vietnam, consider these three places:
Hanoi Old Quarter
An essential stopover during the Mid-Autumn Festival in Vietnam is the Hanoi Old Quarter. Here, you can partake in a myriad of captivating entertainment activities while soaking up the festive atmosphere of this time-honored Vietnamese celebration.
The streets within the Old Quarter, particularly Hang Ma Street, Phung Hung Street, and Dong Xuan Market, undergo enchanting transformations with vibrant decorations in preparation for this occasion. It's an absolute delight strolling along these enchanting lanes, passing by charming toy stalls, relishing traditional art performances, and engaging in delightful folk games.
Furthermore, be sure to pay a visit to the Heritage House on Ma May Street, where you can gain insights into how the people of Hanoi celebrate this cherished festival.
Hoi An Ancient Town
Hoi An Ancient Town stands out as the quintessential destination when discussing lanterns in Vietnam. Unlike many other places, the Mid-Autumn Festival in Hoi An extends over four consecutive days, spanning from the 12th to the 15th day of the 8th lunar month.
Remarkably, in this ancient town, there is a lantern festival held every full moon. However, the one during the Mid-Autumn Festival holds a special significance and grandeur. The town is adorned with a profusion of lanterns that adorn its streets, creating an enchanting atmosphere.
As night falls, people gather along the riverbank, illuminate their lanterns, and set them afloat on the river, all while making wishes for luck and fortune. This spectacle transforms the river into a mesmerizing, twinkling display that leaves an indelible impression on visitors.
The Mid-Autumn Festival in Hoi An, Vietnam, also plays host to a variety of engaging folk games, including "Bài Chòi," bamboo jacks, blind man's bluff, mandarin square capturing, and many more.
Ho Chi Minh City
Modern Ho Chi Minh City is a vibrant hub of culture, and this cultural richness shines brightly during the Mid-Autumn Festival in Vietnam. During this period, streets like Luong Nhu Hoc, Nguyen Trai, Tran Hung Dao, and Nguyen An come alive with enchanting carp-shaped lanterns and decorative adornments. Beginning three days before the Mid-Autumn Festival, local authorities transform these streets into pedestrian-only zones, facilitating unhindered exploration for tourists. Along these vibrant lanes, you can explore local food stalls offering traditional culinary delights and partake in a variety of engaging folk games.
For those seeking a different atmosphere and cultural experience, a visit to Chinatown (Cho Lon) is highly recommended. Here, you can observe how the Cantonese-Vietnamese community celebrates its own Full Moon Festival, adding yet another layer of cultural diversity to your Mid-Autumn Festival experience.
Today, the Mid-Autumn Festival, while encouraging affection for children, promotes education, poetry, dance, arts, and crafts. Most Vietnamese families living abroad would like to bring children back to their original country during this festive period, one of the most important holidays in Vietnam. Otherwise, most of them organize a remote festival in the country of residence to remind children of their origins and their national culture.
If you want to introduce your children to this famous holiday, check out our best Vietnam family trips to start planning your vacation now. Also, don't hesitate to contact us if you have any questions!