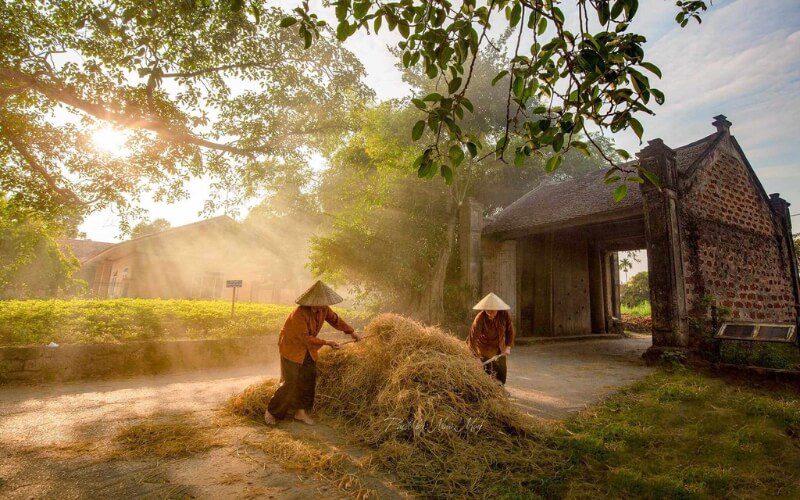 Duong Lam Ancient Village stands as a testament to the architectural and artistic wonders of an ancient Vietnamese village. This captivating destination allures not only culture enthusiasts and history buffs but also adventurous young individuals seeking exploration. If you have a penchant for immersing yourself in the essence of Hanoi and discovering its myriad attractions, Duong Lam Ancient Village is an absolute must-visit destination. In the following article, let's find out more about the history of this village and the striking things you can do here.
Where is Duong Lam Ancient Village Located?
Duong Lam Ancient Village is situated in Son Tay District, Hanoi, a mere 44 kilometers from the bustling city center. Located at the intersection of Ho Chi Minh Road and National Road 32, the village offers unparalleled convenience for tourists seeking to explore its wonders.
Presently, the admission fee for Duong Lam Ancient Village stands at a modest VND20,000 for adults and VND10,000 for children. Motorbike parking is available at a nominal cost of VND10,000 per vehicle.
Highlights of Duong Lam Ancient Village
As you venture through this enchanting Vietnamese village, you will discover a plethora of quintessential features that define an old-world settlement. Towering banyan trees, communal courtyards, serene pagodas and temples, meandering village roads, well-preserved wooden houses, and distinctive red-brick walls create an ambiance steeped in nostalgia and tranquility.
With nearly 1,000 ancient houses dating back over 370 years, Duong Lam Ancient Village showcases the architectural marvels of the past. These traditional dwellings embody the use of indigenous materials such as laterite, bamboo, oak, terracotta bricks, and tiles. A typical Duong Lam house comprises a gate, fence, yard, garden, main building, kitchen, and poultry barn. Some larger houses even feature wells and ponds. Oriented towards the south and southeast, these old houses offer a natural cooling effect during the sweltering summers and provide warmth during the chilly winters.
This village is home to numerous families who have resided here for generations, adding to the village's authentic and enduring charm. In 2005, Duong Lam achieved a significant milestone by becoming the first ancient village in Vietnam to be designated as a National Cultural and Historical Relic, marking the beginning of a comprehensive preservation and restoration program. Notably, the conservation efforts focused on five remarkable brick houses within Duong Lam, earning the village a prestigious accolade – the UNESCO Asia-Pacific Awards for Cultural Heritage Conservation – in 2014. This commendable conservation work not only safeguards the village's rich heritage and cultural legacy but also attracts a greater influx of tourists to Duong Lam Village, consequently generating increased income opportunities for the residents.
Best Time to Visit Duong Lam Village
You can visit Duong Lam Ancient Village whenever you want. However, two prominent durations of the year can bring an extravagant experience, the harvesting season and the festive season.
The Festive Season
Visiting Duong Lam Ancient Village during the vibrant festive season, which takes place in the first lunar month of the year, offers an opportunity to immerse yourself in a lively atmosphere brimming with celebration. During this time, you can relish in the bustling ambiance and savor delectable dishes that are exclusive to the festival.
The heart of the festivities centers around the village's communal house, where palankeens, offerings, and traditional folk games take center stage. The air is filled with joy and excitement, accompanied by the resounding beats of cheering drums, ensuring an unforgettable impression that will linger in your memories.
The Harvesting Season
During May and June, when the rice fields are in full bloom, Duong Lam becomes a magnet for tourists. This is the perfect time to witness the enchanting beauty of the region. As you traverse the roads of Duong Lam, you'll be greeted by a picturesque sight – covered in a carpet of ripe rice fields and golden dry straws. This serene and idyllic scenery is a rare gem that can hardly be matched elsewhere.
Main Attractions in Duong Lam Ancient Village
Mong Phu Village Gate
Mong Phu village gate stands as the oldest architectural gem within the enchanting Duong Lam Ancient Village. Dating back to the Le Dynasty, this gate showcases magnificent laterite pillars and a sturdy ironwood gate. Adjacent to the gate on the right side, you'll find a sprawling lake, while on the left, a majestic ancient tree, thousands of years old, graces the surroundings. With its tranquil and captivating beauty, the Mong Phu village gate serves as a captivating sightseeing spot and an ideal location for visitors to capture memorable photographs.
Mong Phu Temple
Mong Phu Temple, located at the heart of the village, is a splendid exemplar of traditional Northern countryside architecture. Constructed nearly 380 years ago, this remarkable structure spans an impressive area of approximately 1800 square meters. The communal house boasts distinct ethnic architectural characteristics, resembling a stilt house with wooden floors elevated from the ground.
Stepping inside, you'll encounter a captivating sight – numerous ancient parallel sentences gracefully suspended, carrying the wisdom and heritage of centuries past. Truly embodying the essence of Vietnamese architecture, this temple serves as a captivating attraction that entices countless visitors to pause and marvel at its timeless beauty.
Ancient Wells
Similar to the communal house, the wells hold a special significance as the soul of numerous villages in Hanoi. As you wander through the enchanting streets of Duong Lam, you'll encounter a plethora of ancient wells. These wells served as the primary source of water for the residents in bygone eras. Strategically positioned in elevated locations near the communal house, pagodas, or the heart of the village, these wells were vital gathering spots for the community.
Phung Hung Temple
Phung Hung, a revered figure in the fight against the oppressive rule of the Tang Dynasty during the Chinese colonial period in Vietnam, played a prominent role in leading a successful uprising. Following this triumph, Phung Hung established an autonomous government and ruled for seven years.
In honor of this courageous leader, numerous temples were erected across the country. However, the Phung Hung Temple in Duong Lam Ancient Village holds a distinct significance as the largest and most revered. This esteemed village was the birthplace and childhood home of this national hero, making the temple within its grounds a sacred place of great importance.
Ngo Quyen Temple
Located approximately 500 meters from the Phung Hung Temple, Ngo Quyen Temple stands proudly on Cam Hill. Just ahead of the temple, you'll find a vast rice field and the picturesque Lom Valley, a site where Ngo Quyen practiced martial arts when he was young. To the south of the temple, at a distance of about 100 meters, lies the revered Ngo Quyen Mausoleum.
Mia Pagoda
When visiting Duong Lam, a visit to Mia Pagoda is an absolute must for tourists. This historic site can be traced back to at least the 15th century and is regarded as one of Vietnam's ten oldest temples. The original pagoda, known as Sung Nghiem Tu, fell into disuse during the 17th century but was lovingly restored in 1632 by Lady Queen Mia, the wife of Tring Trang, a prominent leader in northern Vietnam. As a tribute to her, the pagoda was renamed Mia Pagoda.
Mia Pagoda boasts an impressive collection of 287 Buddhist statues, comprising 6 bronze statues, 107 wooden statues, and 174 earthenware sculptures. Its architectural style adheres to the traditional Vietnamese concept of "Internal attack with outside support" (Nội Công Ngoại Quốc in Vietnamese), a distinctive approach commonly found in the construction of pagodas and temples throughout the country.
>>> Visit Mia Pagoda, Mong Phu Temple, and other scenic spots in Duong Lam Ancient Village with our 1-day tour from Hanoi.
How to Get to Duong Lam Ancient Village
By Bus
The bus is renowned for being the most affordable mode of transportation; however, one drawback is the relatively long waiting time. Patience is key when relying on this means of transportation in Vietnam. Fortunately, there are three bus routes available from Hanoi to the ancient village of Duong Lam:
Bus No. 71 operates from My Dinh bus station to Son Tay bus station.
Bus No. 73 operates from My Dinh bus station to Thay Pagoda.
Bus No. 89 operates from Yen Nghia bus station to Son Tay bus station.
Upon reaching Son Tay bus station, can a motorbike taxi or a regular taxi to reach the ancient village of Duong Lam.
By Motorbike
For those adventurous souls who enjoy exploring the roads of Vietnam, riding a motorbike is a suitable means of transportation. If you're considering this exciting option to travel from Hanoi to Duong Lam Village, here are two recommended routes:
Take Thang Long Boulevard and make a right turn at Hoa Lac T-junction. Proceed along Route 21, passing through Son Loc until you reach the intersection with Route 32. Look for the signpost that guides you toward Duong Lam.
Follow Route 32 towards Son Tay town. Once you reach the intersection with Road 21, you'll find a left turn that leads directly to Duong Lam Village.
These routes provide an exhilarating journey, allowing you to fully immerse yourself in the captivating landscapes and vibrant culture along the way.
By Private Car
To optimize your time and gain a comprehensive understanding of the village, the ideal choice is to arrange a day trip with a private car/van and a knowledgeable tour guide. Exploring Duong Lam can be a bit challenging due to its labyrinth of alleys and narrow pathways. Adding to the complexity is the limited English proficiency among the locals and the scarcity of English information available. However, by booking a guided tour, you can navigate through the village seamlessly and benefit from the insights provided by an experienced guide, ensuring a fulfilling and informative experience.
Things to Remember When Visiting Duong Lam Village
Duong Lam is a tourist spot but there are still people living here. Hence, as a tourist, you must be respectful, avoid trespassing on private properties, and always ask for permission if you want to take photos.
Also, dress politely when visiting Duong Lam ancient village as you will visit numerous temples and pagodas here.
Last but not least, a small tip is highly recommended when you visit a villager's house as this is a way to upkeep their home.
Hope this piece of information has provided you with essential information about Duong Lam Ancient Village – an iconic symbol of Hanoi's serenity. Ready to explore this scenic spot, plan your trip with us right now to enjoy one of the most striking experiences in the capital of Vietnam.