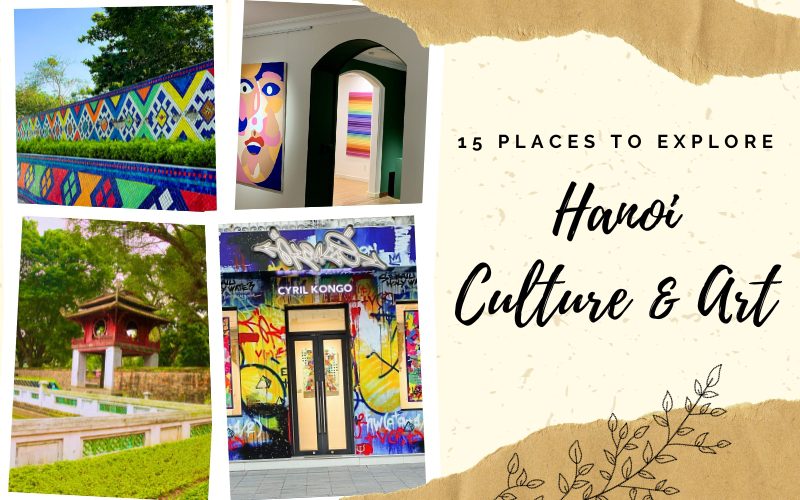 If you are an art lover, Hanoi is definitely a perfect stop for your exploration. Not only can you learn more about a century-old historical background, but there are also several places for you to discover Hanoi culture and art. From the traditional culture to modern artworks, Hanoi will surely ỉmpress you with what it serves.
Temple of Literature – Symbol of Hanoi Culture
Location: No. 58, Quoc Tu Giam Street, Van Mieu Ward, Dong Da District
Opening Hours: 8:00 AM – 5:00 PM
The Temple of Literature is already well-known among all tourists to Vietnam. This place, standing as the national symbol of Hanoi's culture and history, is the very first university in Vietnam. It houses 82 doctoral stelae, recording the names and hometowns of over 1300 doctorates at 82 examinations from 1442 to 1779. These stelae symbolize the spirit of learning. Moreover, they simultaneously represent the honor of the different eras to those who have made a name for themselves on the path of study and discipline. Because of their profound significance, the 82 doctoral stelae have been recognized by UNESCO as part of the global Documentary Heritage.
Hanoi Old Quarter
Location: Hanoi Old Quarter area, Hoan Kiem District, Hanoi
Opening Hours: All-day
Hanoi Old Quarter is an ancient area amidst the modern capital city. Among several high-rise buildings, you will find the image of old Hanoi in the Old Quarter. All houses in this area were built during the French colonial period. Therefore, you will have a chance to explore the architectural styles of Hanoi several years ago, thus, learning more about Hanoi culture.
Hanoi Ceramic Mosaic Mural
Location: Tan Ap Street, Phuc Xa Ward, Ba Dinh District
Opening Hours: All-day
The Ceramic Mosaic Mural is an impressive art project, encompassing a whole sky of national culture and history. Visiting this place, you will get to admire a colorful mural that enhances the beauty of Hanoi. This beautiful artwork extends through several streets: An Duong Vuong – Yen Phu – Tran Quang Khai – Tran Nhat Duat – Tran Khanh Du – Van Kiep. This public art piece was completed to commemorate the 1000th anniversary of Thang Long. It also serves as a representation of the development of public art in Vietnam.
Phung Hung Mural Street – The Street Filled with Hanoi Culture and Art
Location: Phung Hung Street, Hang Ma Ward, Hoan Kiem District
Opening Hours: All-day
Phung Hung Mural Street is located in the Hanoi Old Quarter. This beautiful street is a perfect place for you to admire art while immersing in the breezing wind. There are about 20 giant pictures drawn on this street, recreating Hanoi through different periods. You can not only enjoy the marvelous artworks but also gain a comprehensive understanding of the city's history. This street is also a perfect photo spot to capture beautiful moments of your trip to Hanoi. In case you want to take more photographs in the city, there are also several places in Hanoi for you to capture the best memories.
Hanoi Museum
Location: Pham Hung Street, Me Tri Ward, Nam Tu Liem District
Opening Hours: 8:00 AM to 11:30 AM and 1:30 PM to 5:00 PM
Coming to the Hanoi Museum, you will definitely be surprised by its unique architecture. From the outside, the museum looks like an upside-down pyramid. The design of the museum expands in area as it ascends, and it has been compared by a prestigious American magazine to famous museums in China, Russia, and the Louvre in France. Inside the museum are valuable collections and artifacts on display, such as the gray-blue glazed ceramic lampstands, the Thanh Mai bronze bells, the Long Dinh Bat Trang, etc. You can admire both the architecture as well as the culture and art of Hanoi when visiting this museum.
Vietnam Museum of Ethnology
Location: Nguyen Van Huyen Street, Quan Hoa Ward, Cau Giay District
Opening Hours: 8:30 AM to 5:30 PM
Another perfect place for you to learn more about Hanoi is the Vietnam Museum of Ethnology. This museum features many unique architectural structures and is likened to a miniature picture representing the people of the 54 ethnic groups in Vietnam. Not only does it have indoor exhibits, but this museum also has an outdoor display area with recreations of houses from each ethnic group. You will surely be overwhelmed by what is on display in the museum.
>>> More museums in Hanoi:
Vietnam National Museum of Fine Arts
Location: No. 66, Nguyen Thai Hoc Street, Dien Bien Ward, Ba Dinh District
Opening Hours: 8:30 AM to 5:00 PM
With impressive architecture, the Vietnam Fine Arts Museum is a favorite destination for many visitors to Hanoi, especially those who are into art. The museum displays a large number of artifacts and valuable art pieces with a long history and includes an engaging educational space. Moreover, the Vietnam Fine Arts Museum regularly organizes numerous exhibitions and events by various domestic and international organizations and individuals. These exhibitions are special occasions that provide you with additional opportunities to learn about many distinctive works from a variety of genres and mediums.
VCCA – Vincom Center for Contemporary Arts
Location: Royal City Shopping Mall, No. 72A, Nguyen Trai Street, Thanh Xuan District
Opening Hours: 10:00 AM to 9:00 PM
The VCCA Contemporary Art Center is one of the famous tourist destinations in Hanoi in recent times. Immersed in this space, with the perfect lighting system, you can ease your mind and enjoy all the artwork. Here, nearly every month, the exhibitions are refreshed. This helps to alleviate monotony and also creates opportunities to promote beautiful artworks to all art lovers.
Bat Trang Pottery Village – Traditional Hanoi Art Village
Location: Bat Trang Village, about 15km from the center of Hanoi
Opening Hours: All-day, normally 8:00 AM to 5:30 PM
When mentioning long-standing traditional crafts in Vietnam, you should not overlook the name Bat Trang Pottery Village. This village is not only a place that preserves the cultural traits passed down through generations in Hanoi but is also one of the largest suppliers of ceramic products in Vietnam.
Bat Trang Pottery Village is like a vibrant museum, where you can visit cultural landmarks, antiques, brick houses, as well as temples and communal houses that have existed since the 19th century, to understand more about the spiritual life, customs, and festivals of the pottery village residents. Especially, during your visit to the craft village, you get to experience the shaping process of your favorite ceramic products. This will be a great opportunity for you to immerse yourself in traditional art.
>>> Visit Bat Trang Village: Best Trip to Bat Trang Village
Manzi Art Space and Cafe
Location: No. 14, Phan Huy Ich Street, Nguyen Trung Truc Ward, Ba Dinh District
Opening Hours: 8:00 AM to 7:00 PM
Manzi Art Space and Cafe is a special place in Hanoi. Here, not only can you savor delicious drinks such as traditional Vietnamese coffee or fresh fruit juice, but you can also enjoy the art exhibition. Manzi is a blend of tradition and modernity. Located in an old French house, the ambiance of Manzi is quite serene with old objects. However, the artworks here are highly contemporary and very relatable. This is the reason why Manzi continues to be well-received as an art space.
OUR.hanoi – Interesting Art Space
Location: No. 292, Bach Dang Street, Chuong Duong Do Ward, Hoan Kiem District
Opening Hours: 9:00 AM to 10:00 PM
With an art space right in the heart of the capital, you can register to participate in a variety of workshops ranging from painting and flower arranging to knitting. In OUR.hanoi, you will gain a whole new perspective on the art in Vietnam's capital city, which consists of more than just artworks created by talented artists. You can also be the artist to create one. Additionally, OUR.hanoi is also a coffee shop. With a huge space and appropriately arranged chairs, you will feel at ease spending time here.
Ngo Quyen Art Exhibition Center
Location: No. 16, Ngo Quyen Street, Trang Tien Ward, Hoan Kiem District
Opening Hours: 8:30 AM to 7:00 PM
The Ngo Quyen Art Exhibition Center is an exhibition facility belonging to the Vietnam Fine Arts Association. Therefore, the works here prominently feature the signature characteristics of Hanoi art. The exhibition center has welcomed tens of thousands of visitors to exchange, enjoy, and admire various art pieces. If you want to admire more traditional artworks in Hanoi or Vietnam, this place is perfect for you.
Cyril Kongo Hanoi Gallery
Location: No. 9, Trang Tien Street, Hoan Kiem District, Hanoi
Opening Hours: 10:00 AM to 7:00 PM
The Cyril Kongo Hanoi Gallery exhibition room is one of the most unique places in the capital city. It is a venue showcasing billion-dollar artworks by the famous graffiti artist Cyril Kongo. With its colorful exterior, this gallery has brought a fresh breeze, demonstrating the development and openness to all forms of art in this traditional city. Moreover, the works inside the gallery are executed on a variety of materials and are part of collections and collaborative projects of Kongo that have been exhibited in other exhibitions around the world. Cyril Kongo Gallery will definitely provide you with an interesting experience when discovering the art in this city.
The Muse Art Space
Location: No. 47, Trang Tien Street, Hoan Kiem District
Opening Hours: 9:00 AM to 8:00 PM
The name 'The Muse' is inspired by the legend of the Muses in Greek mythology – goddesses who are patrons of the arts and sciences. Artists in the past often invoked the muses to find inspiration for their creations. The Muse art space was established to provide a venue to display cultural and artistic works and to introduce promising artists to the public. This is also a place where people can come to enjoy and share their love for art. Therefore, don't miss this special place when visiting Hanoi.
M Space Gallery
Location: No. 7, Trieu Viet Vuong Street, Bui Thi Xuan Ward, Hai Ba Trung District
Opening Hours: Appointment only
M Space is a contemporary art space designed for anyone looking for a new experience, a fresh source of inspiration, or a moment to relax, contemplate, and rediscover oneself. M Space Gallery only opens on an appointment basis. Therefore, you will have a completely private environment where your guests can view, appreciate, and interact with art pieces representing the spirit of the new age. If you want to have an unforgettable art experience at M Space Gallery do not hesitate to contact IDC Travel, we are always pleased to help you have the best journey.
Art enthusiasts will find Hanoi to be a wonderful destination for exploration. Whether it is traditional culture or contemporary artwork, the city has an abundance of treasures that are sure to leave you amazed and inspired. So, if you have a passion for art, consider planning your journey with the diverse and captivating artistic experiences that Hanoi has to offer.