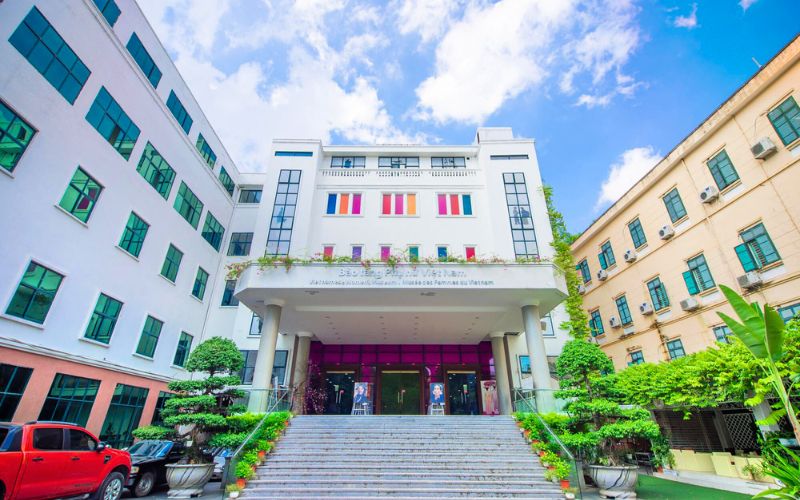 Situated in Hanoi, the Vietnamese Women's Museum stands as a remarkable institution that celebrates the significant contributions of women to Vietnam's history and culture. With its wide array of exhibits and programs, the museum serves as a compelling reminder of women's transformative impact on the nation's past, present, and future. A visit to the Vietnamese Women's Museum is an absolute must for you when exploring Hanoi. This unique destination offers a captivating journey through the stories and achievements of Vietnamese women, making it an essential stop on any trip to Hanoi.
Essential Information for Visitors
Location of Vietnamese Women's Museum
Vietnam Women's Museum is located at No 36 Ly Thuong Kiet Street, Dien Ban Ward, Ba Dinh District, Hanoi.
Opening hours and Entrance fees
Opening hours
Vietnam Women's Museum in Hanoi typically operates from Tuesday to Sunday: 8:00 AM to 5:00 PM
Please note that the museum may have specific opening hours during holidays or special events, so it's always a good idea to double-check the official website or contact the museum directly for the most up-to-date information before planning your visit.
Entrance fees
Vietnamese Women's Museum offers the following entrance fees:
Adults: 40,000 VND/ticket.
Children and students: 10,000 VND/ticket.
College students and members of the Vietnamese Women's Union: 20,000 VND/ticket.
Tickets can be purchased directly at the main entrance located on the first floor of the museum. Alternatively, you have the option to conveniently book tickets online through the museum's official website.
The History of Vietnamese Women's Museum
Vietnamese Women's Museum is home to an extensive collection of artifacts, photographs, and exhibits that provide a vivid portrayal of the lives of Vietnamese women across different historical periods. From the challenges faced during times of war to the contemporary struggles encountered by women today, the museum showcases and celebrates the invaluable contributions of women to Vietnamese society, culture, and history.
In 1987
The museum was originally established as the Hanoi Women's Museum. Its primary goal was to preserve and promote the rich heritage of Vietnamese women. The museum was dedicated to showcasing the diverse aspects of women's lives, their contributions to society, and their cultural significance throughout Vietnam's history
In 1995
Hanoi Women's Museum underwent a significant milestone as it officially opened its doors to the public and was renamed the Vietnamese Women's Museum. This renaming reflected an expanded vision and a broader scope for the institution. Instead of solely focusing on the experiences and achievements of women from Hanoi, the museum now aimed to represent the diverse stories, struggles, and accomplishments of women from all regions of Vietnam.
In 2010
A significant renovation was taken place to introduce a revamped exhibition layout, organized around three main themes: women in the family, women in history, and women's fashion. This updated display system aimed to provide visitors with a more comprehensive exploration of the diverse roles played by women throughout Vietnamese society.
During 2015-2016
Hanoi Women's Museum received recognition for its exceptional appeal and was acknowledged as one of the top 25 most captivating museums in Asia. This prestigious accolade highlighted the museum's captivating exhibits and engaging displays that depict the rich history and contributions of Vietnamese women. Furthermore, the museum was honored with the esteemed title of "Top tourist attraction in Vietnam," solidifying its status as a must-visit destination for travelers exploring the country.
Hanoi Women's Museum stands as a testament to the strength, resilience, and significant contributions of Vietnamese women, providing you with a deeper understanding and appreciation of their important role in shaping the nation's past, present, and future.
The Significance of the Vietnamese Women's Museum
The Vietnamese Women's Museum is indeed a treasure trove of historical and cultural artifacts that provide valuable insights into the experiences of women in Vietnam throughout the centuries. With an extensive exhibition of nearly 30,000 items, the museum offers a wide variety of materials and objects, ranging from textiles and metals to wood and paper. Each artifact possesses a unique story and is intimately linked to women of known identities, establishing a direct connection to their narratives.
These artifacts serve as windows into the daily lives and experiences of Vietnamese women, offering glimpses into their work, traditions, crafts, and artistic expressions. Moreover, these objects carry immense historical significance, providing a profound contextual backdrop for understanding the struggles and achievements of women in different periods of Vietnamese history. By curating these artifacts into special collections, the museum skillfully showcases the diverse and multifaceted experiences of women across the country and throughout various historical eras. This presentation allows visitors to appreciate the rich tapestry of women's lives in Vietnam and fosters a deeper understanding of their contributions and cultural heritage.
It is important to recognize that these artifacts hold deep emotional resonance for those who created, owned, and used them. They embody personal stories, connections, and memories, enhancing visitors' appreciation for the human experiences and emotional depth associated with these objects.
The Outstanding Construction of Vietnamese Women's Museum
Vietnamese Women's Museum consists of two buildings and offers various facilities to enhance the visitor experience. The museum covers an expansive area of nearly 5,000 square meters, providing ample space for exhibitions and other activities.
The first floor
On the first floor of the Vietnamese Women's Museum, you can find a souvenir shop that offers a diverse selection of items reflecting the museum's unique features and themes. The shop is a perfect place to browse for souvenirs or gifts to commemorate your visit or share with friends and family. The souvenir shop usually offers a range of items such as postcards, photos, books, and newspapers that are related to the museum's exhibits and collections. These items allow visitors to take a piece of the museum's history and cultural significance with them.
In particular, the products available in the shop are sourced from trusted suppliers. This ensures their authenticity and quality. Additionally, the shop supports economic development groups for ethnic and disadvantaged women by featuring many handmade products created by these groups. By purchasing these products, you can contribute to the empowerment and well-being of these women.
The second floor
The second floor of the Vietnamese Women's Museum is a space dedicated to showcasing artifacts and exhibits that illuminate the lives of ethnic women. It provides a comprehensive exploration of their journey from birth to marriage and motherhood, highlighting the cultural and societal significance associated with these stages. When visiting this floor, you'll have the opportunity to learn about traditional Vietnamese weddings and ceremonies throughout different historical periods. The displays offer depth insights into the customs, rituals, and symbolic elements involved in these important milestones of women's lives. Additionally, the exhibition emphasizes the vital role that women play in daily life, showcasing their contributions and impact on various aspects of society.
One of the notable features on this floor is the special exhibition area dedicated to the worship of the Mother Goddess. This section provides a deeper understanding of this unique spiritual practice in Vietnam. In the western section of this exhibition area, visitors can explore interesting explanations about the costumes of spiritual figures, temple offerings, and the performances carried out by devotees as part of the Mother Goddess worship.
The third floor
On the third floor of the Vietnamese Women's Museum, you are exposed to a portrayal of heroic Vietnamese mothers who lived through times of war. This floor is dedicated to showcasing their courage, resilience, and unwavering support for the front lines during various conflicts in Vietnamese history. The exhibits on the third floor typically include a collection of documentary films, videos, and propaganda posters that provide a vivid depiction of the experiences and contributions of Vietnamese women during times of war. These visual mediums allow visitors to immerse themselves in the stories of these brave women, witnessing their unwavering determination and sacrifices.
Through the displayed materials, you can gain a deeper understanding of the pivotal role played by Vietnamese women in the fight against foreign invaders. The exhibits highlight their acts of heroism, resilience in the face of adversity, and the immense sacrifices they made for the independence and well-being of their nation.
The fourth floor
The fourth floor of the Vietnamese Women's Museum offers an exploration of traditional costumes worn by the 54 ethnic groups in Vietnam. Visitors can marvel at the diverse array of outfits that represent the unique cultural identities of each group. These traditional costumes often carry symbolic meanings and reflect the customs and traditions associated with marriage and marital status. By observing a woman's attire, you can know whether she is married or not.
In addition to the traditional costumes, the fourth floor showcases the intricate techniques used by Vietnamese women in the past for makeup, weaving, and crafting silver and real-tooth jewelry. This exhibition provides insights into the skillful craftsmanship and cultural practices that were an integral part of women's lives in bygone eras. Moreover, visitors can delve into the rich history and evolution of the Vietnamese ao dai, the traditional national dress. The displays feature ao dai from different periods, allowing visitors to witness the changes in style and design over time. The fourth floor also offers insights into various traditional customs and practices specific to women, such as the art of wrapping headscarves and the cultural tradition of blackening teeth, which was prevalent in the past.
Best Places to Visit Near Vietnamese Women's Museum
Hoan Kiem Lake
Hoan Kiem Lake, also known as Sword Lake, is a picturesque freshwater lake situated in the heart of Hanoi's Old Quarter. It is a short 10-minute walk away from the Vietnamese Women's Museum. The lake holds great cultural and historical significance, intertwined with numerous myths and legends from Vietnamese history. Hoan Kiem Lake has become a popular tourist attraction in Hanoi, attracting both locals and visitors alike. Its tranquil beauty, surrounded by scenic landscapes and iconic landmarks, makes it a serene escape from the bustling city.
Hanoi Opera House
Hanoi Opera House, an architectural gem erected during the French colonial era, is indeed situated in the historical center of Hanoi. It holds a prime location just a short 2-minute walk from Hoan Kiem Lake. The opera house stands as a magnificent testament to neoclassical design, featuring grand columns, ornate detailing, and a majestic facade. It serves as a prominent cultural landmark in Hanoi, attracting visitors with its captivating architecture and hosting a variety of performances throughout the year.
For those seeking insights into Vietnam's history and the daily lives of its people, the Vietnamese Women's Museum is an ideal destination. This museum offers a captivating exploration of the multifaceted beauty found in all aspects of Vietnam's daily life. By visiting this museum, you'll discover the remarkable contributions and ongoing legacy of Vietnamese women, who continue to shape history with their endeavors. Don't hesitate to contact us to start an exciting historical adventure by packing your bags and making your way to the Vietnamese Women's Museum.