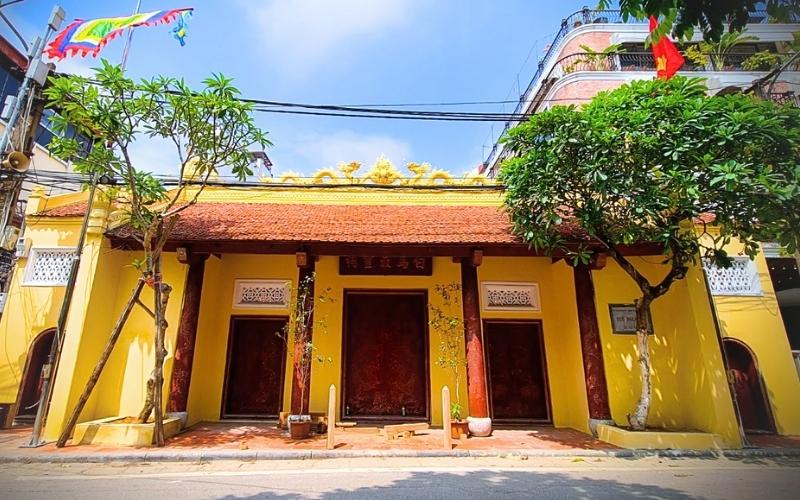 Situated in the heart of Hanoi, on Hang Buom Street, Bach Ma Temple has always been the pride of Hanoian for thousand years. Visiting the temple, you will find yourself engulfed in the fascinating historical folklore and stories, with a peaceful and silent atmosphere. Through many ups and downs of history, Bach Ma Temple is now an unmissable destination for tourists in Hanoi.
Essential Information about Bach Ma Temple
Location: Bach Ma Temple is located at 76 Hang Buom Street, Hoan Kiem District, Hanoi.
Opening hours: Bach Ma Temple is open for visitors from Tuesday to Sunday during operating hours from 8:00 to 11:00 in the morning and 14:00 to 20:00 in the evening. Please keep in mind that the temple is not open on Tuesday.
Entry fee: Free entrance for all visitors.
Dress code: You should wear formal clothes and not wear shorts and skirts.
Historical Folklore of Bach Ma Temple
Bach Ma Temple has a long history with interesting folklore about how it was built and why it was called Bach Ma (White Horse). The temple was constructed in the 9th century to honor the revered spirit of Long Do. During the 10th century, when Dinh Bo Linh fought bravely in battles to bring peace to the country, he visited Bach Ma Temple, located east of the Dai La Citadel, to pray and promise to bestow titles upon the deity if his wishes were granted.
After emerging victorious and uniting the country, Dinh Bo Linh became the first emperor of the Dinh Dynasty, naming himself Dinh Tien Hoang. The emperor had a vivid dream where a deity self-identified as Bach Ma Deity (White Horse Deity) reminded him that the proper rituals to honor the deity had not been performed. Awakening with newfound clarity, Dinh Tien Hoang bestowed the Bach Ma Temple with its distinguished name and ordered the construction of an additional temple dedicated to the revered spirit of Bach Ma Deity in Ha Nam Province, the homeland of Queen Duong Thi Nguyet.
In 1010, Emperor Ly Thai To moved the capital from Hoa Lu to Thang Long. Despite multiple attempts, the construction of the city walls remained a challenge as they kept collapsing. Seeking divine guidance, the emperor ordered the underlings to visit this temple, in where the underlings saw a magnificent white horse emerge from the ground and trot away. Only when Ly Thai To followed the hoofprints and used that path to lay out the design of the city walls, the new walls stood tall and strong. In recognition of this event, Emperor Ly Thai To bestowed the title Thanh Hoang (Imperial Citadel) upon the capital city of Thang Long.
Bach Ma Temple's Architecture
Bach Ma Temple is also one of four sacred temples in Hanoi, along with Quan Thanh Temple, Kim Lien Temple, and Voi Phuc Temple. These temples are located in four directions around the Imperial Citadel, protecting the city from evil spirits and invaders.
Right the moment you come to this temple, you will definitely be attracted by the golden walls and the redwood doors that are carved with golden dragon patterns. All of that contributes to the solemnly ancient beauty of the temple.
Bach Ma Temple was restored and embellished by many dynasties. The temple was built in the shape of the letter "三" (Three), facing South and containing Nghi Mon (the gate), Phuong Dinh (the communal house), Dai Bai (the hall), Thieu Huong (the alter), Forbidden Palace, and the council house at the rear. All these spaces are arranged in vertical order, creating a harmonious and enclosed place. If you are interested in Vietnamese architecture, you might notice that the architectural style of this temple predominantly reflects Nguyen Dynasty's artistic influence from the 19th century.
Attractions of Bach Ma Temple
Bach Ma Temple's Artifacts
Phuong Dinh is inside the temple's interior. There is an incense tree and an altar placed on the left of Phuong Dinh, while the shrine to worship Be Nui is on the right. Outside Phuong Dinh is a shrine to worship Te Vuong Phi.
This temple has conserved numerous antiques, including ordination items, a palanquin, a stele, a worshipping crane, and a pair of phoenix sculptures. Along with architectural and artistic values, the relics of this temple are a valuable source of documentation to study and learn about Thang Long – Hanoi in many aspects.
With more than a thousand years of history, this temple is a typical architectural and artistic monument of Hanoi's capital.
Bach Ma Temple's Festival
The festival here usually lasts for two days, from the 12th to the 13th of February (Lunar calendar), every year to commemorate the merits of Long Do.
In the early morning, the "old men" will lead the palanquin procession team to depart from Ma May Temple through major streets to return to Bach Ma Temple. The dragon and lion dance team will be the first to depart, followed by the chess, drums, and gongs teams.
During the festival, in addition to offering incense to sacrifice to the Gods, the festival also has fun and festival programs for a large number of tourists from all over the world and people in the region to participate in the performances of the festivals. You can enjoy ethnic art repertoire such as Chau van, ca tru, cheo, and quan ho when joining the festival.
The festival carries the long-standing tradition of "Drink water, remember the source" of the Vietnamese people. The people in Hanoi every year look forward to participating in the festival with the hope of a prosperous life, health, peace, and prosperity for the country.
Bach Ma Temple's Nearby Attractions
Hoan Kiem Lake
Since Bach Ma Temple is situated in the center of Hanoi, it only takes you about 10 minutes to walk to Hoan Kiem Lake. Hoan Kiem Lake is a popular destination for not only tourists in Hanoi but also the local residents. You can enjoy a leisurely walk here, have a cup of coffee with the view of the lake, and try some local food nearby in the peaceful atmosphere of Hanoi.
Ngoc Son Temple
If you enjoy the ancient solemnity of temples, Ngoc Son Temple would be a perfect stop for you after Bach Ma Temple. Ngoc Son Temple is situated on a small island in Hoan Kiem Lake, so it will not take you much time to get here. Hanoians always consider Ngoc Son Temple as a magnificent gem of the capital. Accessible via the iconic red The Huc Bridge, this temple will provide you with a captivating glimpse into the city's history and spiritual tradition.
Thang Long Water Puppet Theatre
Another attraction that is not far away from Bach Ma Temple is Thang Long Water Puppet Theatre. As the theatre is located on Dinh Tien Hoang Street, you only need to walk about 700 meters from the temple. Here in the theatre, you can enjoy water puppet shows depicting traditional Vietnamese tales, folklore, and daily life. This is also a fascinating way for you to have a comprehensive view of the lifestyle in Hanoi and Vietnam.
Getting around Bach Ma Temple
Taxi/Grab/Private Car
There are several options for you to travel to Bach Ma Temple. The easiest way is to call a Taxi or a vehicle via ride-hailing apps like Grab. You can add the address yourself and know the exact price to get to your destination.
Another option that you can consider is to rent a private car. This option provides you with the comfort and convenience of having a personal driver for yourself. The driver is usually a local person, so he can give you helpful advice on places to visit or delicious dishes to try. If you are interested in this service, do not hesitate to contact us. It is our pleasure to serve you the best service.
Motorbike
The streets in Hanoi Old Quarter are narrow, and some are often banned at weekends. You might find it a little difficult to get to Bach Ma Temple if you want to go there on Friday, Saturday, or Sunday. Try booking a motorbike via ride-hailing apps on your phone. Since the motorbike is the most popular vehicle in Hanoi, it would be easier and faster for you to travel to the temple. Or, you can participate in our Hanoi Motorbike Tour 1 Day to discover more attractions in Hanoi.
Public Bus
If you want to experience public transportation in Hanoi, hopping on a bus would be an interesting option for you. Buses number 18, 32, and 34 would stop at Tran Nhat Duat bus station, which is only 500 meters far from the temple. You can click here to check which bus is most convenient for you.
Walking
Traveling to Bach Ma Temple on foot is also very interesting as you will go through several little alleys and streets in Hanoi's Old Quarter. If you find your accommodation near this destination, give yourself a chance to explore the streets of Hanoi.
Bach Ma Temple is definitely an unmissable stop when visiting Hanoi. The calm atmosphere of this sacred place would make you fall in love with it. If you want to travel to more attractions in Hanoi, feel free to contact us to have your best trip in the beautiful Hanoi City.