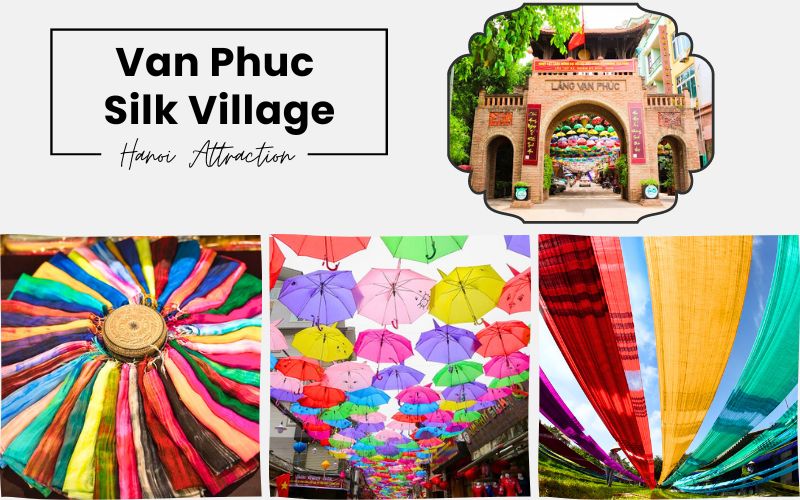 Hanoi, the capital city of Vietnam, is renowned for its rich cultural heritage and ancient sites. The city is home to various craft villages that have been well-preserved and continue to flourish today. As you are on a journey through Hanoi, make sure to include a visit to Van Phuc Silk Village, a jewel among Vietnam's silk-weaving villages. Van Phuc Silk Village stands out as one of the most exquisite and renowned silk villages in the country. Here, you can witness the meticulous artistry and craftsmanship that has been passed down through generations. The village offers a mesmerizing glimpse into the traditional silk-weaving process, where skilled artisans transform delicate threads into beautiful fabrics.
Location of Van Phuc Silk Village
Situated on the serene bank of the Nhue River, Van Phuc Silk Village, also referred to as Ha Dong Silk Village, is a charming destination located in Van Phuc Ward, Ha Dong District, Hanoi. This idyllic village is positioned just over 10 kilometers away from the bustling city center. To access this village, you can opt for a motorbike journey along a straightforward route: Nguyen Trai – Le Van Luong – To Huu. Traveling by motorbike allows for easy navigation and a convenient commute. It's worth noting that there is no entry fee to visit the village, however, a parking fee may apply. The parking fees for visiting Van Phuc Silk Village are 5,000 VND for motorbikes and 30,000 VND for cars.
History of Van Phuc Silk Village
Around 1,200 years ago, a skilled weaver named A La Thi Nuong from Cao Bang imparted her exceptional silk-weaving abilities to the villagers of Van Phuc. Following her passing, she became revered as the patron deity of the village. During that era, silk was considered a luxurious and refined handicraft reserved solely for the royal family and aristocracy.
Until now, Van Phuc Silk Village is renowned for its rich history spanning over 1000 years. Visiting here, you can witness a treasure trove of ancient houses, majestic banyan trees, serene water wharves, communal yards, and bustling markets. This village made its debut on the global stage at the Marseille Fair in 1931 and the Paris Fair in 1932, captivating international audiences with its exceptional silk products. From 1958 to 1988, Van Phuc Silk predominantly found its way to Eastern Europe. However, since 1990, it has garnered a substantial following among customers from various countries across the globe. Despite the trials and tribulations of time, the silk products proudly bearing the "made in Van Phuc" label consistently exhibit top-notch quality. Renowned for their meticulous craftsmanship and elegance, these products have garnered high praise from the French and are frequently exported to Eastern European countries.
Van Phuc silk possesses a unique blend of resilience, softness, and enduring beauty. Its versatility is further enhanced by a myriad of intricate patterns, catering to diverse customer preferences. This enduring legacy has solidified Van Phuc silk as a pioneering force within Vietnam's textile industry for countless generations.
Main Highlights of Van Phuc Silk Village
Van Phuc Patterns Silk
The distinctiveness of Van Phuc Silk Village from other villages lies in its exquisite patterns. The artisans put their hearts and souls into the intricate designs that adorn the silk fabric. As a result, Van Phuc Silk became the preferred choice for court garments, particularly during the reign of the Nguyen Dynasty. With around 70 different patterns, each with its own unique name such as floral ribbon, dragon and phoenix, flying cloud, and cinnamon flower, Van Phuc Silk showcases a rich variety of designs. Among these, the traditional Van Silk stands out as the most renowned.
Another that sets Van Silk apart from other silks is its exceptional comfort for the wearers. When draped in garments made of Van Silk, customers experience a delightful warmth in winter and a pleasant coolness in summer. This remarkable property contributes to the allure and popularity of Van Phuc Silk, making it a cherished textile among those who appreciate both style and comfort.
Among the special silks in Van Phuc Silk Village, two stand out as particularly iconic:
Van Silk: Regarded as the epitome of Van Phuc Silk, Van Silk is renowned for its distinctive shine and lustrous appearance. Notably, the silk threads possess a natural smoothness without the need for any additional polishing techniques or machinery. The skillful and experienced artisans ensure that every piece of Van silk is meticulously crafted. This silk variety showcases a wide array of captivating patterns, making it an excellent choice for creating elegant ao dai, the traditional Vietnamese attire.
Satin Silk: Satin silk holds a special place in the hearts of many, especially among women, for its exceptional softness and luxurious sheen. It is highly sought after for creating body-con open-back dresses, exuding elegance, and allure. Additionally, satin silk provides a cool and comfortable wearing experience, particularly in the summer months. However, it is important to note that satin silk is very easy to wrinkle and may experience some fading after multiple washes.
Traditional Silk Weaving in Households
Positioned in a strategic location, Van Phuc Silk Village has long been a prominent hub for silk trading. Many households in the village have been engaged in the art of weaving, carrying on this traditional craft through generations. Their dedication and expertise contribute to upholding the prestige and unwavering quality of Van Phuc Silk. Each year, Van Phuc Silk Village produces an estimated 2.5 to 3 million square meters of fabric, constituting a significant portion, around 63%, of the village's total revenue. This impressive production volume highlights the village's commitment to maintaining its position as a leading producer of silk. The hard work and craftsmanship of the weavers have enabled Van Phuc Silk Village to maintain its reputation as a trusted source of silk products, continuing a legacy that spans generations.
Best Time to Visit Van Phuc Silk Village
Van Phuc Silk Village welcomes visitors throughout the year, but the late winter and early spring seasons are the particularly ideal time for a visit. During this time, the weather is pleasantly cool, creating a comfortable atmosphere for exploration. Moreover, November is an exceptional time to experience the vibrant culture of Van Phuc during the Culture Week celebration. The village transforms into a captivating scene with the umbrella road and village entrance adorned with many colorful decorations, including the warm glow of yellow lights. This enchanting ambiance lends Van Phuc Silk Village a resemblance to a miniature version of Hoi An in Hanoi.
The festival held in Van Phuc Silk Village serves as a remarkable occasion for both locals and visitors to gain a deeper understanding of the historical and cultural significance of silk weaving. It provides an immersive experience that allows visitors to learn about the rich heritage and craftsmanship associated with this ancient art form.
Best Places to Visit in Van Phuc Village
Van Phuc Pagoda
Upon entering the village, the first sight that greets you is the ancient Van Phuc Pagoda. With a history spanning hundreds of years, this pagoda appears with an air of timeless serenity. Its distinct features include an ancient banyan tree, graceful lotus flowers, and a charming wooden bridge. Stepping into the temple grounds, visitors are instantly enveloped in a tranquil atmosphere, providing a welcome respite from the hectic pace of city life. The Van Phuc Pagoda invites you to embrace a sense of relaxation as you immerse yourself in its sacred surroundings.
The Umbrella Road
The umbrella pathway that leads to the renowned Van Phuc Silk Village is a captivating sight to behold. Spanning approximately 100 meters in length, the road is adorned with a vibrant display of colorful hanging umbrellas, creating an enchanting atmosphere that appeals to young visitors seeking memorable photo opportunities. As night falls and the lights illuminate the area, the road takes on a truly magical ambiance. Flanking both sides of the road, numerous silk shops line the way. These establishments offer a diverse array of silk products, showcasing the finest craftsmanship and artistry that Van Phuc Silk Village is renowned for. You can explore these shops and admire the beauty of the silk fabrics, appreciating the intricate designs and high-quality materials on display.
The Mural Street
One of the most attractions in Van Phuc Silk Village is the mural street. This vibrant street features a massive mural that intricately portrays the essence of the village, capturing its distinctive elements and scenes. From the banyan tree gracing the waterfront to the bustling communal yard and the art of silk-making, the mural beautifully encapsulates the spirit and cultural heritage of the village. What makes the mural even more special is that it was created by local teachers and residents, lending it a heartfelt touch. Located at the heart of the village, this remarkable artwork serves as a centerpiece that brings the village's character to life. As you explore the mural street, you'll be transported into the world of Van Phuc Silk Village, immersing yourself in its rich history and vibrant culture.
Must-Try Experiences in Van Phuc Silk Village
Learn About the Process of Weaving Silk
Step 1: Grow mulberry and raise silkworms
The first and most important step when you want to make quality piles of fabric is to grow mulberries to raise silkworms. The quality of silk will depend entirely on the silkworm-rearing process. During the rearing process, until silkworms grow up and release silk, and create cocoons, workers must regularly monitor to get silk in time.
Step 2: Extract silk by machines
After having silk, and packing the cocoons, the worker does not use all the cocoon nests but only selects the old, good quality, and uniform cocoons to pull the cocoons. Currently, this stage has been done by machines to save time. The big and long fibers will be straightened and put into the spinning machine. This step helps to avoid tangling the silk before putting it on the reels.
Step 3: Weave silk
The big yarn ends are threaded into the small cores, weaving is connected so that the silk threads are put into the weaving machine in a systematic way. Although made by machine, the fabric maker must be on duty 24/7 next to the machine because the silk is easy to tangle or add more silk when needed. Raw silk, after weaving, will be put on sharp patterns according to the graphics available on the sample machine or at the request of the customer. Van Phuc village silk is different in that the pattern is not embroidered. When weaving 45 – 50m, it will be dyed.
Step 4: Dye silk
Before dying, Van Phuc silk must be cooked and bleached to remove impurities left in the production process. Next, when mixing dyes, they must also be used in a reasonable ratio. Dyed silk will be washed and then dried. If it is sunny, it can be dried in direct sunlight. When the dried silk meets the standards, the shopkeepers will carry the silk to display in their shop.
Buy Silk Products as Souvenirs
Van Phuc Silk Village boasts a multitude of silk gifting shops, offering an extensive range of products including dresses, shirts, scarves, and more. These shops present visitors with a diverse selection of silk items, all available at reasonable prices. Whether you're seeking ready-to-wear garments or customized pieces tailored to your preferences, the shops in Van Phuc Silk Village cater to all tastes and desires. For the day to visit Van Phuc Village, you'll have a chance to witness the vibrant displays and immerse yourself in the exquisite craftsmanship as you explore the assortment of silk products, ensuring you find the perfect memento or gift to commemorate your visit to this renowned silk village.
Van Phuc Silk Village, being one of the oldest silk-weaving villages in Vietnam, holds great allure for both local and international tourists. Its rich heritage and exceptional craftsmanship draw a significant number of visitors each year. We hope that the information will provide you with a better understanding of this remarkable village. Do not hesitate to leave us a message for more travel tips or if you want to plan your trip to Hanoi accordingly.