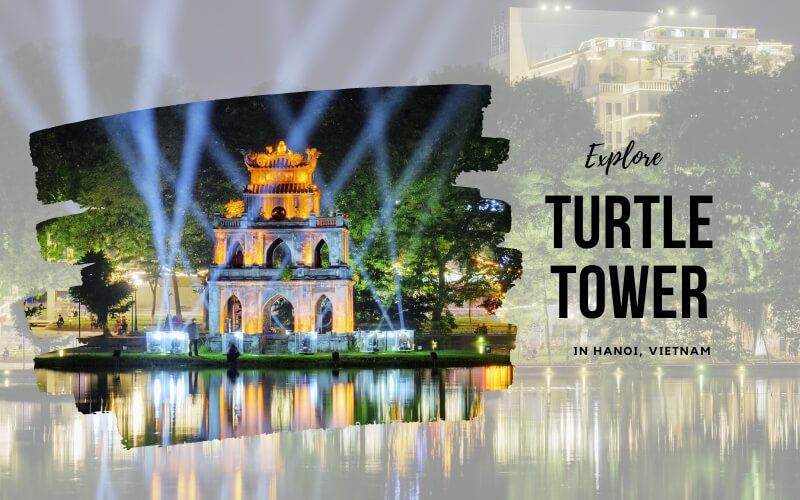 Turtle Tower, also known as Thap Rua in Vietnamese, is a small tower located in the heart of Hanoi, the capital city of Vietnam. It is situated on a small islet in the middle of Hoan Kiem Lake (Sword Lake), which is a popular tourist destination and a significant historical and cultural site in Hanoi. Let's explore Turtle Tower in detail to understand why this place is considered the soul of the Hanoi capital!
Where is Turtle Tower Located?
Turtle Tower is a small tower built on a mound in the heart of Hoan Kiem Lake (Ho Guom). Located in Hang Trong Street, Hoan Kiem District, Turtle Tower, and Sword Lake have a prime central location, so it is easy to find and visit by private or public transport.
The Legend of Turtle Tower
The tower's distinctive name, Turtle Tower, originates from the legend associated with the lake. It was said that King Le Loi, who led the Vietnamese in their struggle against the Chinese Ming Dynasty in the 15th century, received a magical sword from a divine turtle living in the lake. The King used the sword to defeat the Chinese invaders and reclaim Vietnamese independence. After the victory, early in 1428, when the King was walking on the boat, the divine turtle surfaced and asked him to return the sword. The King immediately returned the sword to the turtle, and it dived into the water and disappeared. The name "Hoan Kiem" itself translates to "Lake of the Returned Sword."
The Architecture of Turtle Tower
Built during the French colonial period, Turtle Tower has a bold French architectural style combined with Vietnamese architecture. The tower was built on an empty mound of about 350m2 located in the middle of Hoan Kiem Lake. The floor architecture and construction are in the French style, but the curved roof still retains the Vietnamese style with 4 curved blades imbued with ancient oriental cultural traditions.
Turtle Tower has 3 floors, the upper floors are smaller following the rectangular plan. The bottom floor of the tower has a length of 6.28 meters and a width of 4.54 meters. The opening length of 3 doors, and the opening width of 2 doors, so the overall bottom floor of the tower consists of 10 doors. Inside this floor is divided into 3 compartments. The 2nd floor of Turtle Tower is smaller with two dimensions of 4.8 meters and 3.64 meters. This floor also divides 3 compartments and opens 10 doors to the outside like the 1st floor but smaller. The 3rd floor of the low building is even smaller with a length of 2.97 meters and a width of 1.9 meters. Due to its small size, there is only one circular door on the east side and an altar.
The Best Time to Visit Turtle Tower
You can visit Turtle Tower at any time of the year. However, in our opinion, the best time to visit this place is in the autumn. During this time, the weather in Hanoi is fresh and cool. Coming to Turtle Tower in the autumn, you can feel the passionate scent of milk flowers all over the streets, meet the street vendors full of fragrant young nuggets and watch the rows of old trees along the lakeside with yellow leaves falling.
Getting to Turtle Tower
To get to Turtle Tower (Thap Rua) in Hanoi, Vietnam, you will need to make your way to Hoan Kiem Lake, as the tower is located on a small islet within the lake. There are many means of transportation for you to get to Turtle Tower, by public or private transportation.
Walking
If you are staying at a hotel in the central area of Hanoi, you can easily reach Hoan Kiem Lake by walking. The lake is situated near the Old Quarter, a popular tourist area. Once you arrive at Hoan Kiem Lake, you can access Turtle Tower by crossing The Huc Bridge, a red-painted bridge that leads to the islet.
By taxi/Grab/private car
Taxis and ride-sharing services like Grab are widely available in Hanoi. You can simply take a taxi or book a ride through a mobile app and provide the driver with the destination "Hoan Kiem Lake" or "Thap Rua." They will drop you off at a convenient location near the lake, from where you can walk to Turtle Tower.
If you want to have more time, you can rent a car with a private driver, which will give you more time to be proactive in pick up and drop off, and more freedom to explore the surroundings in the city center. More specifically, the drivers can become the guide to introduce you to more about the history, culture, food, and people of Hanoi. Contact us for more details!
By public transportation
Hanoi has a well-connected public transportation system. The bus or the Hanoi Metro is the most convenient way to reach Hoan Kiem Lake. You can take bus routes such as 08, 04, 09, 11, 14, 40, 23, 31, 36, and 34 to go to Sword Lake. There are 2 routes, 09 and 14, which have a parking spot next to Hoan Kiem Lake. However, before your trip, you need to consult local bus routes or public transportation maps to find the closest bus or metro station to your location, and then make your way to the lake. From there, follow the walking path to Turtle Tower.
Best Places to Visit near Turtle Tower
Hoan Kiem Lake
Since Turtle Tower is located within Hoan Kiem Lake, it's worth taking the time to explore the entire lake and its surroundings. Coming here, you'll have the opportunity to enjoy a leisurely stroll around the lake's perimeter, soak in the scenic views, and join in various activities such as jogging, tai chi, or playing traditional Vietnamese games with friendly locals.
Ngoc Son Temple
Situated on another small islet within Hoan Kiem Lake, Ngoc Son Temple is a picturesque temple that can be reached via a bridge adjacent to Turtle Tower. Built in the 19th century, the temple is dedicated to various Vietnamese historical figures and is a peaceful place to explore and learn more about the country's cultural heritage.
The Huc Bridge
The vibrant red-painted bridge, known as The Huc Bridge, connects the shores of Hoan Kiem Lake to the islet where Turtle Tower is located. Walking across this bridge provides a unique perspective of the lake and offers great photo opportunities.
Ba Kieu Temple
Ba Kieu Temple was built around the beginning of the 17th century, located on the east side of Hoan Kiem Lake. The temple is used to worship Mother Lieu Hanh, and two fairies Que Nuong and Quynh Hoa. Visiting here, you can watch a number of historical relics such as bronze bells, Hung Cong stele, etc. These objects are not only historical in nature but also have great cultural significance. They help people understand more about the legends, customs, and beliefs from the Le Dynasty to the Nguyen Dynasty.
Hoa Phong Tower
Located on the bank of Sword Lake, facing the East of the lake, Hoa Phong Tower is the only vestige left of Bao An Pagoda – the most prestigious pagoda in Hanoi in the 19th century. The tower was built of bricks and has three floors high, the first floor has four doors, so it is also known as the "four gate tower". The four sides of the second floor are in the shape of the Bagua. On the third floor is written "Hoa Phong Thap".
Ly Thai To Flower Garden
Located on Dinh Tien Hoang Street, this place was built during the French colonial period, around the beginning of the twentieth century, named Paul Bert flower garden, then Chi Linh flower garden. In 2004, the statue of King Ly Thai To was built in the flower garden. Since then, this place has been mentioned by many people with the name: Ly Thai To flower garden.
Hanoi Post Office
Constructed during the French colonial period in the early 20th century, Hanoi Post Office has become one of the must-see attractions for tourists. This place serves as a tourist information center. Inside the building, you can find maps, brochures, and other resources to help you navigate the city and plan your sightseeing activities. The staff can provide guidance and answer any questions you may have about Hanoi.
Hanoi Old Quater
Just a short distance from Turtle Tower, the Hanoi Old Quarter is a vibrant and bustling neighborhood filled with narrow streets, markets, shops, and local eateries. If you visit Turtle Tower in the evening of the weekend, don't forget to stop at the old town night market. This is a colorful and extremely bustling market right next to Sword Lake. In addition to shopping for souvenirs or favorite items, you can also enjoy some Hanoi specialties around this area such as pickled fruits on To Tich Street, and dried beef salad on Hoan Kiem Street.
Hoa Lo Prison
Hoa Lo Prison is one of the most attractive destinations in Hanoi at the moment. Also known as the "Hanoi Hilton," Hoa Lo Prison is a historic site that offers insight into Vietnam's tumultuous past. It was originally built by French colonists to house political prisoners and later used during the Vietnam War. Today, it serves as a museum where you can learn more about the country's history and struggle for independence.
Thang Long Water Puppet Theater
If you're interested in traditional Vietnamese culture, don't miss the opportunity to watch a water puppet show at the Thang Long Water Puppet Theater. This unique art form combines live music, storytelling, and intricate puppetry on water, depicting scenes from Vietnamese folklore and history.
Dinh Le Book Street
Dinh Le Street is considered a book street located near Turtle Tower, Hoan Kiem Lake. At the shops on the street, you can come across thousands of books from Vietnamese literature, science, and technology, foreign languages to textbooks, economics books, etc. Especially, some rare and long-published books can also be found here.
Trang Tien Plaza
Trang Tien Plaza is the largest commercial center in the capital of Vietnam. If you are confused as to what to do in Hoan Kiem Lake, this is an ideal place. This center was built in 1999, not far from the Opera House and overlooking Turtle Tower. In addition to providing shopping services, Trang Tien Plaza also has a system of restaurants and offices located on the 5th and 6th floors of the building.
>>> Visit Turtle Tower and its surrounding with our suggested half-day city tour.
Must-try Foods near Turtle Tower
Hoan Kiem Dried Beef Salad
If you like to enjoy light dishes around Hoan Kiem Lake, then you should not miss the delicious dried beef salad. In addition, you can also eat many other snacks such as spring rolls, filter cake, etc. However, dried beef salad is still the most famous dish here because of its affordable price and special recipe. The crispy taste of papaya combined with full of fish sauce, and dried beef liver creates a perfect dish.
Trang Tien Ice Cream
Trang Tien ice cream is considered one of the symbols of Hanoi with more than 60 years of establishment and development. There are many types of ice cream from traditional to modern to meet the enjoyment needs of customers. You can go to 35 Trang Tien to buy very delicious ice cream at an affordable price of only 7,000VND and the ice cream cone is 12,000VND.
Thuy Ta Ice Cream
This is an ice cream company that owns many stores across districts in Hanoi. There are many types of ice cream with different flavors to help diners easily choose. Among them, the most popular is Thuy Ta salted lemon mint ice cream, with a combination of sour and salty flavors that will surely make you feel excited when trying it. You can easily buy it at an affordable price from only 6,000 VND for an ice cream cone and up to 55,000 VND for a large box of ice cream.
Hang Can 4-Season Sweet Soup
The 4-season sweet soup stall is located at 4 Hang Can Street. This is also one of the familiar and extremely famous sweet soup stalls in Hanoi. True to the name, no matter the season, they still attract customers by the taste of Hanoi-style sweet soup. Depending on the season, you will be able to choose different tastes. For example, in the summer, the stall will serve attractive cool sweet soup dishes such as green beans, and black bean tea, etc. While in the winter will be hot sweet soup dishes, bringing warmth to the body such as drifting cake, Cot Ba soup, etc.
>>> Read more: Top 30 Popular Vietnamese Dishes: Must-Try Foods in Vietnam.
Turtle Tower, Hoan Kiem Lake is a gem located in the heart of Hanoi, Vietnam's capital. With a prime location in the city center, you won't need to worry about playing in Sword Lake but just need to prepare enough energy to be able to explore this area. Ready to explore these exotic destinations in Hanoi, check our well-planned city tours here for some suggested itineraries. Do not hesitate to contact us if you need a tailor-made Hanoi tour itinerary in the near future.