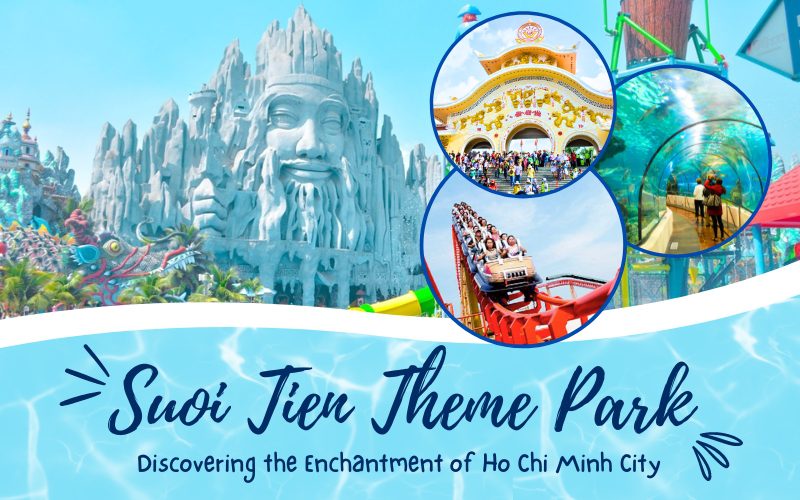 Ho Chi Minh City has always been an attractive destination for all travelers, not only due to its bustling and dynamic nature but also because of the warmth and enthusiasm of its people. Suoi Tien Theme Park will be a captivating spot for visitors of all ages, offering plenty of exciting and impressive activities that you shouldn't miss when coming to this city. Let's delve into the wonders of this theme park with IDC Travel through this article!
Essential Information for Tourists
Suoi Tien Theme Park is an enchanting realm nestled at 120 Hanoi Highway, in Thu Duc City. Located 20km South of the heart of Ho Chi Minh City, this place promises to provide you with a peaceful escape into a realm of imagination.
The operating hours of Suoi Tien Theme Park are from 7:30 AM to 5:00 PM, from Monday to Sunday, with ticket prices ranging from 120,000 VND to 500,000 VND per adult. On special occasions and holidays, the park is open all day, starting from 7:00 AM until the last guest departs. Therefore, you can freely enjoy this place anytime you want.
Situated in District 9, taking a taxi or booking a car to get to Suoi Tien Theme Park is quite convenient. However, since the distance is quite far, it might be hard for you to find one. Therefore, another option is recommended for you: renting a car with a private driver. With this choice, you don't need to worry about anything as the driver will assist you all along the trip.
Basic Background of Suoi Tien Theme Park
Previously, Suoi Tien Theme Park was a Crocodile Farm and Handicraft Production center, established in 1987. The initial crocodile farm covered just 6,600 square meters of wild land, featuring a stream with the legendary story of seven virgin girls and a Dragon King that gave rise to the name "Suoi Tien," which means Fairy Stream in English.
After 25 years of development, Suoi Tien has transformed into a leading national entertainment and recreational center, while also gaining recognition in the region and around the world. Spanning over 105 hectares with more than 150 diverse and extensive entertainment structures, and supported by a workforce of over 1,000 employees, Suoi Tien Theme Park welcomes millions of visitors each year.
In 2012, this place was voted as one of the Top 12 most beloved theme parks in the world by The Traveler Zone website. Additionally, Suoi Tien was also selected as one of the unique parks globally by BBC magazine. Currently, the theme park is undergoing an expansion phase, increasing its area to over 150 hectares, including the addition of over 50 hectares.
Excited Activities to Enjoy at Suoi Tien Theme Park
Experience the Tien Dong Ngoc Nu Swimming Pool
One of the most renowned spots at Suoi Tien Theme Park is undoubtedly Tien Dong Ngoc Nu Swimming Pool. This artificial beach, the first one in Vietnam, never fails to surprise visitors with its unique features. The remarkable aspect is the water in this pool, which is sourced from Nha Trang Bay and processed using technology from the US and Canada through various comprehensive procedures.
Surrounding the pool are the picturesque Au Co Mountain and the grand statues of Lac Long Quan, Bong Lai, Hoang Khuong, and the mythical Five Islands. With an impressive sight that can be viewed from outside the park, the Tien Dong Ngoc Nu Swimming Pool is a perfect spot for you to capture beautiful photographs.
Discover the Kingdom of Crocodiles
A visit to the Kingdom of Crocodiles is an essential part of your Suoi Tien Theme Park journey. Here, you will have the chance to witness over 15,000 crocodiles, as well as monkeys and dogs. Positioned at a safe distance from a shaded bridge, you can observe these trained crocs as they swim around, feed, or even try "fishing" with bait attached to a fishing rod, creating a thrilling yet enthusiastic experience.
Furthermore, the animal garden area includes a souvenir shop where you can purchase various crocodile-themed handicrafts as gifts. The wildlife conservation efforts of the theme park extend to protecting crocodiles, wildlife research, and anti-illegal trafficking initiatives.
Explore the Aquarium in Suoi Tien Theme Park
For a meaningful and educational experience for children, visiting the tranquil and enchanting aquatic aquarium in Suoi Tien Theme Park is a great choice. This aquarium is one of the largest and most unique structures in Vietnam.
The Suoi Tien aquatic aquarium is home to over 100 marine species, including more than 40 types of jellyfish, coral reefs, and various fish for you to observe. Additionally, at certain times, there are feeding programs for the fish and mermaids. Most notably, you can witness mermaids gracefully swimming in this expansive aquarium, adding a touch of enchantment to the scene.
Challenge Yourself with Adventurous Games
If you seek an adrenaline rush, you will never feel out of place here, where numerous adventurous games cater to both adults and children. With over 90 games and activities, Suoi Tien Theme Park can keep you and your family entertained all day long. Prices for these activities range from 15,000 VND to 60,000 VND per ride.
For a natural high, hop on the high-speed roller coaster, which offers separate cars for adults and children. Those searching for a blend of romance and excitement can take a ride on the Ferris wheel to enjoy private moments while taking in the breathtaking views of District 9.
The obstacle course rides, full of laughter and unexpected challenges, are adored by both adults and children alike. If the thrill of competition or watching everyone bump into each other excites you, this activity is an enthusiastic must-try.
Join the Fruit Festival in the Park
Every summer, the Southern Fruit Festival is held at Suoi Tien Theme Park. If you happen to visit Ho Chi Minh City during this festive time, you'll have the opportunity to savor the fresh and nutritious flavors of regional specialties at the Fruit Market. Moreover, you can admire impressive fruit-themed artworks at the Fruit Sculpture Art Festival. Witnessing the skilled artisans creating beautiful artworks will never disappoint you.
Useful Tips for the Best Experience
When planning a visit to Suoi Tien Theme Park, there are some useful tips to keep in mind for an enjoyable experience.
Don't bring bulky luggage: It's advisable for you to bring along minimal and lightweight items. This will help you move around more freely and comfortably throughout the park.
Bring spare clothes: It's a good idea to carry spare clothes to prevent any inconvenience in case you get wet while enjoying the water-based spots in the theme park.
Wear comfortable shoes: Ensure that you wear comfortable shoes that are suitable for walking and various activities. This will allow you to explore the park with ease and make the most of all the exciting offerings.
Suoi Tien Theme Park in Ho Chi Minh City will definitely be a perfect place to stop by during your trip. You can gain several novel experiences all in one place, from the chilling swimming pool to numerous adventurous games! Let's plan your trip today and feel free to contact us if you need any assistance.