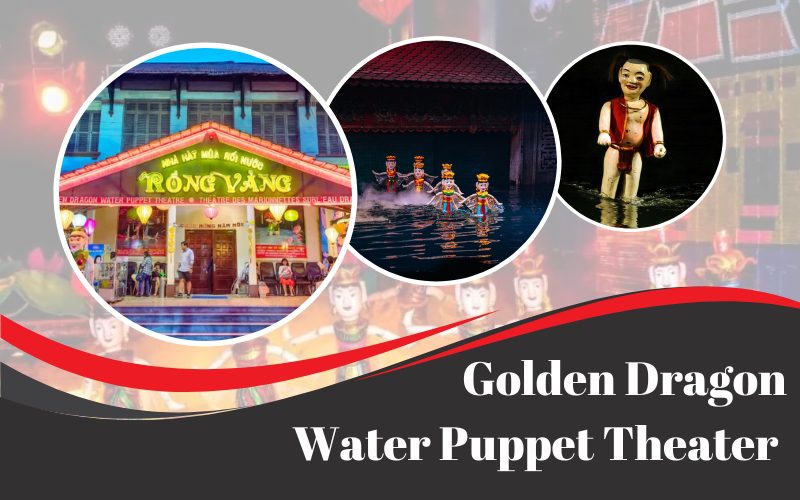 Ho Chi Minh City is famous for being the most modern city in Vietnam with several skyscrapers and developed infrastructures. However, the city still manages to preserve the rich traditional heritage of Vietnam. One such cherished spot is the Golden Dragon Water Puppet Theater, where you can admire a special kind of traditional puppet show.
Essential Information for Tourists
Location of the Theater
Golden Dragon Water Puppet Theater is located at No. 55B, Nguyen Thi Minh Khai Street, Ben Thanh Ward, District 1, Ho Chi Minh City. District 1 is considered the entertainment center of this city, so you will not get any difficulty getting to the theater.
You can travel to this water puppet theater by taxi or a car booked via a ride-hailing app. However, if you prefer a more comfortable option for transporting, why don't you rent a car with a private driver? You can go to your wished destinations every time you want without waiting.
Schedule of Performances at Golden Dragon Water Puppet Theater
There are several shows performed at Golden Dragon Water Puppet Theater. However, there is a fixed schedule for you to choose the appropriate performance to come and watch.
Daily show: There is a daily show performed at 6:30 PM every day. This show is English available, so it is fine if you are not a Vietnamese speaker.
Weekly show: There is a show at 9:00 AM every Sunday. However, please keep in mind that this show is totally in Vietnamese.
You can check out the official website of the theater here to get more information on special shows on certain occasions in Vietnam.
Ticket Price
When it comes to enjoying a Vietnamese performance at the Golden Dragon Water Puppet Theater, the cost of admission is quite affordable. The ticket only costs 100,000 VND per person, no matter you are a child or an adult. However, if you don't speak Vietnamese, the show performed in English would slightly cost higher at the price of 300,000 VND per ticket.
History of Golden Dragon Water Puppet Theater
Water puppetry is a form of cultural artistry that Vietnamese ancestors creatively crafted from the backdrop of rice paddies and have cherished through many decades. Every day, artists draw inspiration from folk tales and historical figures to study, explore, develop, and bring forth enduring works.
Back in 2007, they established the Golden Dragon Water Puppet Theater in Ho Chi Minh City to preserve, cultivate, and promote this traditional form of art. Although this art form isn't as widely known as when it first emerged, it still captivates a multitude of audiences, especially among the younger generation.
Distinguishing Characteristics of Golden Dragon Water Puppet Theater
The Golden Dragon Water Puppet Theater is known as the largest water puppet performance venue in Ho Chi Minh City. With a seating capacity of up to 200 chairs and regular showtimes, it's perfect for people to enjoy after work and spend quality time with their families.
The performance takes place on a 4m² water surface that serves as the main stage. Behind a bamboo screen designed like a temple facade, there are up to eight puppet masters who control the puppets. They use long bamboo sticks and a string system submerged under the water's surface.
Moreover, the puppet theater enhances its stage with bright spotlights and colorful flags to create the atmosphere of a village festival. It leaves a deep impression on all the audiences coming for the show.
Interesting Shows in Golden Dragon Water Puppet Theater
Daily Shows Performed at the Theater
Water Puppetry originated from ordinary daily life activities. Therefore, the daily shows at the Golden Dragon Water Puppet Theater usually include traditional water puppetry performances depicting vivid symbolic images of the ancient Vietnamese people.
Teu the Narrator
The one to kick off the water puppet performances is always Mr. Teu. He is poor but strong, honest, straightforward, kind-hearted, humorous pleasant. Mr. Teu greets the audience, wishes them well, and leads the storytelling, bringing a joyful and lively atmosphere to the viewers. At the same time, he shares anecdotes, mocks corrupt officials, and criticizes negative behaviors in society.
Duck Farming – Fishing
In addition to the rice fields, the lives of ancient people were intertwined with village ponds and rivers. These are the places where they engaged in production activities such as duck farming and fishing. Beyond portraying these daily activities, the water puppet shows also reveal the challenges faced by the farmers due to external factors.
Buffalo Herding – Field Ploughing – Rice Grinding
The images of ancient farmers closely connect with agriculture, buffalos, rice fields, and traditional rice-grinding mortars. All these features are vividly showcased through the performance at Golden Dragon Water Puppet Theater. You will have a chance to witness the diligence and enthusiastic work ethic, as well as the optimistic spirit of labor.
Duck Catching Contest – Boat Racing
Traditional folk games and competitive activities were an integral part of the ancient Vietnamese people's festivals – and this is one of the central themes of water puppetry. Through these shows, audiences glimpse the vibrant, bustling, and diverse folk life of people in the past. These puppets portraying strong young men also embody physical strength and the abundant spiritual vitality of the ancient people.
Legend of Hoan Kiem Lake – King Le Loi Returns the Sword
This part of the performance recreates the legend of Hoan Kiem Lake – a scenic spot in Hanoi. The tale tells of the heroic figure Le Loi. While taking a stroll around the lake, a Golden Turtle God granted him a magical sword to defeat the enemy. After defeating the Ming invaders, the king sailed on the lake and returned the sword to the Turtle God. This led Le Loi to name the lake Hoan Kiem Lake, which means returning the sword.
Lion Dance – Dragon Dance
The Lion and the Dragon are two revered creatures in Vietnamese belief system. There are two Lion Dance performances: one depicting people joyfully performing the Lion Dance in festivals, and the other portraying the graceful playfulness of two Lions. Meanwhile, the Dragon Dance consists of two Dragons intermittently spouting water. It symbolizes strength, power, nobility, prosperity, and growth.
Fairy Dance
The Fairy Dance is related to the legend of the Dragon and the Fairy, considered the ancestors of Vietnamese people. This dance portrays fairies, representing kindness, gentleness, grace, and immortality. You will fully feel the aspiration for a virtuous and tranquil life of people through this part.
Four Mythical Creatures Dance: Dragon, Unicorn, Tortoise, Phoenix
The Four Mythical Creatures Dance showcases four sacred animals to Vietnamese people's beliefs: Dragon, Unicorn, Tortoise, and Phoenix. This part is like a vibrant assembly of these symbolically powerful creatures. It embodies strength, authority, elegance, resilience, and prosperity that the ancient people revered and aimed for.
Special Shows to Attend on Certain Occasions
Apart from daily shows that demonstrate the daily life of Vietnamese people, Golden Dragon Water Puppet Theatre also offers special performances during significant events like Independence Day or International Children's Day. These special shows are usually performed based on traditional Vietnamese tales.
One of the most captivating stories brought to life through this theater is the timeless tale of "Tam Cam.". It is a folklore revolving around the lives of two step-sisters: Tam and Cam. While Tam is gentle and hardworking, Cam is cruel and always bullies Tam. This show vibrantly portrays the tale using mesmerizing art of water puppetry. The intricately designed puppets and colorful sets manage to captivate audiences of all ages.
If you travel to Ho Chi Minh City, Golden Dragon Water Puppet Theater is a must-visit destination. You will have a chance to immerse yourself in the performance of the precious traditional Vietnamese art form. Plan your trip today and don't forget to put this beautiful water puppet theater on your list. In case you have any difficulty, don't hesitate to contact IDC Travel and let us help you with your itinerary.