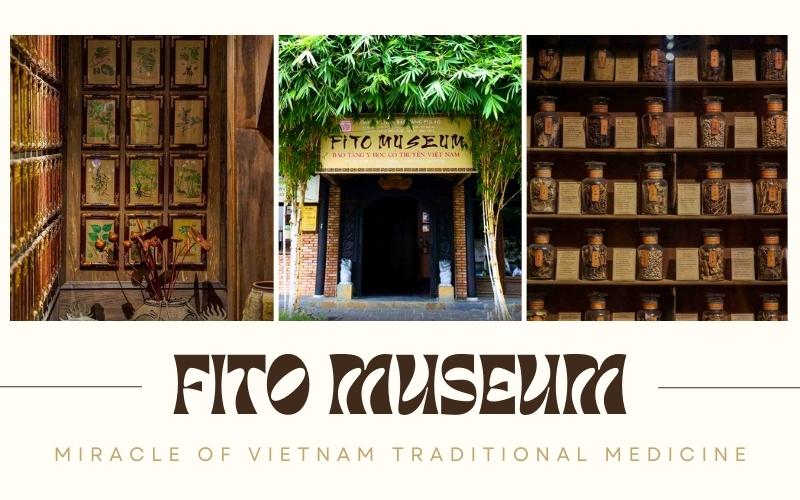 Mentioning museums in Ho Chi Minh City, many people would come up with the famous Fine Arts Museum or War Remnants Museum. However, there is one museum that is not as well-known as others, but it promises to bring you a whole novel experience: FITO Museum (also known as the Museum of Traditional Vietnamese Medicine). Coming to this place, you will have a chance to understand more about Vietnam's Traditional Medicine. Let's look through this article to explore this beautiful museum with IDC Travel!
Essential Information of FITO Museum
Location of FITO Museum
FITO Museum has the detailed address of No. 41, Hoang Du Khuong Street, Ward 12, District 10, Ho Chi Minh City. Since the museum is located not so far from the city center, you can easily travel to the museum and discover what is inside.
Booking a Taxi or a car via ride-hailing apps like Grab or Be is considered the easiest option for you to get to FITO Museum. Besides, there is a bus stop 100m away from the Museum. Thus, you can hop on a bus if you want to experience local public transportation.
However, if you are afraid of the risks of being scammed, the safest option suggested to you is to rent a car with a private driver. The driver will be with you throughout your trip, bringing and picking you up from all your wanted destinations. Moreover, with this choice of traveling, you will not need to worry about the time because the driver will absolutely follow your schedule.
Entrance Fee & Opening Hours
If you want to visit the FITO Museum, you will have to pay a fee of 180,000 VND per individual or 90,000 VND if you have a Vietnamese student card. This museum is open to welcome visitors every day of the week. However, please note that the museum only operates from 8:30 AM to 5:00 PM. Thus, if you plan to stop by this destination, remember to check the opening time.
History of the Museum
FITO Museum was established under the control of Mr. Le Khac Tam. After several years of collecting with his passion, the museum has come into existence. Mr. Tam realized that traditional medicine was not just a healing profession, but also held many cultural values of the Vietnamese people. Therefore, he nurtured the idea of creating a museum dedicated to the traditional medical profession.
This museum of traditional Vietnamese medicine was constructed in 2003 and officially opened in 2007. It spans 6 floors and 18 rooms on a total area of 600m². FITO Museum is entirely designed with wood, featuring numerous exquisite patterns. The wooden frames of the ancient houses were directly transported from the Northern Delta region for construction, creating an antique and incredibly cozy atmosphere. Here, the museum vividly portrays images and provides clear descriptions of artifacts as well as engravings. Therefore, you can envision all the activities of ancient physicians and healers, from diagnosing and treating illnesses to preparing and compounding medicines, from ancient times to the present day.
Architecture Highlight of FITO Museum
Stepping into the FITO Museum, you will find a serene and familiar scene of the Vietnamese people as there are two bamboo clumps planted right at the entrance. When you walk through the wooden door, a nostalgic feeling rushes in as you stand in the middle of a spacious and imposing wooden house, both dignified and warm with the scent of herbs and wood. The faint fragrance permeates the air, blending into the soul and putting one's heart at ease.
The interior of the museum is entirely made with lacquered golden wood, ancient-style gilded lacquer paintings, and numerous other patterns. An important aspect that defines the value of FITO is its preservation of over 3,000 precious artifacts related to traditional Vietnamese medicine, from the Stone Age to the present day. Among them, we can mention the collection of knife and boat-shaped medicine grinders, dating back 2,500 years, used for grinding and cutting medicinal herbs.
What to Discover Inside FITO Museum
Altar of the Fathers of Vietnam Traditional Medicine
In the center of the building is an altar dedicated to the two fathers of traditional medicine, Tue Tinh and Hai Thuong Lan Ong. Hanging on either side are elaborately crafted wooden horizontal lacquered boards and parallel sentences, reminiscent of ancestral altars in well-off families in the past. The wooden staircase railings are made from dark ebony wood. Columns, beams, and stair railings are all intricately carved, and even the elevator is wood-paneled and delicately engraved with patterns, crafted by artisans over three years. On each floor, the museum provides a space with lush greenery, some medicinal herbs, and traditional decorations.
To the left of the altar is a room displaying stone and bronze artifacts dating back to prehistoric times related to traditional medicine. To the right is a room dedicated to Vietnamese famous physicians, displaying 15 gilded lacquer paintings of 15 renowned physicians and authors of traditional Vietnamese medicine from the 13th to the 19th century.
Traditional Medicine-Related Artifacts
Coming to the 2nd and 3rd floor of the FITO Museum, you will find a collection of tools used for grinding and pulverizing medicines, including mortars and pestles, traditional Vietnamese scales, wooden boards, medicine containers, and wooden blocks used for printing invoices and prescriptions. Ancient Vietnamese used these stone tools to prepare medicine. As for the copper mortars and pestles, they were commonly used in pharmacies and pharmaceutical companies during the French colonial era. During this time, people also used the small balance scales to weigh medicinal ingredients. Moreover, The collection also includes a variety of pots and finely sieved medicine, gathered from all over the country.
Uniquely, this Museum of Traditional Vietnamese Medicine also features a model of a "Traditional Herbal Medicine House" with many famous herbal medicines. The Luc Hoa Duong pharmacy from the 19th century has been recreated in detail in the "Northern Medicine Shop" model. Perhaps the most impressive exhibit is a lacquer painting depicting "Traditional Medicine in the Life of the Vietnamese Community," featuring a northern medicine shop, the Ben Thanh Market, the imperial city of Hue, and finally, Hoan Kiem Lake. This painting has been recognized in the Vietnamese Guinness Book of Records.
Medicinal Liquor Showroom
Soaking medicinal herbs in alcohol is an ancient method of preparing medicines. It has been passed down through the ages, with a traditional belief that the highest-quality medicinal alcohol is made by burying the soaking vessel in the ground.
Ancient people believed that medicinal liquor had the effect of invigorating blood circulation and balancing the body's vital energy. The type of alcohol used for soaking is typically white wine made from rice, corn, or potatoes. According to traditional Chinese medicine, medicinal liquor has the function of nourishing and enriching the blood and promoting the circulation of vital energy. Vietnamese people often use ceramic and porcelain jars for soaking wine. Some very beautiful wine jars, such as the Hoa Mai ceramic wine jars, are displayed in this room.
Thai Y Vien Simulated Room
Coming to Room 16, you will find that the interior is decorated in a royal style, hence its name is "Thai Y Vien" or the Imperial Medical Chamber, where the health of kings and nobility was taken care of. The wall paintings, made of gold-leafed lacquer, depict themes related to traditional medicine, such as herb collection, cultivation, medicine preparation, and pulse diagnosis. Most notably, there is a painting depicting Lord Trinh in 1781 when Hai Thuong Lan Ong treated Lord Trinh Can – Trinh Sam. Moreover, there are also some rare items in the glass cabinets used by the upper class, such as tea sets and opium pipes.
What to Keep in Mind When Visiting the Museum
FITO Museum is a unique place that you should never miss out on during your journey to Ho Chi Minh City. However, there are a few notes that you should follow to ensure the best visit to the FITO Museum.
Wear appropriate attire: Since the museum is a respectful place, you'd better wear casual clothes rather than shorts or tank tops.
Don't make loud noises: Coming into the FITO Museum, it is necessary for you to maintain a suitable attitude. Don't make loud noises or shout inside the museum.
Keep the place clean: You should not smoke or bring food and drinks from outside to the museum.
Buy some organic tea as souvenirs: FITO Museum also produces and sells organic tea with several advantages. You can check out the list of products here to see whether they are suitable for you or not.
FITO Museum of Traditional Vietnamese Medicine promises to give you a one-of-a-kind experience that you cannot find elsewhere. Therefore, don't hesitate to add this destination to your list of must-visit places in Saigon. Moreover, in case you have any difficulty planning your trip, feel free to contact us. It's our honor to provide you with our best service.