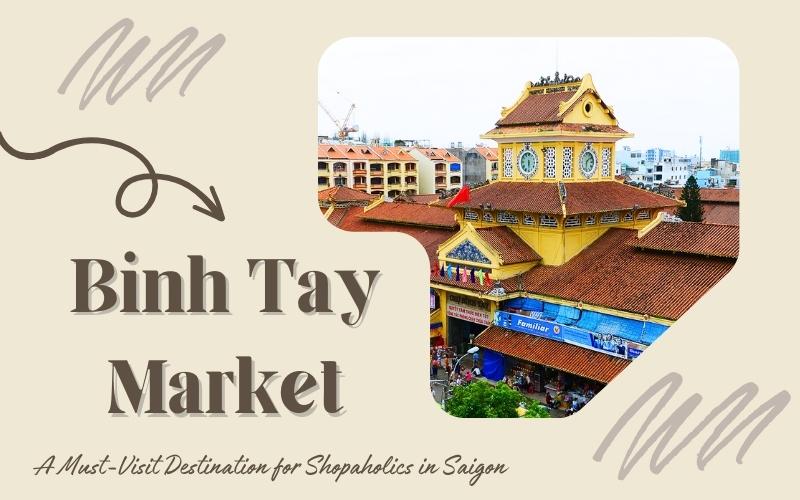 If the luxurious shopping malls are too familiar for you, traditional markets will bring you a whole novel experience. You will be able to gain a deeper sense of the local trading culture in Ho Chi Minh City. In addition to the famous Ben Thanh Market, Saigon also boasts a bustling market equally significant: Binh Tay Market.
A Little about Binh Tay Market
Binh Tay Market is located at No. 57A, Thap Muoi Street, Ward 2, District 6, Ho Chi Minh City. Even though the market is not in the city center, you can still get to the place easily. The easiest way is to call a Taxi or book a car via a ride-hailing app. However, you might find this option kind of risky as you can, unfortunately, meet a scammer. Therefore, for a safer experience, we suggest you rent a private car. With this service, you will have a driver for yourself as he will assist you throughout the whole journey.
Binh Tay Market covers an area of approximately 25,000 square meters. It is situated at the intersection of four streets: Thap Muoi – Le Tan Ke – Phan Van Khoi – Tran Binh. This place is a major wholesale market in Ho Chi Minh City. Thus, goods sold here are distributed throughout the country and are even wholesaled to markets in Cambodia and many other countries. Therefore, this longstanding market in Ho Chi Minh City is a popular attraction for both local and international tourists.
History of Binh Tay Market
In the past, in Saigon, there was an area known as the Old Market, which served as a trading hub for merchants. However, due to the cramped conditions of this market, a Chinese merchant named Quach Dam took it upon himself to invest and build what is now Binh Tay Market. Perhaps the name Cholon (Big Market) also originated from this construction. The construction of this market began in 1928, and it was put into use in 1930. In 1992, the market underwent renovations and repairs. Then, it was expanded with two additional rows along Le Tan Ke and Tran Binh streets in 2006.
Today, the market is a vital wholesale trading hub in Ho Chi Minh City. In 2015, Cholon was recognized as an architectural and artistic heritage site by the Ho Chi Minh City Department of Culture, Sports, and Tourism. With nearly a century of history, this market is not only a bustling trading center but also an unmissable cultural tourism destination in Saigon.
Exclusive Architecture of the Market
The market is designed in the shape of an octagon, with spacious and elegant surroundings, creating a clean and beautiful environment. Binh Tay Market features 12 small gates that open in four directions and a main gate facing Cholon Bus Station. All the gates serve as a gateway to the provinces of the Mekong Delta, facilitating the transportation of goods by both road and waterway. Coming to this place, you will notice a prominent tall tower in the middle of the market, and each of the four surrounding sides is adorned with a synchronized clock.
Although the architectural style of the market exhibits strong Chinese influences, Binh Tay Market was constructed using French techniques. The tiled roof, designed in a layered fashion, contributes to the airy atmosphere inside. The walls are adorned with intricate and eye-catching decorative motifs. Additionally, the porcelain bas-relief sculpture of "dragons playing with pearls" on the front facade of the tower and the dragon sculpture on the top of the tower reflects unique Eastern artistic styles.
What to Explore in Binh Tay Market
Diverse Booths in All Fields
Ground Floor Area
As you step into the market, you'll find yourself surrounded by a colorful array of products. This is where you can explore various items, from exquisite porcelain dinnerware and decorative lanterns to zincware, traditional conical hats, aromatic dried spices, captivating artworks, and more. If you're in the mood for fashion, you'll also discover trendy handbags, stylish footwear, and eye-catching jewelry.
Upper Floor Area
Venture upstairs, and you'll encounter stalls selling an assortment of everyday essentials, snacks, candies, and ready-to-wear clothing. This section offers a glimpse into the daily life of locals, as it caters to their daily needs.
Tran Binh Area
If you're on the hunt for spices, tea, coffee, fresh seafood, or an assortment of fruits and vegetables, the Tran Binh area is where you'll want to be. Here, you can immerse yourself in the lively atmosphere as vendors offer a wide range of tantalizing ingredients.
Le Tan Ke Area
This part of the market predominantly features dried goods, including oils, fats, dried seafood, betel nuts, fresh greens, and an abundance of spices. It's a treasure trove for those looking to stock up on kitchen essentials.
Phan Van Khoe Area
For those seeking fresh produce, Phan Van Khoe is the place to explore. Here, you can find a delightful selection of fresh meats like beef, sea and freshwater fish, shrimp, crab, frog, tofu, and eggs. It's a paradise for food enthusiasts looking to cook up some delicious dishes.
Savory Local Food in the Market
The food court of Binh Tay Market attracts tourists with several vendors selling delicious dishes at a reasonable price. Here, you can find an array of Saigon specialties for your breakfast or lunch. You can experience a bowl of Bun Thit Nuong (rice vermicelli with grilled pork) or Pha Lau (beef offal stew). The rich flavor and special texture of those dishes will definitely explode your bud tastes. Moreover, there are many other dishes for you to savor like Bun Rieu (crab paste vermicelli soup), Hot Porridge, or Banh Uot (Saigon-styled rice steamed cake).
In addition, Binh Tay Market is open from the early morning until late night. Therefore, you can easily manage your schedule to visit this place. When night comes, the market becomes more vibrant by the colorful lights. You will find numerous stalls selling drinks like iced lemon tea – a favorite beverage of Saigon youngsters. Don't miss out on the chance to savor a unique Saigon drink and enjoy the view of bustling roads around.
Helpful Tips for Your Visit
For an enjoyable shopping experience at Binh Tay Market, there are some important notes that you should keep in mind.
Remember to bargain: You should be prepared to haggle over prices when shopping. Negotiating the price is an integral part of shopping at this market. Be confident to ensure you don't overpay for products.
Many wholesale areas: Some sections of the market may sell large quantities to other stores or distributors. Thus, if you're looking to buy a single item, don't forget to double-check before purchasing.
Dress comfortably: Binh Tay Market is quite large, and you will need to move around a lot while shopping. To ensure comfort, wearing comfortable clothing and comfortable shoes is recommended.
Be cautious with your belongings: Just like in any other market, always be mindful of your handbag and possessions. You should avoid carrying large amounts of cash or valuable items.
As you embark on your shopping adventure in Binh Tay Market, you'll not only find an incredible variety of products but also a glimpse into the rich tapestry of Vietnamese daily life and culture. Because each section offers a unique experience, Binh Tay Market is a must-visit destination for your trip to Ho Chi Minh City. If you need any further information or need help planning a journey, don't hesitate to contact IDC Travel for the best service.