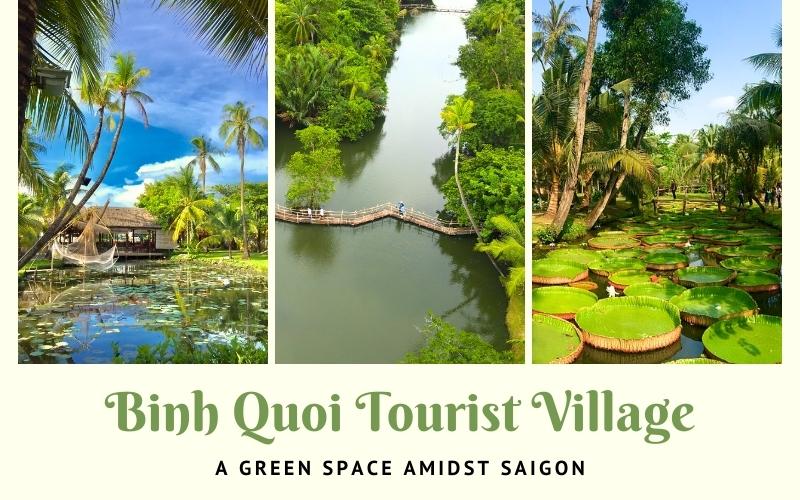 Known as the dynamic sleepless town, Ho Chi Minh City still has its fair share of tranquil green spaces for you to explore. Binh Quoi Village is one of those places, a rare green oasis in the heart of the city. Let's discover this beautiful destination with IDC Travel through this article.
Essential Information for Tourists
Location of Binh Quoi Village
Binh Quoi Tourist Village is located in Ward 28, Binh Thanh District of Thanh Da Peninsula, Ho Chi Minh City. This place is only about 10km away from the center of Saigon, thus you can travel to the village easily with several options of transportation. Calling a taxi or booking a car via Grab is the easiest way to get to Binh Quoi Village.
Moreover, there is a bus stop right in front of the entrance of the village. Therefore, you can hop on a bus if you want to experience public transportation in Vietnam. However, to avoid all unfortunate risks, you are suggested to rent a car with a private driver. The driver will be by your side throughout your whole trip, ensuring your safety and punctuality at every destination.
Opening Hours & Entrance Fee
Since Binh Quoi Village is a tourist resort, it does not have fixed opening hours. An entrance fee of 90,000 VND and 130,000 VND is applied for kids and adults, respectively, at the Binh Quoi 1 area. You can also join in a Ho Chi Minh City Tour to indulge in not only the green space of Binh Quoi Village but also other famous attractions of Saigon.
Best Time to Visit Binh Quoi Village
The ideal time to visit Binh Quoi Tourist Village is during the 3 days of the weekend. This is when the tourist village truly comes alive with its vibrant energy and excitement. During these days, you'll have the opportunity to indulge in a variety of engaging activities and captivating events, creating a unique atmosphere.
Throughout these three weekend days, Binh Quoi Village often hosts distinctive Southern-style buffet programs. This presents a wonderful chance for you to fully explore and savor delectable dishes imbued with the rich flavors of the South. Delicacies carefully crafted from locally sourced ingredients will undoubtedly enchant your taste buds.
In addition to the culinary events, during festive occasions and holidays, Binh Quoi Tourist Village warmly welcomes you with a multitude of distinctive activities and festivals. Here, you can engage in traditional folk games and witness unique artistic performances. Beyond being a place to relish the natural beauty and serenity of a vast village, this place is also an immersive destination where you can discover and experience the dynamic and diverse culture of the South.
Special Spaces and Interesting Activities at Binh Quoi Village
Binh Quoi Village is a tourist complex, consisting of 3 different areas: Binh Quoi 1, Binh Quoi 2, and Binh Quoi 3. Each zone has its own charm, attracting every visitor to the place.
Binh Quoi 1 – Recreating the Southern Saigon River
Binh Quoi 1 is an ideal travel destination for those who cherish lush, tranquil surroundings close to nature. When you visit here, you'll experience a beautiful garden space adorned with vibrant green lawns, swaying coconut palms, and small ponds that create the charming countryside ambiance of the Southern Mekong Delta.
Moreover, this area offers an array of entertaining and enjoyable activities. You can join in several interesting games, from small feasts to fishing competitions. For a more peaceful and private experience, consider renting one of the small cottages to relish the serene landscape. Binh Quoi 1 also hosts various exciting events such as the Southern Land Festival, Christmas celebrations, and Tet Holiday (Lunar New Year).
Encompassing an extensive area of up to 34,635 m², Binh Quoi Tourist Village 1 is an ideal location for you to indulge in photography or outdoor excursions. Small families and large groups alike can find the perfect space for organizing gatherings and recreational activities. For these reasons, Binh Quoi 1 is a popular choice for weekend getaways among many people. However, please note that you will have to pay an amount of 90,000 VND (per kid) and 130,000 VND (per adult) to get into this area.
Binh Quoi 2 – Typical Southwest Landscape
As for Binh Quoi 2, it is situated at the end of the road, not so far from Binh Quoi 1. This space covers a total area of up to 25 hectares. Different from the Southern countryside ambiance of the first zone, Binh Quoi 2 offers a tranquil setting reminiscent of the Southwest Vietnamese countryside. Here, you'll find lush green lawns, rustic countryside-themed landscapes, and fully equipped bungalows for family relaxation and entertainment.
Binh Quoi 2 boasts a modern and specialized swimming pool area and tennis courts to cater to visitors from near and far. It regularly hosts unique traditional music and dance performances that you wouldn't want to miss.
Moreover, the restaurants in Binh Quoi Tourist Village all offer stunning views overlooking the Saigon River. The standout culinary experience here is the "Delicious Dishes from Fishing Village" buffet program, held on Saturdays and Sundays from 5:00 PM to 8:00 PM. The buffet menu features over 70 dishes, all of which are signature dishes from the fishing villages along the Southern region. The ticket prices are 140,000 VND for children and 270,000 VND for adults. These dishes are seasoned with local flavors, guaranteed to leave a profound impression on you.
Binh Quoi 3 – A Tranquil Vintage Space
The space Binh Quoi 3 is also known as the Ancient Garden. It is one of the most captivating destinations in Ho Chi Minh City. Located along Binh Quoi Road, this tourist village holds its own charm compared to Binh Quoi 1 and Binh Quoi 2.
Binh Quoi 3 is designed in a traditional style, creating a sense of closeness and harmony with nature. The area is spacious, refreshing, and situated right by the Saigon River, making it an ideal spot for families with children to immerse themselves in a tranquil green environment. Here, you'll find extensive lawns that allow children to explore a colorful world with activities like swings, seesaws, and sandcastles. Families can also organize outdoor recreational activities full of excitement here.
The culinary experience at Binh Quoi 3 is another special draw for tourists. This tourist village offers diversity with traditional dishes from the Mekong Delta region, as well as Western dishes from the à la carte dining service, prepared according to guests' preferences. The flavors of the dishes are highly regarded and cater to various tastes.
Useful Tips for Your Best Trip
Since Ho Chi Minh City is one of the most popular city destinations in summer (according to ForwardKeys), you will never get bored traveling to this city. However, to make the most of your visit to Binh Quoi Village, IDC Travel prepared some useful tips for you:
Wear light and comfortable clothing: As the village is an open outdoor space, it requires you to move around often. Therefore, you should choose an outfit that is appropriate for outdoor activity.
Bring extra clothes: You can bring some clothes in case you get wet. Or you can bring some beautiful outfits if you want to capture beautiful photos here.
Don't forget sunscreen and a hat or umbrella: Saigon's weather is usually sunny and hot. Thus, you'd better prepare stuff to prevent you from the heatstroke.
Binh Quoi Village offers not only beautiful landscapes and exciting activities but also traditional specialties from the Southern region, catering to every culinary need of visitors. Therefore, it is considered one of the excellent destinations to spend your vacation in Ho Chi Minh City. Plan your trip today and don't forget to add Binh Quoi Village to your must-visit place list. If you have any difficulty, feel free to reach out to us. It's our pleasure to serve you the best service.