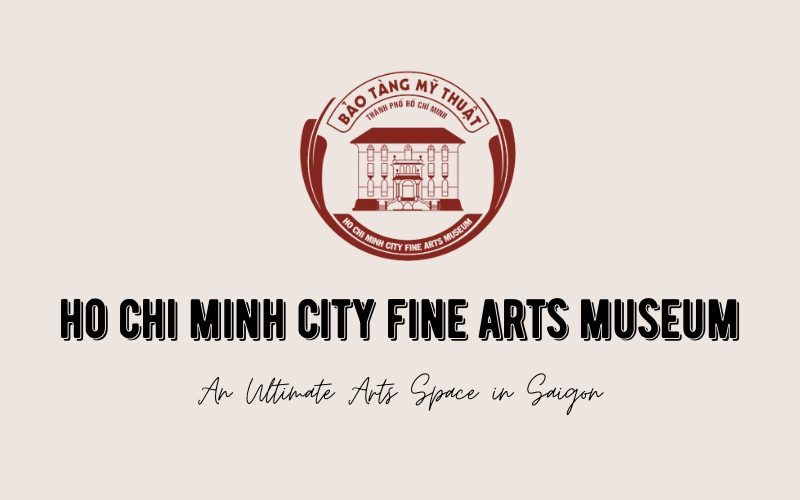 If you have a chance to visit Ho Chi Minh City, don't miss out on the Ho Chi Minh City Fine Arts Museum. Coming to this place, you will be able to explore the timeless treasure of the arts. Moreover, you can also admire the unique architecture of this building, which is considered one of the most beautiful architectural constructions in Ho Chi Minh City. Let's go and discover this special museum with IDC Travel through this article, in which we provide all the important information for you.
Essential Information for Tourists
The Museum of Fine Arts (HCMC Fine Arts Museum) is located at No. 97, Pho Duc Chinh Street, Nguyen Thai Binh Ward, District 1, Ho Chi Minh City. The museum is open every day, including special events in Vietnam. Therefore, you can easily visit this place on any day you want. However, you should note that the operating hours are from 8:00 AM to 5:00 PM. Besides, you will have to pay an amount of 30,000 VND per entrance ticket.
There are several options of transportation for you to travel to the museum. The easiest way is to take a taxi or book a car via Grab or Be, the popular ride-hailing app in Vietnam. If you want to experience the public bus in Ho Chi Minh City, there are many bus stops near the museum. However, the bus routes are complex and might not be clear enough if you just go to the bus stop and wait. Therefore, you should search carefully in order not to get lost in the city.
Another choice of moving recommended for you is to rent a car with a private driver. This option helps you avoid all the unwanted risks such as taxi scams or pickpockets in public. Additionally, the driver will assist you throughout the whole trip, bringing and picking you up at all your desired destinations.
Historical Background of HCMC Fine Arts Museum
Originally, the Ho Chi Minh City Museum of Fine Arts was a renowned mansion. The building is closely associated with the name of a prominent Chinese-Vietnamese businessman named Hua Bon Hoa, also known as Uncle Hoa. He was the wealthiest individual in Sai Gon during the early 20th century. His family owned numerous villas throughout the Sai Gon – Gia Dinh – Cho Lon region and played a significant role in the city's development at that time.
In 1929, the Hua family constructed the mansion in a luxurious and classical Baroque style. The design by architect Rivera seamlessly blends French and Chinese architectural influences.
By 1934, the building was officially completed.
After 1975, as the Hua family dispersed to France, this building came under the administration of the liberating military forces.
In 1987, the Fine Arts Museum was established within the mansion.
By 1992, the museum was fully operational.
In 2012, the Museum of Fine Arts was designated as a city-level architectural heritage.
From then until now, it has evolved into a place that preserves and showcases numerous renowned artworks, antique items, sculptures, and paintings of substantial historical, cultural, and artistic value.
Spectacular Architecture of the Museum of Fine Arts
Impressive Architecture from the Outside
From the outside, you will find that the Museum of Fine Arts is a solidly constructed four-story building. It is adorned in a fusion of Eastern and Western architectural styles. Its layout is symmetrical, comprising two horizontal and two vertical sections that enclose a central courtyard. The walls of this building are impressively robust, measuring 40 to 60 cm in thickness, and boasting a total of 99 doors and windows. The architectural form of the building exudes a sense of grandeur, yet it also warmly invites admiration through its charming, vibrant color palette and harmonious blend of Eastern of Western aesthetics.
Moreover, the Eastern influence is evident in the mansion's roofing, featuring Yin-Yang red tiles and blue enamel on the hall pillars, decorative patterns on the roof's edges, and traditional Chinese characters on either side of the main entrance. Carved fish on the roof's drainage pipes and ornate circular designs featuring intricate characters are further evidence of the building's connection to Eastern architectural heritage.
Glorious Architecture Inside the Museum
The museum boasts a lengthy corridor with several doors, each crowned by a vaulted design to facilitate airflow and embrace natural light. The entire floor is paved with tiles featuring intricate patterns. Every section, every level, showcases a distinctive tile motif. Inside, the museum comprises multiple rooms, built with load-bearing vaulted structures. The interior of the building's foyer is adorned with ornate relief floral designs on the ceiling, and each room is adorned with French-style chandeliers.
In addition, the mansion of Uncle Hoa was also the first place in Sai Gon to have an elevator, a luxury in Vietnam at that time. While a European creation, the elevator was crafted from wood, intricately embellished inside, and adorned like a noble's sedan chair.
Beautiful Artworks Exhibited in Fine Arts Museum
Ho Chi Minh City Fine Arts Museum holds a wealth of invaluable artifacts of over 22,000 items. More than 80% of the artworks on display at the museum are paintings, with one standout being the national treasure "North – Central – South Spring Garden," an exquisite lacquer painting by artist Nguyen Gia Tri.
Ancient Sculptures
The Ho Chi Minh City Fine Arts Museum currently showcases and preserves a diverse collection of sculptures. These sculptures hail from the ancient people of the Southern region and the Champa civilization, spanning from the 7th to the 17th century. These artworks partially capture the ancient cultural beliefs and spiritual practices of the people from these areas.
Ceramic Artworks of Southern Vietnam
When you step into the Ho Chi Minh City Museum of Fine Arts, you'll immediately notice a series of outstanding ceramic artworks on display. These ceramic artifacts have been gathered from various locations in Southern Vietnam, primarily from major cities such as Sai Gon, Bien Hoa, and Lai Thieu. Therefore, you'll have the opportunity to admire exquisitely designed and meticulously crafted ceramic pieces.
Antique Art with Wood and Bronze Materials
You will find that the museum also houses a range of antique artworks made from wood and bronze materials. These pieces primarily originated from the 19th to 20th centuries, reflecting a diverse array of subjects, from Vietnam's spiritual and deity-focused culture to daily life activities.
Lacquer – Engraving – Oil Painting Artworks
In the realm of modern art, you'll encounter vibrant colors, innovative materials, and fresh approaches to handling these materials that distinguish them from their ancient and contemporary counterparts. The Lacquer – Engraving – Oil Painting works, created by talented artists, carry layers of meaning that captivate your attention.
Watercolor Artworks
The watercolor collection at the Fine Arts Museum, painted by artist Kim Bach, was entirely produced in 1978. These paintings depict elderly individuals from Southern Vietnam, offering you a comprehensive view of the lives of the people here. You can see the whole collection on the official website of the museum here.
Silk Artworks
Silk artworks primarily recreate the people's everyday routines or familiar scenes from Southern Vietnam. Nevertheless, there are also pieces that portray scenes from Vietnam and depict war heroes.
Things to Remember When Visiting HCMC Fine Arts Museum
To ensure the best experience in your visit to the Ho Chi Minh City Museum of Fine Arts, you should be aware of some regulations.
Dress appropriately when visiting the Museum.
No weapons, explosives, flammable substances, or pollutants are allowed within the Museum premises.
Luggage, suitcases, backpacks, travel bags, etc. must be left in the designated area.
Do not touch or handle artifacts during the tour.
Food and beverages are not allowed in the exhibition rooms.
For photography or filming, visitors must contact the ticket counter staff for guidance and registration of fees.
Only mobile phones are allowed to record memorable moments.
Upon your visit to the Fine Arts Museum, you'll have the chance to delve into an enduring repository of artistic treasures. Additionally, you'll have the opportunity to appreciate the distinctive design of the museum. Don't hesitate to put this destination on your list when visiting Ho Chi Minh City. If you find any difficulty, feel free to reach out to us. We are always ready to serve you all the best.