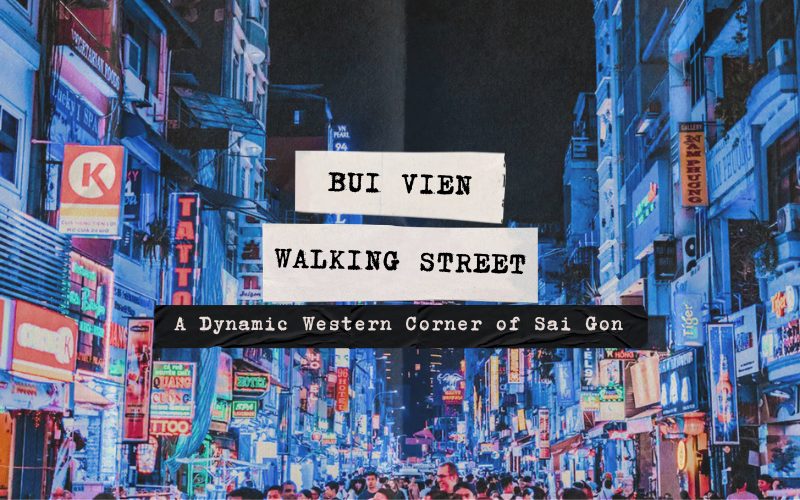 Ho Chi Minh City has always been famous for several unique architectural constructions with an interesting historical background. Additionally, many people fall in love with Sai Gon because of its vibrant atmosphere and its non-sleep nightlife culture. If you want to indulge in the dynamic air of this city, Bui Vien Street is absolutely a not-to-miss destination for you. Let's explore this exciting street, where you can discover a whole new corner of Sai Gon.
A Little about Bui Vien Street
Bui Vien Street, or Bui Vien Walking Street, is located in Pham Ngu Lao Ward of District 1. This ideal location allows you to get to the street easily. You can book a taxi or a car via a ride-hailing app on your phone. Just tell the driver the name "Bui Vien Street," and he will bring you to the destination in no time. Moreover, you can experience local vehicles like motorbikes to travel to Bui Vien Walking Street. However, to avoid unwanted risks, you can choose the safest option: renting a car with a private driver. The driver would assist you all along your trip, bringing and picking you up from any destination you want.
Coming to Bui Vien Street, you will see that most businesses here are in the service sector. There are several restaurants, cafes, bars, hotels, and convenience stores on Bui Vien Street. You will find that these business facilities are often open overnight to provide all the necessities you need.
Why Is Bui Vien Called Western Street?
Many Saigonese, and also foreigners, call Bui Vien the Western Street. So, what is the origin of this beloved nickname?
Bui Vien is the name of a prominent official in Vietnam during the time of Ngo Dinh Diem's regime. This name was later used to label the street. This area has always been a hub for numerous international tourists since 1975. Thus, people in Ho Chi Minh City started to call it Western Street.
This place is a perfect blend of different cultures from several countries around the world. By 2017, Bui Vien Street was officially planned by the government to become another walking street, held on weekends, from 7:00 PM to 2:00 AM (the next day). Additionally, local people also refer to the streets of De Tham and Pham Ngu Lao near Bui Vien as the Western Streets.
Interesting Activities to Join on Bui Vien Street
Immerse Yourself in a Dynamic Music Party
Music holds a transformative power, serving as a link to connect the emotions of both artists and listeners along the vibrant tapestry of Bui Vien Walking Street. As you stroll down this bustling avenue, you will find yourself immersed in a musical journey. The street comes alive with the harmonious fusion of international music performances. From the grand stages that host world-class musicians to intimate corners where traditional folk tunes serenade, Bui Vien offers you an enchanting spectrum of musical experiences.
Participate in Traditional Games
Despite its modern and youthful vibe, Bui Vien Street often hosts activities related to Vietnamese culture, allowing visitors to engage in cheerful participation. Various sessions of traditional folk games such as "O An Quan" (a kind of game played with small seeds) or "Dap Nieu" (pot breaking). These traditional games draw the attention of several tourists passing by. All the events hosted provide an enjoyable means to showcase the beauty of Vietnam's heritage to international friends.
Get Lost at Local Bars and Clubs
Visiting Bui Vien, you should not miss out on the chance to experience local bars and clubs here. The vibrant nightlife along this bustling street offers a diverse array of entertainment options that cater to different tastes. Whether you're in the mood for live music performances, dance floors pulsating with energy, or simply a laid-back atmosphere to enjoy some drinks with friends, Bui Vien has it all. The neon lights and energetic ambiance create an electric atmosphere that lures both locals and tourists alike. So, after soaking up the cultural offerings during the day, the night at Bui Vien promises to bring you a whole new dimension of excitement and merriment.
Culinary Delights of Bui Vien Street
Delicious Snail Dishes
Snails might seem like a simple snack or casual bite, but in Ho Chi Minh City, they've evolved into a unique culinary culture that holds its own. Sai Gon's snail dishes evoke intense emotions, from their fragrant aroma and flavors to their distinctive preparations. Bui Vien Street is renowned for its delightful snail eateries. The moment you step into one of these establishments, your senses come alive with the rich and tantalizing scents. Each snail dish is prepared in its own distinct way, perfectly balancing the four tastes of sour, spicy, salty, and sweet. Moreover, you can also try seafood dishes cooked with Saigonese style in every snail eater.
Vietnamese-styled BBQ
Having a chance to visit this street, why not indulge in Vietnamese-styled BBQ? One of the long-standing and renowned BBQ joints in the area is Ba Sau's Small BBQ Village, also known as BBQ Sai Gon Night. A variety of skewers, bursting with colors, are arranged on large, captivating trays that tempt every visitor to give them a try. With prices as low as 10,000 VND per skewer, for around 100,000 VND per person, you can treat yourself and your friends to a satisfying feast!
Local Beer – Famous Feature of Bui Vien Street
While Hanoi is famous for its beer on Ta Hien Street, Bui Vien's beer is the most well-known among the young generations in Ho Chi Minh City. Along the walking street, you will find multiple beer establishments with reasonable prices. Gathering with friends, chatting, and enjoying a few glasses of beer at Bui Vien is a must-try experience during your trip to Ho Chi Minh City. The aroma of the beer wafts out as you lift the glass, awakening your taste buds and curiosity. The first sip of beer touches your lips, carrying a refreshing and robust flavor, along with the cool sensation. The experience of trying local beer on Bui Vien Street will never disappoint you.
Bui Vien Street is the place you should visit at least once to truly immerse yourself in the vibrant atmosphere of Ho Chi Minh City. This place promises to help you alleviate the weariness and anxieties of everyday life. Therefore, do not hesitate anymore but put this destination into your list of attractions in Ho Chi Minh City. Feel free to contact us if you need any help creating your own trip. IDC Travel will always be there for you.