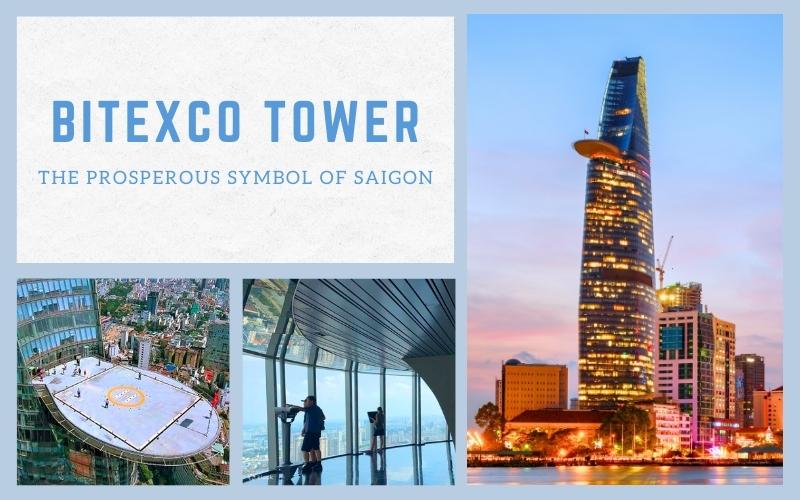 Wandering around Ho Chi Minh City, you will find several skyscrapers in the city, mostly situated in the center of Saigon. For your information, most of Vietnam's tallest buildings are located in Ho Chi Minh City. So, have you ever wondered what is inside these buildings? Let's go with IDC Travel through this article and explore the Bitexco Financial Tower, one of the tallest buildings in Vietnam.
Essential Information for Tourists
Location of the Tower
Bitexco Financial Tower has the detailed address of No. 2, Hai Trieu Street, Ben Nghe Ward, District 1, Ho Chi Minh City. This building is located right in the heart of Saigon, only 200m away from Nguyen Hue Street. Moreover, since Bitexco Tower is not in the walking street area, cars can get to this place easily. Therefore, you won't find any difficulty traveling to the Bitexco Building.
Taxi or Grab Car is the most simple option. You only need to tell the driver the address, and he will immediately bring you to your desired destination. However, you might have been warned about the risk of being scammed in Ho Chi Minh City. Thus, to avoid all unwanted dangers, you should rent a car with a private driver. Your rented driver is often a local, hence, he can give you the best advice on what to do and where to visit. Additionally, you will not need to worry about any unfortunate event because the driver will assist you all along your trip.
Opening Hours and Entrance Fee
Being a mixed-use skyscraper, the tower is officially open from 8:00 AM to 11:00 PM. However, please note that the shopping center and other entertainment inside the building only operate between 10:00 AM to 10:00 PM. Therefore, you should check the time carefully to avoid waiting outside Bitexco Tower.
As for the entrance fee, you can get into the building freely without paying any entrance ticket. Nevertheless, if you want to visit the Skydeck, it will cost 200,000 VND per individual.
Interesting Architecture of Bitexco Tower
The Bitexco Building is designed in the image of a lotus, which is a symbol of Vietnam. Architect Carlos Zapata, who designed the tower, intended to convey the message that "Vietnamese culture is thriving, and Vietnam is rising in the process of integration." The image of the lotus reaching up to the sky represents the nation's aspirations for growth, symbolizing a dynamic Vietnam while preserving its cultural identity.
Bitexco Financial Tower has become an icon of Vietnam's rapid modernization, international integration, and its dynamic young generation. This graceful architectural masterpiece epitomizes international collaboration and cooperation.
The height of the Bitexco Tower is 269 meters with three basement levels and 68 stories made of steel and double-glazed glass. The first six floors are utilized for the Icon68 Shopping Center, while floors 7 to 48 serve as office spaces for rent.
The Highlight of Bitexco Financial Tower
Bitexco Financial Tower has left a lasting impression on all Vietnamese people as it was the first place to have a Skydeck. The Saigon Skydeck is situated on the 49th floor of the building, at a height of 178 meters, offering you a captivating view of Ho Chi Minh City.
In addition to the remarkable Skydeck, Bitexco Tower is also the first building in Vietnam to have a helicopter landing pad. This pad is located on the 52nd floor, designed to protrude from the main structure of the Bitexco Building and face south. The landing pad aims to provide convenience for welcoming guests to the building, allowing quicker access to the interior space.
What to Do When Visiting Bitexco Tower
Explore the Icon68 Shopping Center
If you are a shopaholic, the shopping mall inside Bitexco Tower will definitely satisfy all your needs. Icon68 Shopping Center features a variety of famous brands like Adidas, Pedro, and Charles & Keith. This shopping center offers a convenient shopping experience with several stores in all fields. Therefore, you can indulge in purchasing your favorite products while visiting Bitexco Tower.
On the 3rd and 4th floors, you can head to the BHD Star Cinema for some entertainment with family and friends. This cinema complex boasts 7 theaters, including 5 2D screens and 2 3D screens. The total area of this cinema complex is over 2,000m², with a seating capacity of up to 1,000 people.
Each theater is equipped with internationally standard screens, Dolby sound systems, and comfortable, clean seating, ensuring you have a thoroughly enjoyable and immersive movie-watching experience.
Discover the Delicious Food Court
Going up to the 4th floor of Bitexco Tower, you will find the "Food Creative" Food Court with a total area of about 1,600m². You will have the opportunity to savor over 500 dishes from various Asian and European countries, including Vietnam, Thailand, China, Italy, etc., as well as an array of fast food, desserts, and enticing beverages. You'll also easily spot many renowned culinary brands such as KFC, Chilli Thai, Moc Broken Rice, Auntie Anne's, and Yogurt Moochi.
Enjoy Coffee with a View
Enjoying the captivating view of the city while having a coffee or a meal with your loved ones would be a perfect experience in Bitexco Tower. On the 50th and 52nd floors of the building is the EON Cafe, where you can savor delicious drinks while enjoying the beautiful view of Ho Chi Minh City.
EON Cafe consists of three rooms with a capacity of approximately 40 people each. Each room is enclosed in transparent glass, allowing natural light to illuminate the space. Thus, it provides visitors with a panoramic view of the city. In addition to beverages, you can also savor some Vietnamese dishes as well as various desserts served at EON Cafe.
Capture Saigon from the Saigon Skydeck
Coming to Bitexco Financial Tower, don't miss out on the Saigon Skydeck. With its system of 6 high-powered telescopes that can rotate flexibly, you can observe landmarks such as Ben Thanh Market, the Thu Thiem Tunnel, Notre-Dame Cathedral of Saigon, and East-West Boulevard. The best time for you to go will be between 5:00 PM and 6:00 PM because during this time, you can witness the whole city covered by the beautiful sunset.
Along the glass walls of the observation deck, there are 6 interactive information screens that display famous landmarks and historical sites. When you touch them, detailed information about that location will appear.
As mentioned above, you will need to pay an entrance fee of 200,000 VND to get into this observation. A discount of 70,000 VND will be applied to children from 4 to 12 years old and elderly people.
Bitexco Financial Tower is a shopping, dining, and entertainment hub that you shouldn't miss when traveling to Ho Chi Minh City. Therefore, don't forget to add this location to your destination list. If you have any difficulty planning a trip, IDC Travel is always ready to give you a hand. So feel free to contact us.