Thailand Tourist and Travel Maps 2023
Thailand – the Wonderful land of Golden pagodas. Referring to Thailand, tourism is referring to the bustling capital Bangkok, the romantic coastal city of Pattaya, the pearl of Phuket…. The first thing to do when you make a Thailand tour is to take a look on its maps or research its geography to shorten the time to make a plan. IDC travel understands your need very well, so the Thailand travel maps have been created to give you the most useful information to make your trip more convenient and enjoyable. All things you need to know are below:
Overall Thailand travel maps
Thailand shares the borders with Laos, Cambodia, Myanmar. The outstanding features of Thailand's topography are high mountains, a central plain, and a highland region. Mountains occupy much of northern Thailand and extend along the Myanmar border across the Kra Strait and the Malay Peninsula. The central plain is a lowland area formed by the Chao Phraya River and its tributaries, the main river system of the country, which flows into the delta at the head of Bangkok Bay. The Chao Phraya River system occupies about a third of the national territory. In the northeast of the country is the Khorat Plateau, a lightly undulating area with low hills and shallow lakes, which feeds into the Mekong via the Mun River. The River system that empties into the South China Sea consists of a series of canals and dams.
Thailand's climate is influenced by monsoons with seasonal characteristics (southwest monsoon and northeast monsoon). The northeast monsoon, which starts from October to February, brings Thailand's coldest and driest air from China. In southern Thailand, the northeast monsoon brings warm weather and plenty of rain on the coast east.
Thailand has 4 distinct seasons:
Dry season: From January to February
Hot season: From March to May
Rainy season: From June to October
Cool season: From November to December
The average temperature of Thailand's weather is usually from 32 degrees Celsius in December and up to 35 degrees Celsius in April every year.
The Thailand travel maps mostly focus on top must visit cities in Thailand, which mainly locates in the Southwestern and in the Northern of Thailand
The Northern of Thailand travel maps
Chiang Mai
Located in the north of Thailand, a spotlight in Thailand travel maps can't be missed out this place, Chiang Mai is the second-largest city of this country after Bangkok. To travel to Chiang Mai from Bangkok, visitors can consider moving by plan/train/bus. By train or bus will take around 10-13hours, while to fly from Bangkok takes only 1:30 hours. If visitors has passion for off-road trips through Thailand, visitors can refer our car rental services.
If you want to see an authentic Thailand and Thai unique culture, as well as not spending too much time on a beach, Chiang Mai is your place. This city is the combination of splendid natural scenery and architectural reminders of an ancient capital city. Doi Suthep Temple which overlooks the city from a beautiful hill is the main tourist attraction in Chiang Mai. For nature lovers, there are many thrilling activities you can enjoy here, such as cruising along Mae Ping River, visiting hill tribes and experience an elephant ride.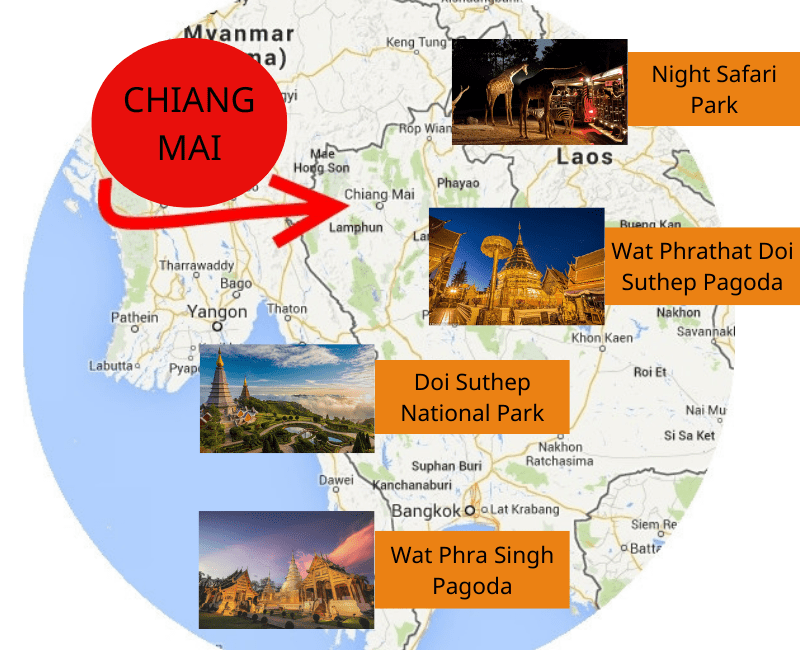 The Southwestern of Thailand
Bangkok – The capital of Thailand – Central of Thailand Tourist Maps
This exquisite capital city is always included in tourists' itineraries when visiting Thailand. Bangkok is suitable for all kinds of travel – whether you are planning a family trip, a luxury holiday or a budget-friendly backpacking vacation. This city is famous for its eye-widening Grand Palace and the spectacular Wat Phra Kaew Temple, one of three national treasures in Thailand. One hour and a half drive from Bangkok, Damnoen Saduak Floating Market is a lively scene of local Thai's daily life. Don't forget to buy fresh tropical fruits and sample some street foods such as Som Tam (papaya salad), Khao Pad (fried rice), Pad Thai (noodles with shrimps) and Khao Neeo Mamuang (Thai mango sticky rice).
Phuket – the wonderful island
Located in the south of Thailand, Phuket is the biggest island and one of the most sought-after attractions in this country. Unspoiled tropical forests and sandy white beaches are the reason to visit this paradise Iisland. Jet skiing, surfing and paragliding are three water sports you can enjoy in Phuket. The town of Patong in Phuket is the heaven where you can attend endless 'you-only-live-once' night parties. Phuket is also a popular place for a golf tour, in particular a tour from Bangkok to Phuket, which will be a highlight in your trip.
Pattaya – The city beach near Bangkok
At the time of writing, around two hours from Bangkok, Pattaya is a paradise for foreign tourists seeking to experience its outrageous nightlife. People in Thailand have a tendency to frequent Pattaya during their free time. It has many luxury resorts and places to eat as well as bars, pubs, and clubs. It's easy to find because of its proximity to the capital city.
A visit to Pattaya is a wonderful way to explore the beach along the Gulf of Thailand and relax in a family-friendly atmosphere. Favorite spots for beach time and napping are Jomtien Beach, which offers water sports as well as all-natural massages.Wat Khao Phra Bat is a giant Buddha and Wat Wang Boran Sanctuary of Truth is an artistic temple. On the weekends, nightlife attracts adults.
Kanchanaburi tourist maps and top things to do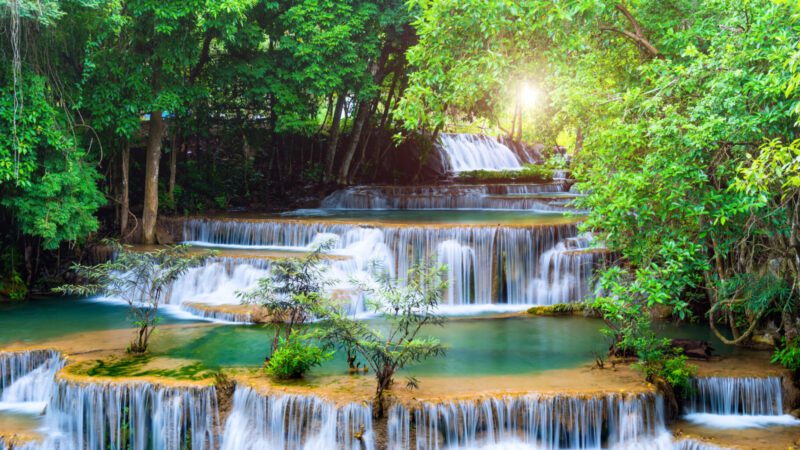 Kanchanaburi is located 130 km away from Bangkok and is a popular tourist destination for both Thais and foreigners. Therefore, the province is also great for escaping the craziness of Bangkok. The beautiful natural landscapes and natural springs this province has to offer are perfect for anyone looking for a place to relax. If you fancy checking out these waters down below, then you're in luck.
Krabi city maps and best experiences
Follow to the South of Thailand travel maps, this is the most spectacular place to visit – Krabi. There are many beautiful white-sand beaches along with a bunch of different islands just off the coast. This city covers a lot of land and thus has many attractions that require traveling. Along the way, you can easily get distracted by the beautiful views that are all around you. You should plan your trip to Thailand during the months of November-April, as these are typically the best times. These are also peak tourist seasons and places will be more crowded during those periods.
Hope the information we provide you above will be helpful for your trips to Thailand. If you need us for further information like some available tours to save your times, don't hesitate to contact us.