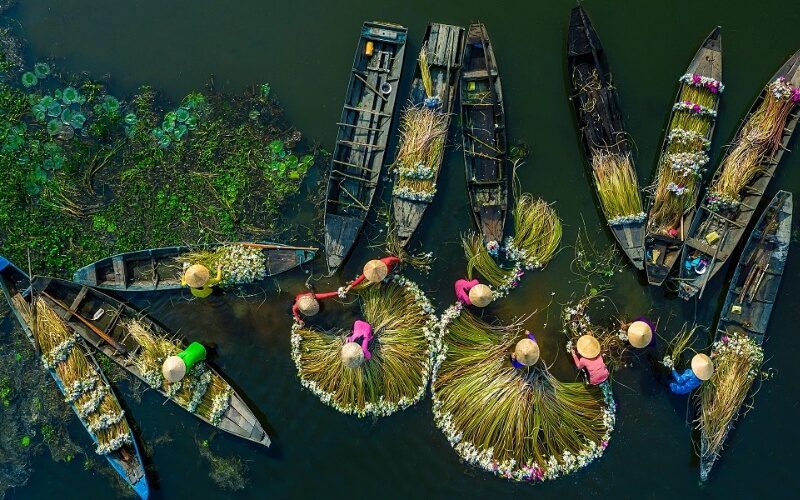 The Mekong Delta, also known as the "Nine Dragon Delta," is the result of sediment accumulation carried by the river. This natural process gives the land great fertility, suitable for the cultivation of agricultural products, such as rice, fruits, coconuts, shrimp, and fish. Although mainly rural, this region is one of the most densely populated and developed in the agricultural world. If you are looking for a wonderful destination for your trip to Vietnam, the fertile land of the Mekong Delta is a perfect choice. In this article, let IDC Travel provide you with some Mekong Delta 1 day tour itineraries, which are suitable for even time-limited visitors.
How to get to the Mekong Delta for a short day trip?
To get from Saigon (Ho Chi Minh City) to Ben Tre for example, you can take a bus which will take about two to three hours. Thao Chau and Thinh Phat bus companies are two good options for those looking to minimize travel costs.
If you're an adventurer lover, you can opt for a motorbike ride. This way, you can easily immerse yourself in the local atmosphere of the region.
To travel between the major cities in the Mekong Delta region, you can also take a taxi or rent a car, as the cities are usually far apart.
In the Mekong Delta, don't forget to take a cruise boat to explore the floating markets, canals, and fishing villages. This means of transportation will allow you to discover the hidden wonders of the region and enjoy a unique experience on the water.
Itinerary suggestions for Mekong Delta 1 Day Tour
If you are passionate about the culture and life of the people in southern Vietnam, as well as the rivers and natural landscapes, the Mekong Delta is an ideal destination for your country discovery. There are so many exciting activities to do in a day in this region, including exploring the floating markets, tasting local culinary delights, discovering Khmer culture, and much more. You can immerse yourself in the daily life of the region's inhabitants, discovering their traditions, lifestyles, and cultural heritage, as well as admire the magnificent landscapes, including vast rice fields, winding canals, picturesque fishing villages, etc.
The Mekong Delta day trip can be a good option for those with limited time, giving a taste of life and culture as well as picturesque natural landscapes.
Here are some itinerary suggestions for spending 1 day in Mekong Delta:
Option 1: My Tho – Ben Tre
Vinh Trang Pagoda
Built in 1849 in the middle of a beautiful forest, Vinh Trang is the largest pagoda in Tien Giang province. This unique monument harmoniously combines Asian and European architectural styles, giving it unparalleled beauty. It is adorned with numerous wooden statues, among which the 18 Arhats stand out, created in 1907 and considered the pinnacle of sculpture in the Mekong Delta region.
Turtle Island (Con Quy)
Con Quy is one of the four islets in the My Tho River, located 22 km from Ben Tre city. This picturesque island still retains its natural and rustic charm with a mild and cool climate throughout the year.
While visiting Con Quy, you can also enjoy a walk on the rope bridges crossing the river, which are very popular in the countryside of Vietnam. A visit to the coconut candy and craft manufacturing villages will allow you to appreciate the local culture while soaking up the beauty of the island.
Lang Be Ecotourism Area
Located near the Rach Mieu bridge, this ecotourism area offers the opportunity to take a sampan ride through natural canals, while admiring the beautiful coconut trees that line the banks. Here, you can also taste seasonal fruits and honey tea, while listening to folk songs performed by local artists. After this enjoyable ride, you can visit a family business and observe the pastoral life of the locals.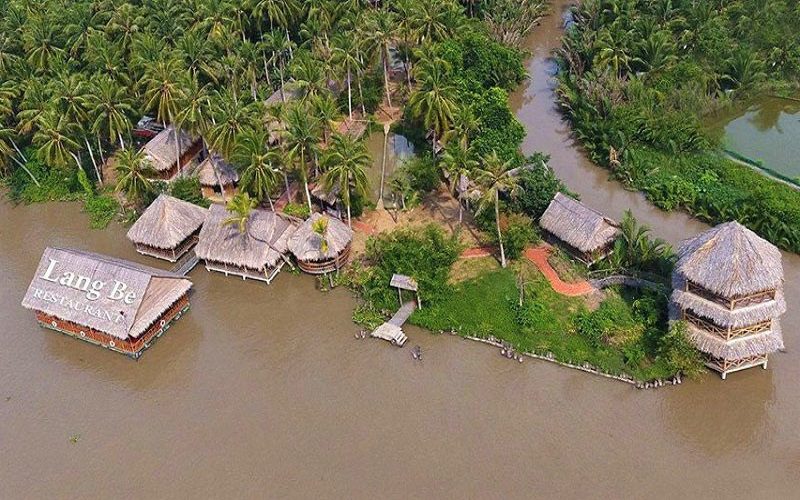 Cai Be Floating Market
The Cai Be Floating Market in the province of Tien Giang is a must-visit destination for both traders and tourists in the region. The uniqueness of this market lies in the way the sellers display their goods, hanging on long poles at the front of their boats, which makes it easier for buyers to identify them. The Cai Be Floating Market provides a unique experience to discover the daily life and river culture of the Mekong Delta, as well as to taste local specialties such as fresh fruits and traditional dishes.
Coconut-product Manufacturing Factory
Coconut is a characteristic fruit as it is a symbol of Ben Tre, a province in this aquatic region. You should also visit the coconut-candy manufacturing factory, where everything is handmade.
Option 2: Can Tho – Cai Rang Floating Market
Cai Rang Floating Market
Located 5 km from the center of Can Tho on the eponymous river, the floating market of Cai Rang is a must-see for visitors to the region. It is considered one of the most famous floating markets in Can Tho, specializing in the buying and selling of fruits and agricultural products. Every morning, hundreds of boats line up next to each other to sell their products.
Binh Thuy Ancient House
Binh Thuy Ancient House is one of the few French residences that have survived the test of time. It is now a must-visit destination for tourists seeking cultural discoveries. The architecture of the house presents a harmony between Eastern and Western influences while preserving the architectural characteristics of the South. It also houses rare and precious treasures dating back several centuries, such as a plank bed with console feet, a dresser for tea service, a sofa, gilded crossbeams, as well as a table and chairs from the Chinese dynasty.
>>> See the detailed itinerary of 1 Day Tour Cai Rang Floating Market
Option 3: Gao Giong – Sa Dec
Kien An Cung Pagoda
The Kien An Cung Pagoda is a cultural project with unique and magnificent architecture that combines influences from Chinese and Vietnamese arts. If you go to Dong Thap, do not miss the opportunity to visit this pagoda to admire its ancient beauty. The architectural and artistic achievements preserved there are invaluable treasures of the region.
Sa Dec Flower Village
The flower village of Sa Dec is a must-visit destination for photography enthusiasts, where you can go any time of the year, not just during Tet days. The Sa Nhien – Cai Dao flower road is the main attraction of the village, with a length of 2 km and a variety of flowers competing for beauty. Visitors can also observe the unique way that locals transport flowers, which adds to the picturesque experience of the village.
Gao Giong Ecotourism Area
Created in March 2003, the eco-tourism site of Gao Giong has become an attractive destination for both domestic and foreign tourists in the Southwest of Vietnam. Gao Giong is at its peak during the flood season with a vast area covered by the yellow of Sesbania sesban flowers, the red of water lilies, the purple of Indian lilacs, the pink of lotus flowers, and the green of cajeput forests. All of these create a romantic scene that cannot be found anywhere else.
Huynh Thuy Le Ancient House
Huynh Thuy Le Ancient House is a cultural space that has become a must-visit destination for tourists visiting Dong Thap province. Built in 1895 in Sa Dec, this historic site was a harmonious combination of Eastern and Western styles. Indeed, it is a perfect example of French colonial and traditional Vietnamese architecture. It was listed in the Top 100 "most impressive destinations in Vietnam" by the Vietnam Federation of UNESCO Associations in 2013.
Normally, the Mekong Delta itinerary is often integrated into a trip to Ho Chi Minh City and other destinations in Southern Vietnam. Saigon and Mekong Delta Ultimate Serenity in 5 Days is an outstanding example, in which you will have 4 days discovering the most bustling city of Vietnam, alternating 1 day unwinding in the peaceful atmosphere of the Mekong Delta. If it is too long, you can consider visiting this nature-rich region of Vietnam in 2 or 3 days. Check our Mekong Delta tours for more ideas.
What to Eat during Mekong Delta Tour
1 day in Mekong Delta is enough for you to discover the mouth-watering local cuisine. Please note the following dishes to taste during your visit to this riverine region:
Grilled snails with pepper
Can Tho is a culinary destination not to be missed for its delicious and affordable dishes, such as grilled snails with pepper. You will be delighted by the unique flavor of this dish, which combines sweet, salty, and spicy flavors. Fresh local snails are grilled over hot charcoal and can be boiled beforehand. During cooking, a fish sauce brine mixed with pepper and chopped garlic is poured over the snails, adding an explosion of flavors to this must-try dish.
Nem Nuong (Grilled Pork Sausage)
When you taste Nem Nuong, you'll be enveloped in the delicious aromas of grilled meat, and sweet and spicy sauce that mix perfectly. This dish is particularly interesting when served with a green papaya salad, which adds an extra touch of flavor. It is usually served with a plate of fresh herbs and vegetables, all wrapped in rice paper and dipped in a special sauce.
Grilled fish
Grilled fish is a specialty of Dong Thap, prepared in an authentic style of the region. A bamboo stick is inserted into the fish before being grilled over a charcoal flame, then wrapped in a fresh lotus leaf. The aroma of grilled fish combined with the pleasant smell of the lotus leaf creates an unforgettable experience for tourists exploring the Mekong Delta.
Banh Xeo
The Banh Xeo, a specialty of the South, is bigger than those of the Central or Northern regions and has a unique flavor thanks to the coconut milk, whose filtration is the secret to its delicious taste. Among the ingredients that make the difference, the crepe is filled with mushrooms, pork belly, green beans, and other vegetables, as well as typical fresh herbs from the South. For even more flavor, it is dipped in the famous nuoc mam sauce, made from fish.
In short, Mekong Delta 1 day tour can be a good option for those who cannot afford to stay longer in the region. But for those who have more time, it is recommended to stay at least a few days to explore more deeply the many tourist sites and experiences that the Mekong Delta has to offer. Don't forget to read our Mekong Delta Travel Guide before packing your luggage or contact us if you need help with a Mekong Delta, Vietnam tour.