Travel to Vietnam from South Africa – Paradise Travel's tour packages
Travel to Vietnam from South Africa does not have to be challenging. This article will give you a throughout view of what to need to be done before traveling to Vietnam from South Africa, including Vietnam visa requirement for South African, flights to Vietnam from South Africa, exchanging currency in Vietnam, Vietnam adventure ideas…
Sound good? Let's dive in.
Visa to Vietnam for South African
For all South African visiting Vietnam for leisure or on vacation, there will be a Tourist Visa required regardless of the length of their stay in Vietnam.
Most importantly, traveler's passport must be valid for at least 6 months more from the date of entering Vietnam. There are two ways for South African to obtain Visa to Vietnam: Visa on Arrival or Application at Vietnam Embassy in South Africa.
Remember that if you plan to enter Vietnam more than once during your trip, you will need to sign up for multiple entry Visa. For example, if you enter Vietnam, then go to Cambodia and come back to Vietnam, you will need a multiple entry. Otherwise, you will only need single-entry Visa. Plan out your specific travel plan to decide which visa to apply and optimize its usage.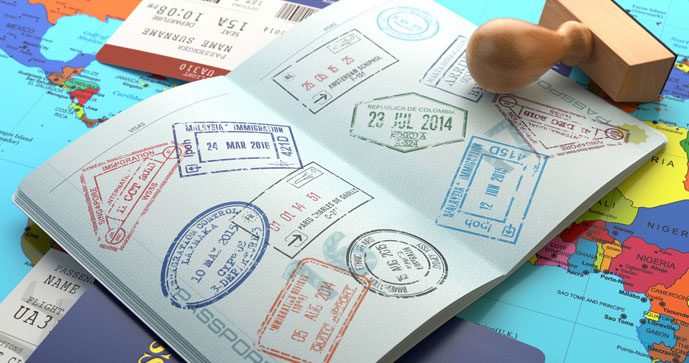 How to obtain Visa to Vietnam from South Africa
As mentioned, there are two ways to obtain Visa to Vietnam for South African:
Visa on Arrival
This is the most popular and convenient option for South African citizens to obtain a Visa to Vietnam. Holder of this kind of visa is allowed to enter Vietnam through any of 3 international airports in Vietnam (Hanoi, Da Nang and Ho Chi Minh City). Firstly, you will need to apply for a letter of Approval online. Two to five business working days later, you will receive your Letter of Approval via email and get it printed. Lastly, upon arrival at one of the Vietnam international airport travelers will be required to complete an Entry/Exit form, then present your Approval Letter, passport, photo and cash payment (no other form of payments accepted) to receive the visa stamped.
Application at Vietnam Embassy in South Africa
Take your passport and required documents to the Vietnam Embassy in Pretoria, South Africa for application. You then will come back to the embassy to pick up your stamped visa after several days. Vietnam's Embassy in South Africa address is:
TRADE OFFICE OF VIETNAM IN SOUTH AFRICA
Address: 198 Silver Oak Ave, Waterkloof, Pretoria, South Africa
Tel: (+27) 12 346 8083 Fax: (+27) 12 346 8507
Website: https://www.vietnam.co.za/
Contact Persons:
Mr. Dao Manh Duc, Third Secretary
Tel: +27 (0)12 346 8083
Fax: +27 (0) 12 346 8507
Cellphone: +27 (0)762 841 318
Email: za@moit.gov.vn
Flights to Vietnam from South Africa
Best time to fly to Vietnam
Vietnam weather makes it easy to fly to Vietnam anytime of the year.
Travel-wise, from September to April, weather in Northern Vietnam is at its best to travel and explore this region. On the other hand, May to October is the time not advised to travel in Central and South Vietnam due to its rainy season and sea storms.
For more information to pick the best time to visit Vietnam read more about our series seasons in Vietnam.
How long is the flight from South Africa to Vietnam?
Flights from O.R. Tambo International Airport (JNB) to Tan Son Nhat International Airport (SGN): 16 hours 10 minutes
Flights from Cape Town International Airport (CPI) to Noi Bai International Airport (HAN): 19 hours 40 minutes
Flights from King Shaka International Airport (DUR) to Tan Son Nhat International Airport (SGN): 19 hours
Most popular airlines to fly from South Africa to Vietnam
Popular airlines flying from Johannesburg to Vietnam include Singapore Airlines, Cathay Pacific, South African Airways, Emirates and Etihad Airways.
Finding the best price
You could check directly the airfare on Airline websites, some popular Airline websites for flights from South Africa to Vietnam are:
Things not allowed to carry into Vietnam
Do no bring weapon, ammunition and explosive or inflammable objects in your luggage or carry-on.
Drugs, opium and other narcotics are restricted. If it is not an over-the-counter medicine, you must bring your doctor's prescription with you.
Money & Currency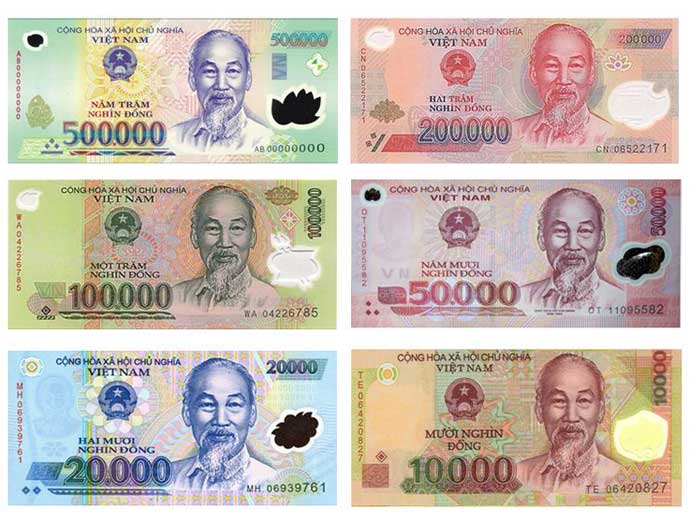 What is Vietnamese official currency?
The official currency of Vietnam is Vietnam Dong (VND), which comes in paper bills and polymerized bills. These are the only form of Vietnamese currency. Nowadays, coins are no longer used in Vietnam. The smallest bill in Vietnam is VND 500 (ZAR 0.29) and the largest bill in Vietnam is VND 500,000 (ZAR 287.66). On 11/Feb/2020, the currency rate is 1 ZAR = VND 1744.16 (Xe.com).
How much cash could I bring on me?
Travelers going through Vietnam customs are request to declare if carrying over USD 5,000 or foreign equivalents or over VND 15,000,000.
Where to exchange your money?
In the case of South African Rand, banks and hotels in Vietnam do not have service exchanging one to another. You could exchange in jewelry and gold shop but you will not get a good rate. Hence, it is wiser to exchange Rand to strong currencies such as GBP, USD, EUR or CAD in your countries, then exchange those currencies again in Vietnam (don't exchange Rand to VND in your countries since the rate will not be favorable and you will end up with bulky stacks of cash to travel with).
There are three main locations you could exchange strong currencies for VND, which are banks, hotels and gold/jewelry shops. British pounds, US dollar, Euro and Canadian dollar are widely accepted in Vietnam.
Banks: In big cities or developed areas, there always are lots of bank. The most known banks in Vietnam are SacomBank, VietinBank, Eximbank, VietcomBank, Agribank, …
Hotels: You could exchange cash in Vietnam at many hotels in Vietnam. While larger hotels could offer competitive rates with banks, smaller hotels could charge you a fee for the service.
Jewelry and Gold shop: Unlike in hotels and airports, the rates of these shops are usually fair and frequently these shops have no service fee. The most well-known shops in Hanoi are on Ha Trung Street or Hang Bo Street while in Ho Chi Minh City are founded on Nguyen An Ninh street.
Finding and Using ATMs in Vietnam?
ATMs are common and could be found anywhere in big cities and developed areas. Most of ATMs accept Visa and MasterCard. Despite this method's convenience and reliability, the exchange rate of ATMs here are much higher than that in banks and hotels (1 withdrawal fee is about 1-3% of the amount withdrawn).
Using debit card/ credit cards in Vietnam?
Vietnam is still a cash based countries, which means most services such as restaurants and shops will accept cash only. However, travelers could still use card at large stores or international chains.
Some Vietnam money tips
Tipping has not been a usual thing in Vietnam. When purchasing services such as in restaurant, taxi, haircut, delivery… you will not be expected to tip. However, in tourism industry, services such as tour guide, private driver or cruise crew will appreciate your tipping.
Polymer bills are durable and waterproof but could get stick together. Check your bills carefully before paying for anything.
Avoid mistaking one bill for another. Beside the confusing zeroes, Vietnamese bills could get mistaken between one another for its similar colors. The most usual mistake often made is VND 100,000 bill is mistaken for VND 10,000 bills and VND 200,000 bill is mistaken for VND 50,000 bill.
Vietnam tours for South African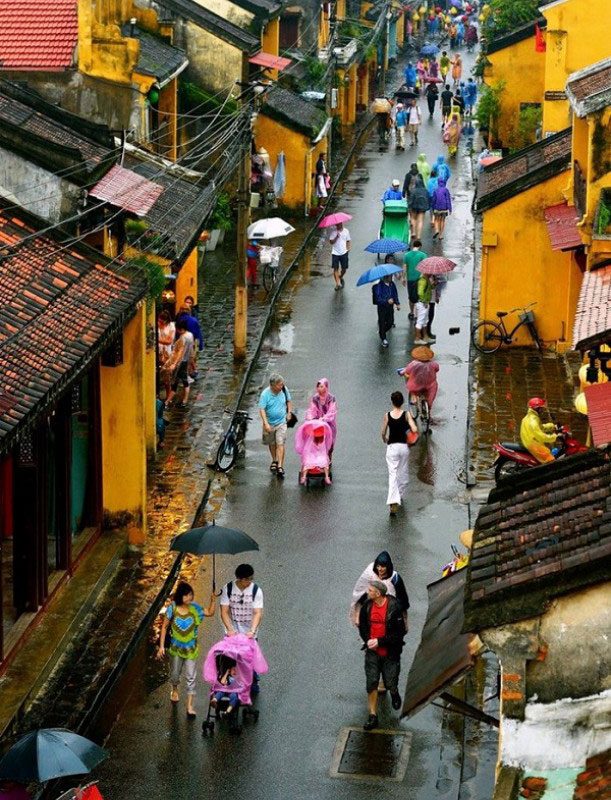 Tour programs
Vietnam tours we offer that South African might be interested in
Best things to do in Vietnam
Visiting historical and charming cities such as Hanoi, Hue, Hoian… and learn about Vietnamese culture and history or exploring high-octane and bustling Danang or Ho Chi Minh City.
Half day or overnight cruising on UNESCO world heritage site Halong Bay. Pick the best Halong Bay cruise for you, your friends and family among many cruise options on Halong to experience this must-see destination of Vietnam.
Being awe at spectacular mountainous scenery with signature rice paddies in Sapa, Mai Chau, Ha Giang… as well as emerging yourself into the ethnics' lives here. Check out more ideas of Sapa tours and Northern Vietnam tours.
Tasting the healthy and well-balanced world-famous dishes of Vietnam: Pho, Bun Cha, Nem (spring roll), Banh Mi …
Having holiday at Vietnam's beautiful beaches: Lang co, Nha Trang, Cat Ba, Phu Quoc…
Vietnam tour guide for South African
It is completely fine for South African travelers to travel by themselves to explore Vietnam. However, we usually recommend tourists to book a local tour guide with them. The local tour guide will be there to provide answers for customer's questions right away and to deal with unpredictable incidents. We do provides professional and fluently English speaking local tour guides for South African travelers.
South African communities in Vietnam
South African Embassy in Hanoi
Address: 3rd Floor, Central Building, 31 Hai Ba Trung Street, Hanoi
Tel:  + (84-24) 3936 2000
Fax:  + (84-24) 3936 1991
After hours standby number: + (84) 904 002 972
Consular:   consular.hanoi@dirco.gov.za
Admin    :   admin.hanoi@dirco.gov.za
Business Hours: Monday – Friday: 09h00 to 12h00 (Consular Services); 09h00 to 17h00
South African Consulate-General Ho Chi Minh City
Ms Do Thi Kim Lien
No. 80 Vo Van Tan Street, 6th Ward, District 3, Ho Chi Minh City, Vietnam
Tel:  (+848) 3823 8556
Fax: (+848) 3823 8557
HP:  (+84) 9363 30688
Business Hours: Monday – Friday : 08h30 to 11h30 and 13h30 to 16h30
In conclusion
Above are the most important information for South African tourists to enter and travel Vietnam. Vietnam Paradise Travel is a local tour operator since 2005, specializes in designing and operating tours for South African customers travel to Vietnam and other Indochina countries. For more travel ideas, check out our 10 Best Vietnam Tour 2019 – 2020 and share with us your adventure idea.