Travel to Vietnam from Germany
Thanks to our amazing street foods, beautiful beaches, and spectacular natural wonders, Vietnam has become one of the top tourist destinations in Southeast Asia for German travelers. In 2017, Vietnam attracted nearly 200,000 German visitors, which increased by 13.6% compared to 2016.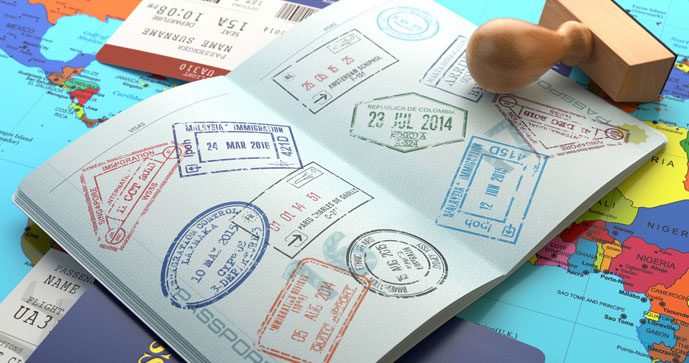 Visa to Vietnam for Germans
For German passport holders travel to Vietnam for less than 15 days, no visa is required. Note that your passport should be valid for at least 6 months from the date of entry to Vietnam and you must have at least one blank visa page.
If your travel to our country for more than 15 days, you need to obtain a tourist visa. Multiple-entry visa is required if you re-enter Vietnam during the tour (for example, visit Vietnam and Cambodia then return to Vietnam). You can apply for a visa to Vietnam yourselves at Vietnam Embassy in Germany or at any embassy near your place.
Vietnam Embassy in Germany:
Elsenstrasse 3, 12435 Berlin, Germany
Tel: (4930) 5363 0108; 5363 0113; 5363 0119; 5363 0100
Fax: (4930) 5363 0200
We would be happy to obtain Vietnam visa on arrival and preapproval letter for you free of charge. Send us the information listed below, and we will have a letter for you in 2 working days or less, after being approved by the Immigration Department of Vietnam:
Full name (as in passport) – Gender
Date of birth
Nationality
Passport number
Arrival date
Flights to Vietnam from Germany
Now it is easy to find flights from Germany to Vietnam. We have direct flights from Frankfurt (FRA) to Noi Bai International Airport (HAN) in Hanoi and Tan Son Nhat International Airport (SGN) in Ho Chi Minh City.
Check out these websites for flight schedule and airfare:
Vietnam Airlines: https://www.vietnamairlines.com/
Emirates: https://www.emirates.com
Traveloka: https://www.traveloka.com/en-sg/
Qatar: https://www.qatarairways.com/en-de/homepage.html
Skyscanner: https://www.skyscanner.de/
What to bring/not to bring to Vietnam
Weapons, anti-government documents, pornography, and illegal drugs (cannabis is included) are not allowed to bring to Vietnam. Wild animals, precious stones, and rare plants must be excluded from your luggage. If you need to bring prescript medicines, make sure you have the prescription with you.
There is no limitation on the amount of money and jewellery, however, you will have to declare with Vietnam customs if you bring the excessive amount of:
Foreign currency: more than $5000
Vietnam Dong: more than VND 15 million
Gold: more than 300gram
Gold and jewellery not for personal use
If you bring more than the maximum amount of following products, you have to declare and pay imported taxes:
Cigarettes: 400
Cigars: 100
Tobacco: 100 gram
Liquor: 1.5 liters
Perfume and jewellery for personal use
Souvenirs and gift items valued at not more than US$ 300
All kind of liquid cosmetics such as shampoo, shower gel, cleanser, etc. exceeding 100ml will not be allowed on board. Note that all bottles do not exceed 1000ml.
For passengers with disabilities, our airports offer wheelchair service and other supports free of charge.
Exchange foreign currency in Vietnam
In Vietnam, only Vietnam Dong (VND) is accepted in any purchasing transactions. At some places like hotels, restaurants, souvenir stores, etc., travelers can use US Dollar to pay for the goods and services.
You should not prepare VND before your Vietnam trip since the exchange rate in your country may not be favorable. You can exchange foreign currency in some Vietnamese banks such as Vietcombank at the airport and around big cities (Hanoi and Ho Chi Minh City). Avoid unofficial places such as souvenir or jewelry shops.
Read more: Essential Travel Guides for First-time Travelers to Vietnam
Vietnam tours for Germans
When traveling to Vietnam, German visitors will have a chance to discover our pristine nature, wonderful beaches, sample delicious local specialties and explore ethnic hill tribes. Compared to other countries in Southeast Asia, you can enjoy excellent hospitality services at a reasonable price. Here are some travel types that German tourists will be interested in:
With a large number of historic sites, museums, art theaters and colonial architecture, Vietnam is a destination for those who are interested in our history and culture. In our tour to discover Vietnam, we have featured many historic attractions, Buddhist sites and traditional art performances together with several traditional craft villages, ethnic hill tribes and vibrant local markets.
Vietnam is a suitable place to travel with your children or elders. In our travel package for families to Vietnam, we combine landscape exploration and nature discovery with many activities to discover our history and culture such as sightseeing world heritage sites, visiting terraced rice fields, shopping in local markets and interacting with ethnic people.
With more than 340 kilometers of coastline, Vietnam is truly a heaven for beach lovers. Spending some days on a beach vacation to Vietnam, you can take a sunbath on the white sand, try our fresh seafood, and participate in thrilling water sports.
There are many luxury experiences in Vietnam that you cannot find anywhere else in Indochina: taking a cruise to Ha Long Bay, fine dining in a sumptuous restaurant, staying at a world-class resort and participating in exciting water sports. A luxury travel packages to Vietnam will offer you private relaxation and state-of-the-art hospitality amenities.
Paradise Travel offers tour packages for German with English or German speaking tour guides
Germans in Vietnam
Germany is one of most important supporters and partners of Vietnam with many ODA projects as well as FDI plans from famous companies namely SIEMENS, Mercedes-Benz, Bosch, Deutsche Bank, etc.
Germany has an embassy in Hanoi and a consulate in Ho Chi Minh City.
Embassy of Germany
Address: 25 Tran Phu Street, Ba Dinh District, Hanoi
Phone: (++84-24) 3 267 3335
Fax: (++84-24) 3845 3838
Website: http://www.vietnam.diplo.de/
German Consulate General in Ho Chi Minh City
Address: 126 Nguyen Dinh Chieu Street, District 3, Ho Chi Minh City
Phone: (+84) 8 38 29 19 67
Fax: (+84) 8 38 23 19 19
Germany has a cultural institute called Goethe-Institut in Hanoi and Ho Chi Minh City. This institute promotes knowledge of German language and culture, as well as fosters the cooperation between Vietnam and Germany.
Goethe-Institut
Address: 56-58 Nguyen Thai Hoc Street, Hanoi
Phone: +84 24 37342251
Email: info-hanoi@goethe.de
German Center
Address: 18, Street  1, Do Thanh Ward 4, District 3, Ho Chi Minh City
Phone: +84 8 38326716
Email: info@saigon.goethe.org
Website: https://www.goethe.de/ins/vn/de/index.html
Travel to Vietnam from Germany is easy!
With more than 10 years experience in tourism industry, we are confident about our capabilities of tailor-making a Vietnam tour that meets your time, budget and special requirements.
We also manage a number of qualified tour guides and driver who can delight you with profound knowledge about Vietnam and excellent customer service. Most of our tour guides are English-speaking experts, but we can arrange a German-speaking guide upon your request.
Vietnam is an intriguing country, thus, you do not want to waste your time on scheduled shopping stops and touristy destinations. Let us help you to unlock the real and authentic Vietnam.
Find out which tour is suitable for you: 7 Best Vietnam Tours for First Time International Travelers