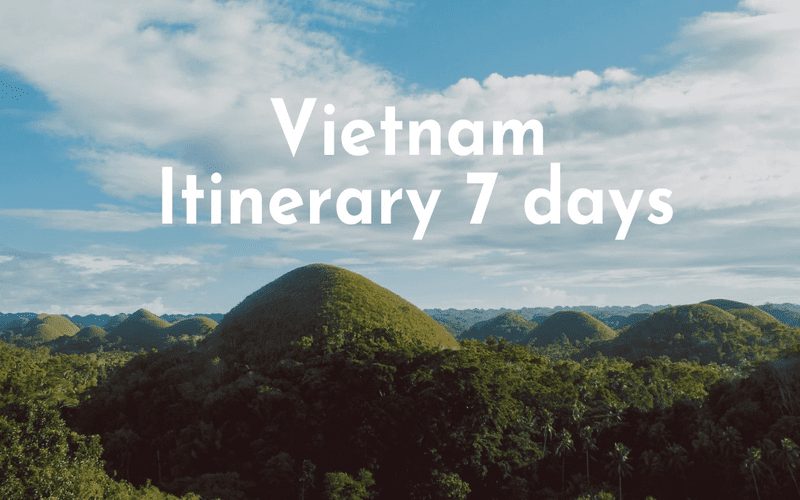 Nature bestows Vietnam with impressive and scenic landscapes. Therefore you only need to choose Vietnam Itinerary 7 days, you can witness those wonderful beauties immediately. In this tour, IDC Travel will list the famous places and the important things you must experience in each destination. You will discover nature and learn about Vietnam's national identity, history and cultural. All the destinations link together, making it the perfect choice for your convenience in moving around Vietnam.
Best time to visit Vietnam
Because Vietnam is a country with a tropical monsoon climate, you may experience heat shock when you come to Vietnam in the summer. So when the weather becomes milder, autumn is also coming – the most beautiful season of the year when the rains are less and the sun is less intense. Therefore, you should book Vietnam Itinerary 7 days between August and December to have a great experience.
>>>Click The best time to visit Vietnam for more detailed information on climate as well as the best time to explore Vietnam.
Things to know before visiting Viet Nam
Vietnam Visa
You can receive a Vietnam visa exemption for a 7-day tour. Germany, France, Italy, Spain, the United Kingdom, Russia, Japan, South Korea, Denmark, Sweden, Norway, Finland, and Belarus are among the recipients. According to the rules, citizens of the aforementioned countries will not need to apply for a visa if their stay does not exceed 7 days from the date of arrival.
As a result, the Vietnam Itinerary 7 days will make it quite simple for you to begin your vacation without worrying about visa complications. Furthermore, as technology advances, electronic visas will be granted online. Simply complete the online Vietnam visa application form and wait for your email.
>>>For more detailed information, read the article: Vietnam Visa on Arrival – Fastest & Easiest Way!
Travel Insurance
It will be terrible if you go to a new country, different in culture and encounter unfortunate situations that you can not manage. We can not predict the future, so the most important issue is ensuring your safety. The solution is purchasing travel insurance.
First, if your travel itinerary is delayed due to flight status, the travel insurance companies will be responsible for reimbursing you the corresponding amount. Vietnam – where the climate is hot and humid. You cannot fully adapt to the weather and lifestyle, so taking care of your health is extremely important. Therefore, travel insurance will support the cost of medicine and medical examination for you.
The most unfortunate and risky problem is the loss of luggage documents in Vietnam. However, the travel insurance company's support team will guide you through the procedures again to facilitate your travel.
Packing list for 7 days in Vietnam
You need to prepare a lot of things for Vietnam Itinerary 7 days. Here is a list of the most essential:
Sunscreen, sunglasses, umbrella, wide-brimmed hat to block UV rays (Vietnam is very hot)
Short clothes, and a swimsuit to enjoy the moment on the beautiful beach.
Comfortable shoes for you to explore everywhere, handy sandals for visiting the river…
Wear loose and long-sleeved clothes because you will be visiting the historic Hue Imperial City.
Prepare warm clothes, and windbreakers because the weather in Vietnam is variable.
Prescription medications to prevent illness such as an emergency.
Currency
The currency of Vietnam is the dong which is throughout Vietnam. In addition, some restaurants and hotels in Vietnam accept customers to pay in foreign currencies.
>>>Explore more about booking information and services at Payment Methods
Highlights
of Vietnam Itinerary 7 days
Arrive at Phu Quoc island – the largest pearl island in Vietnam
Da Lat – sad and dreamy city
Hue ancient capital – historical and cultural origin
Hanoi capital – a convergence of cultural and culinary quintessence
Ha Giang – majestic and poetic nature
Detailed information of Vietnam Itinerary 7 days
Day 1-2: Phu Quoc Island
Phu Quoc Island – the largest in Vietnam is known as "Pearl Island". It has a wonderfully beautiful ecosystem with white sands, clear and blue beaches, colorful coral reefs, and seafood resources. Since it is the most worthwhile place to visit, IDC Travel highly recommends Phu Quoc Island as the first destination of Vietnam Itinerary 7 days.
Phu Quoc has many beautiful beaches and exciting entertainment activities. And Bai Sao is a wonderful place for you to explore. Besides, the sunlight at Bai Sao is like the morning rays, so it is not too burning and dazzling. Therefore, sunbathing sounds very exciting.
If time permits, you can visit some more wonderful beaches such as Bai Vong and Bai Thom and then enjoy the famous noodle – "Bun Quay".
Visit some historical sites
Phu Quoc is also a place imprinted with many heroic historical relics of Vietnam. If you want to find out, go to Nguyen Trung Truc's base and Phu Quoc prison.
Spend time at Vinpearl Land Phu Quoc
Vinpearl Land is a large area with many integrated amusement parks such as the aquarium, water park, and safari area. In addition, there is a large area with a variety of famous Vietnamese cuisines you should try.
The most meaningful experience when you choose this Vietnam Itinerary 7 days is enjoying Vietnamese culture. So you cannot ignore going to see the water music performance at Vinpearl Land which is full of art with shimmering lights and lively sounds.
Day 3-4: Da Lat City
You can easily travel from Phu Quoc to Da Lat in just 2 hours. Therefore, Da Lat will be a great and ideal destination for Vietnam Itinerary 7 days.
Visit the natural gardens
The next 2-day journey will start with Da Lat flower garden – the convergence of thousands of fragrant flowers blooming. If time permits, you should continue this 7-day Vietnam tour by visiting the Valley of Love – where you can immerse yourself in nature and fresh air.
Discover Prenn Waterfalls
Still retaining the wild and poetic features of nature, Prenn Waterfall is a peaceful place for you to explore and unwind. The combination of majestic waterfalls and natural sounds will dispel all your fatigue from jet lag or climate change.
Located in the heart of the dream city with a height of more than 20m, Datanla Waterfall will leave you with a deep impression. Contemplate the poetic beauty and then you should participate in all kinds of adventure games, especially a must-try activity such as Alphine Coaster.
Cultural Exchange
The sunset falls is when the activities in Da Lat square take place most vibrantly. Let's enjoy the intangible culture of Vietnam – the exchange of gongs. Under the chilly weather as night falls, a cup of coffee with baked sweet potatoes are amazed you.
Enjoy cuisines at Da Lat's night market
There are many different specialties of Da Lat that are worth enjoying. Almost all dishes are considered suitable for many foreign tourists due to their savor.
In addition, you should go to Vu Thi village cafe to see the whole city of Da Lat at night and enjoy the typical coffee of Vietnam.
Day 5: Hue City
Hue is a cultural land with a rich history, unique culture and many heritage. Therefore, Hue will be the next peaceful stop of Vietnam Itinerary 7 days.
Thien Mu Pagoda – Huong River
Thien Mu Pagoda is the first stop on the next morning of the 7-day Vietnam tour. The attractive location looks out over the picturesque and serene. Visitors to Hue can schedule a 2-hour boat ride on the Huong River to view the pagoda. A guide will direct your movements, take photographs, and introduce you to Vietnamese culture and history.
Strolling around the romantic long river – Huong River. Try on Vietnamese traditional clothes – Ao Dai and take commemorative photos.
Lunch will be reserved at Hue's most famous restaurant. You will have a chance to try some of the most delicious dishes such as Bun Bo Hue, Banh Beo, Che Cung Dinh Hue,…
If you travel to Hue, you must go sightseeing at Hue Citadel, the most valuable historical relic in the complex of Hue Monuments designated as a cultural treasure by UNESCO.
Day 6: Hanoi Capital
After a 3-hour train ride from Hue to Hanoi, you can choose to stay at a hotel or experience the nightlife in Hanoi.
IDC Travel's recommendation for optional activities in Ha Noi City in the evening:
Enjoy Vietnamese cuisine (Bun Cha/ Beef, Chicken Noodle/ Steamed Rice Roll)
Discover walking streets (Hoan Kiem Lake, Ta Hien)
Enjoy soft drinks at a nearby pub or bar.
If you can wake up early, you should travel to Ho Chi Minh Mausoleum to see the flag-raising ceremony. Walk around Hoan Kiem Lake by cyclo – a means of transport you must have never tried before. Then, you should try various kinds of breakfast: banh mi, xoi com, bun cha,…
Next, free time for you to go sightseeing some famous places in Hanoi: Old Town, Hoa Lo prison, St.Joseph's Cathedral,… or one of the museums: Museum of History, Museum of Ethnology, Museum of Fine Art…
There are countless choices of meals. Each dish brings unique flavors and suits your taste. Furthermore, you should enjoy Hanoi's must-try coffee – egg in the comfortable and chilled atmosphere of a cafe.
Besides, IDC Travel will suggest two different options:
Take a double-decker bus to visit the whole city of Hanoi.
Visit Vietnam's first university – the Temple of Literature and the One-Pillar Pagoda.
Day 7: Ha Giang 
The most miraculous experience in this journey is cloud-hunting. You can arrive in the Ha Giang mountains at dawn and this is also the time when white clouds float on the peaceful and poetic sky. The green of the mountains and the yellow of the sunshine combined with layers of drifting clouds will stimulate all your senses.
After that, you can return to the hotel to unwind and then enjoy lunch at a local restaurant.
Explore Nho Que River – the most beautiful and poetic river in Ha Giang. As seen from above, Nho Que River looks like green silks intertwined between the mountains.
The last tourist activity that you should try is sailing on Nho Que river. You can rent a kayak or buy a boat ticket as directed by our guide.
Vietnam Itinerary 7 days will be the best arrangement for you and bring you a wonderful experience.
Another 7-day Vietnam tour
In addition to the exciting itinerary we have suggested to you above, there are many other interesting options for this tour. Moreover, we will suggest two more alternatives to some locations for you to shorten the distance to focus on exploring all of one place or save energy and time when moving between locations.
You can choose to explore the picturesque destination – the Central Highlands of Vietnam instead of having to go back up to the northern mountains to explore Ha Giang. Therefore, the tour called Discover the Central Vietnam Highlands in 7 Days suits your choice.
In addition, IDC Travel also brings you another 7-day tour through Vietnam: the S-shaped country of Vietnam with countless tourist attractions stretching from the cape of Ca Mau to the borderline in Lang Son. As a result, Classic Tour in Vietnam in 7 days is highly recommended for all foreigners when they come to Vietnam.
Every Vietnam Itinerary 7 days that IDC Travel offers you are arranged extremely reasonably for travel and cost savings. If you have not yet chosen the itinerary at Best Vietnam Tour & Travel that suits your interests, please contact us. Our team is always happy to answer all your questions and requirements at Tailors Make a Vietnam so that you have the best experience when you arrive in Vietnam.
Are you looking for Vietnam Itinerary 7 is delayed days with beautiful scenery at a very reasonable price? Feel free to contact us for a tailor-made trip to suit your needs and preferences.